Profession: Conductor, pianist.
Relation to Mahler: Gustav Mahler FESTIVAL Amsterdam 2020, Vienna Philharmonic Orchestra (VPO).
Correspondence with Mahler: 
Born: 15-11-1942 Buenos Aires, Argentina.
Daniel Barenboim is a pianist and conductor who is a citizen of Argentina, Israel, Palestine, and Spain.
The current general music director of the Berlin State Opera and the Staatskapelle Berlin, Barenboim previously served as Music Director of the Chicago Symphony Orchestra, the Orchestre de Paris and La Scala in Milan. Barenboim is known for his work with the West–Eastern Divan Orchestra, a Seville-based orchestra of young Arab and Israeli musicians, and as a resolute critic of the Israeli occupation of Palestinian territories.
Barenboim has received many awards and prizes, including seven Grammy awards, an honorary Knight Commander of the Order of the British Empire, France's Légion d'honneur both as a Commander and Grand Officier, and the German Großes Bundesverdienstkreuz and Willy Brandt Award. Together with the Palestinian-American scholar Edward Said, he was given Spain's Prince of Asturias Concord Award. Barenboim is a polyglot, fluent in Spanish, Hebrew, English, French, Italian, and German.
Daniel Barenboim was born on 15 November 1942 in Buenos Aires, Argentina, to Argentinian-Jewish parents Aida (née Schuster) and Enrique Barenboim. He started piano lessons at the age of five with his mother, continuing to study with his father, who remained his only teacher. On 19 August 1950, at the age of seven, he gave his first formal concert in his hometown, Buenos Aires.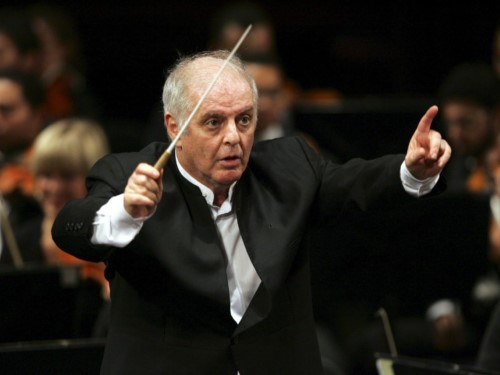 In 1952, Barenboim's family moved to Israel. Two years later, in the summer of 1954, his parents took him to Salzburg to take part in Igor Markevitch's conducting classes. During that summer he also met and played for Wilhelm Furtwängler, who has remained a central musical influence and ideal for Barenboim. Furtwängler called the young Barenboim a "phenomenon" and invited him to perform the Beethoven First Piano Concerto with the Berlin Philharmonic, but Barenboim's father considered it too soon after the Second World War for a child of Jewish parents to be performing in Berlin. In 1955 Barenboim studied harmony and composition with Nadia Boulanger in Paris.
On 15 June 1967, Barenboim and British cellist Jacqueline du Pré were married in Jerusalem at a Western Wall ceremony, du Pré having converted to Judaism. Acting as one of the witnesses was the conductor Zubin Mehta, a long-time friend of Barenboim. Since "I was not Jewish I had to temporarily be renamed Moshe Cohen, which made me a 'kosher witness'," Mehta recalled. Du Pré retired from music in 1973, after being diagnosed with multiple sclerosis (MS). The marriage lasted until du Pré's death in 1987.
In the early 1980s, Barenboim began an affair with the Russian pianist Elena Bashkirova, with whom he had two sons born in Paris before du Pré's death: David Arthur, born 1983, and Michael, born 1985. Barenboim worked to keep his relationship with Bashkirova hidden from du Pré, and believed he had succeeded. He and Bashkirova married in 1988. Both sons are part of the music world: David is a manager-writer for the German hip-hop band Level 8, and Michael Barenboim is a classical violinist. Barenboim holds citizenship in Argentina, Israel, Palestine, and Spain. He lives in Berlin.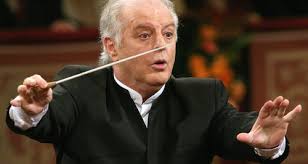 After performing in Buenos Aires, Barenboim made his international debut as a pianist at the age of 10 in 1952 in Vienna and Rome. In 1955 he performed in Paris, in 1956 in London, and in 1957 in New York under the baton of Leopold Stokowski. Regular concert tours of Europe, the United States, South America, Australia and the Far East followed thereafter.
In June 1967, Barenboim and his then-fiancée Jacqueline du Pré gave concerts in Jerusalem, Tel Aviv, Haifa and Beersheba before and during the Six-Day War. His friendship with musicians Itzhak Perlman, Zubin Mehta, and Pinchas Zukerman, and marriage to du Pré led to the 1969 film by Christopher Nupen of their performance of the Schubert "Trout" Quintet.
Following his debut as a conductor with the English Chamber Orchestra in Abbey Road Studios, London, in 1966, Barenboim was invited to conduct by many European and American symphony orchestras. Between 1975 and 1989, he was music director of the Orchestre de Paris, where he conducted much contemporary music.
Barenboim made his opera conducting debut in 1973 with a performance of Mozart's Don Giovanni at the Edinburgh Festival. He made his debut at Bayreuth in 1981, conducting there regularly until 1999. In 1988, he was appointed artistic and musical director of the Opera-Bastille in Paris, scheduled to open in 1990, but was fired in January 1989 by the opera's chairman Pierre Bergé. Barenboim was named music director designate of the Chicago Symphony Orchestra in 1989 and succeeded Sir Georg Solti as its music director in 1991, a post he held until 17 June 2006. He expressed frustration with the need for fund-raising duties in the United States as part of being a music director of an American orchestra.(l-r) President of the East Berlin Jewish Community Peter Kirchner (de), President of the Federal Republic of Germany Richard von Weizsäcker, and Barenboim visit Jewish cemetery in Berlin-Weissensee (1990)
Since 1992, Barenboim has been music director of the Berlin State Opera and the Staatskapelle Berlin, succeeding in maintaining the independent status of the State Opera. He has tried to maintain the orchestra's traditional sound and style. In autumn 2000 he was made conductor for life of the Staatskapelle Berlin.
On 15 May 2006 Barenboim was named principal guest conductor of La Scala opera house, in Milan, after Riccardo Muti's resignation. He subsequently became music director of La Scala in 2011.
In 2006, Barenboim presented the BBC Reith Lectures, presenting a series of five lectures titled In the Beginning was Sound. The lectures on music were recorded in a range of cities, including London, Chicago, Berlin, and two in Jerusalem. In the autumn of 2006, Barenboim gave the Charles Eliot Norton Lectures at Harvard University, entitling his talk Sound and Thought.
In November 2006, Lorin Maazel submitted Barenboim's name as his nominee to succeed him as the New York Philharmonic's music director. Barenboim said he was flattered but "nothing could be further from my thoughts at the moment than the possibility of returning to the United States for a permanent position", repeating in April 2007 his lack of interest in the New York Philharmonic's music directorship or its newly created principal conductor position. Barenboim made his conducting debut on 28 November 2008 at the Metropolitan Opera in New York for the House's 450th performance of Wagner's Tristan und Isolde .
In 2009, he conducted the New Year Concert of the Vienna Philharmonic. In his New Year message, he expressed the hope that 2009 would be a year for peace and for human justice in the Middle East.
He conducted the Vienna Philharmonic again for New Year's Day 2014. That year construction began on the Barenboim-Said Academy in Berlin. A joint project Barenboim developed with Palestinian-American scholar Edward Said, the academy was planned as a site for young music students from the Arab world and Israel to study music and humanities in Berlin. It opened its doors on 8 December 2016.
Barenboim has rejected musical fashions based on current musicological research, such as the authentic performance movement. His recording of Beethoven's symphonies shows his preference for some conventional practices, rather than fully adhering to Bärenreiter's new edition (edited by Jonathan Del Mar). Barenboim has opposed the practice of choosing the tempo of a piece based on historical evidence, such as the composer's metronome marks.
He argues instead for finding the tempo from within the music, especially from its harmony and harmonic rhythm. He has reflected this in the general tempi chosen in his recording of Beethoven's symphonies, usually adhering to early-twentieth-century practices. He has not been influenced by the faster tempos chosen by other conductors such as David Zinman and authentic movement advocate Roger Norrington.
In his recording of The Well-Tempered Clavier, Barenboim makes frequent use of the right-foot sustaining pedal, a device absent from the keyboard instruments of Bach's time (although the harpsichord was highly resonant), producing a sonority very different from the "dry" and often staccato sound favoured by Glenn Gould. Moreover, in the fugues, he often plays one voice considerably louder than the others, a practice impossible on a harpsichord.
According to some scholarship, this practice began in Beethoven's time (see, for example, Matthew Dirst's book Engaging Bach). When justifying his interpretation of Bach, Barenboim claims that he is interested in the long tradition of playing Bach that has existed for two and a half centuries, rather than in the exact style of performance in Bach's time:
The study of old instruments and historic performance practice has taught us a great deal, but the main point, the impact of harmony, has been ignored. This is proved by the fact that tempo is described as an independent phenomenon. It is claimed that one of Bach's gavottes must be played fast and another one slowly. But tempo is not independent! … I think that concerning oneself purely with historic performance practice and the attempt to reproduce the sound of older styles of music-making is limiting and no indication of progress. Mendelssohn and Schumann tried to introduce Bach into their own period, as did Liszt with his transcriptions and Busoni with his arrangements.
In America Leopold Stokowski also tried to do it with his arrangements for orchestra. This was always the result of "progressive" efforts to bring Bach closer to the particular period. I have no philosophical problem with someone playing Bach and making it sound like Boulez. My problem is more with someone who tries to imitate the sound of that time …