1901 Concert Berlin 16-12-1901 – Symphony No. 4.
The Kroll Opera House (German: Krolloper, Kroll-Oper) was an opera building in Berlin, Germany, located in the central Tiergarten district on the western edge of the Königsplatz square (today Platz der Republik), facing the Reichstag building. It was built in 1844 as an entertainment venue for the restaurant owner Joseph Kroll. During its eventful history it was redeveloped as an opera house in 1851 and was used by various owners and directors for opera, operetta and drama. It was later operated by the Prussian state opera and drama companies and served as the assembly hall of the German Reichstag parliament from 1933 until 1942. Severely damaged by bombing and the Battle of Berlin in World War II, it was finally demolished in 1951. On 19 July 1940, the opera house was used to host the 1940 Field Marshal Ceremony.
1895-1931
Shortly afterwards the building was acquired by the Prussian Königliche Schauspiele royal theatre company and Kroll's establishment was rebuilt as the Neues Königliches Operntheater, a second theatre beside the Staatsoper Unter den Linden. Works by young composers like Igor Stravinsky and Gustav Mahler were performed here, but also popular concerts given by Enrico Caruso and operettas like Die Fledermaus. As the decent opera house Unter den Linden did not match with Emperor Wilhelm's attitudes, plans for a new luxuriant opera hall at the site of the Krolloper were developed and demolition had already started in 1914, when the outbreak of World War I halted the construction works.
1890. Kroll Oper.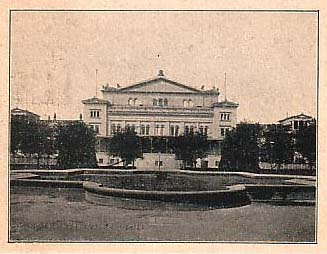 1900. Kroll Oper.