Member Information
Additional Information
Albrecht Franz Joseph (1901-1991).
Relation to Gustav Mahler (1860-1911): A son in law
Gustav Mahler (1860-1911). Previous generation.
Born: 20-11-1901 Frankfurt am Main, Germany.
Marriage: 1970.
Divorce: 1979. 
Died: 28-04-1991 Berverly Hills, Los Angeles, USA (age 89).
Buried: Santa Barbara Cemetery, Santa Barbara, California, USA. Plot: Ocean View-Addition G-Grave 038.
More
Albrecht Joseph was born in Germany, where he was a theater director and screenplay writer during the years of the Weimar Republic; after emigrating to the U.S. during the Nazi period, he served as Franz Werfel's secretary from 1941 until late 1944 or early 1945, when he took a job as a filmcutter. Joseph was also a maker of short films, and the author of memoirs and a novel. In 1970 Joseph married Anna Justine Mahler (Gucki) (1904-1988) (he was her fifth and last husband). Isolde Klarmann, the widow of Adolf Klarmann, later remarried and was known as Lady Isolde Radzinowicz.
Albrecht Joseph worked on the stage and went into films as a script editor and author when he was in his thirties. He worked on the script for the film Das Lied einer Nacht, among other films, in the early 1930s. When the Nazi's took over in 1933 he left Germany for Austria, where he continued working in films. In 1939 he moved to the U.S.A., and from 1943 he worked under the name "Al Joseph" as a film and television editor. He authored an autobiography entitled Ein Tisch bei Romanoffs (A Table at Romanoff's), and late in life was recognized and honored by the German government.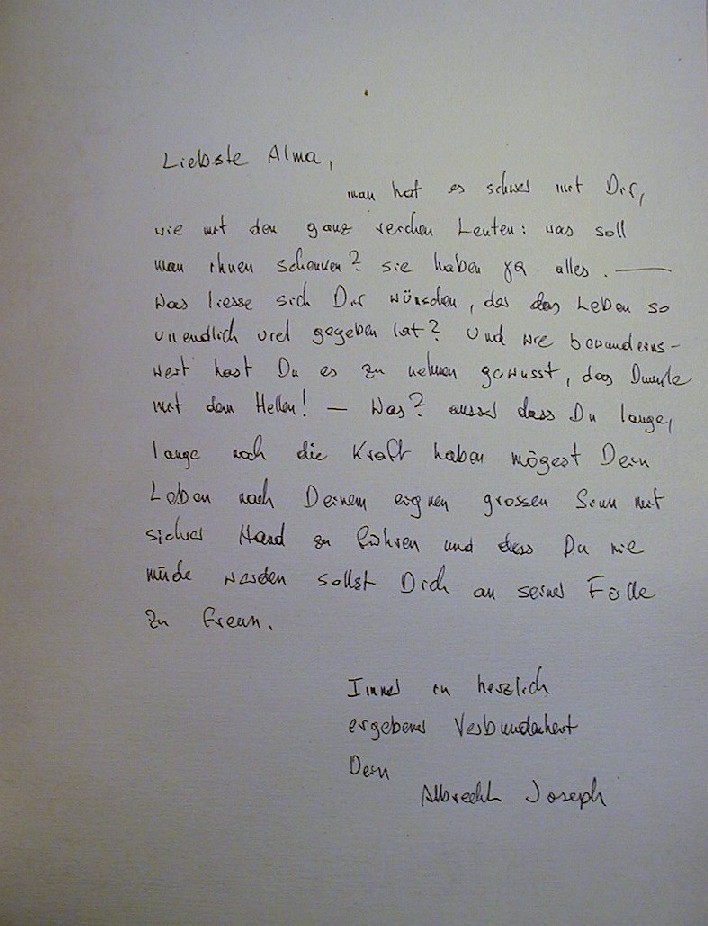 Transcription: 
Liebste Alma,
man hat es schwer mit Dir, wie mit den ganz reichen Leuten: was soll man ihnen schenken? Sie haben ja alles. --- Was liesse sich Dir wünschen, der das Leben so unendlich viel gegeben hat? Und wie bewunderns- wert hast Du es zu nehmen gewusst, das Dunkle mit dem Hellen! - Was? ausser dass Du lange, lange noch die Kraft haben mögest Dein Leben nach Deinem eignen grossen Sinn mit sichrer Hand zu führen und dass Du nie müde werden sollst Dich an seiner Fülle zu freun.
Immer in herzlich ergebener Verbundenheit
Dein Albrecht Joseph
From the description of Correspondence with Alma Mahler, Franz Werfel, Adolf Klarmann, and Isolde Klarmann, 1942-1988.