103 Champs-Élysées.
Near the Arc of Triomphe.
The Elysée Palace is a former Paris hotel built by the Elysée Palace Hotel Company. In 1896 the Compagnie Internationale des Grands Hôtels (CIGH) took part in the Elysée Palace Hotel Company. According to the plan, the hotel had to be ready for visitors to the 1900 World Exhibition, which would then be held in Paris.
The building permit was granted in 1897 and in 1898 the construction began at the corner of the Rue de Bassano and the Champs Elysées. The hotel was integrated into the concept of the International Wagons-Lits Company to provide its customers with high quality accommodation both before and after the train journey.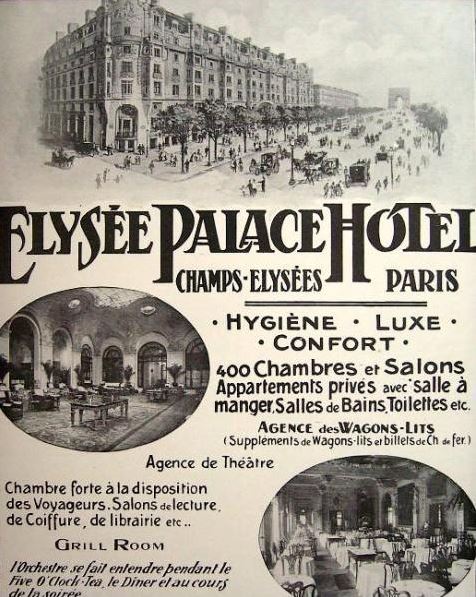 1911 Hotel Elysee Palace. Advertisement 1913.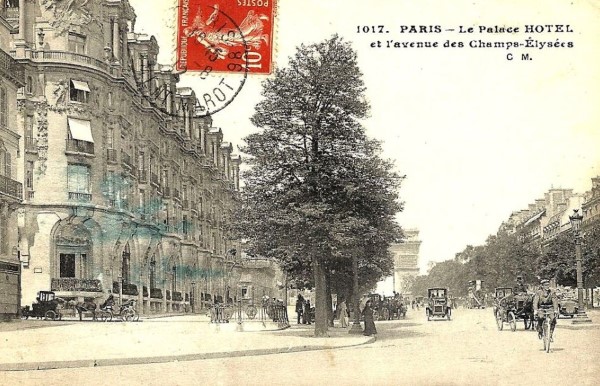 1911 Hotel Elysee Palace. Postcard 1912.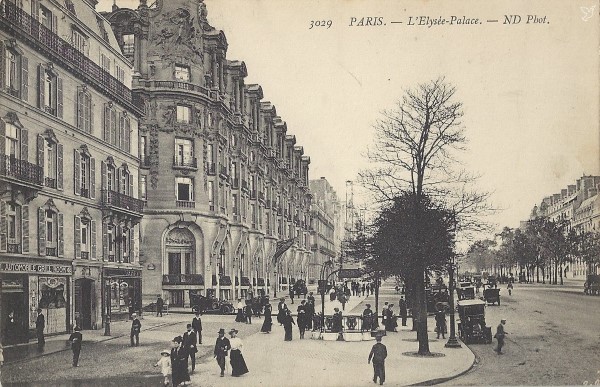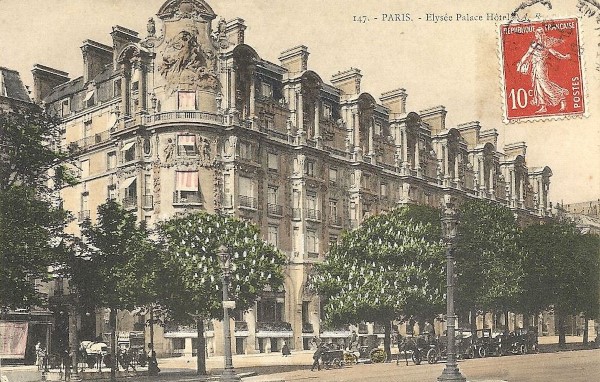 On May 10, 1899, the hotel was opened and operated by the CIGH until 1914. The hotel focused on the luxury market segment. The word Palace is in this case a reference to the very good facilities for that time and was also used in other hotels in Europe. However, it has nothing to do with the Palais d'Élysée presidential palace a little further across the street.
The hotel had a large hall, a dining room, a reading room, a smoking room and a theater ticket booking office. Furthermore, it was provided with electric light, then a special, and rooms with very good sanitary facilities before that time. The hotel became a meeting place for prominent Paris. The CIGH broke down the hotel in 1914, but the hotel continued to exist as an independent company and held its position as a meeting point during the First World War. Mata Hari stayed there regularly and was arrested in her room on February 13, 1917. At the end of the First World War, the hotel closed its doors as a result of the financial deficits that had worsened during the war.