Member Information
Additional Information
Anna Czeczowitzka-Quittner (1885-1941).
Heinrich Quittner (1887-1961). No children.
Half sister of: Paul Quittner, Reinhold Quittner and Rudolf Quittner. All from the second marriage of her father Ludwig Elias Quittner (1858-1922) and Marie Quittner (Fuchsl) (1867-1927).
Education:
Profession:
Marriage: 1907 Stadttempel Vienna
Husband: Alexander Czeczowitzka (17-08-1883, Died: 12-11-1927, Car accident, aged 44). Son of Simon Czeczowitzka and Johanna Czeczowitzka.
Rudolf Alexander Herbert (Czeczowitzka. Nicknames: Ralph, Rudi, Doc). Born: 12-08-1908 Heidenheim an der Brenz, Stuttgart, Germany, Died: 29-10-1990, Bromley, London. Buried: Biggin Hill, Greater London. Married to Maria Luise Herbert (Skocdopole) (Born: 30-07-1909 Klosterneuburg, Vienna, Died: 16-12-2002, Bromley, Greater London, buried Biggin Hill, Greater London (aged 93)). Two children:

Irene Maria Herbert (Czeczowitzka (Born: 20-02-1944, married Claudio Perugia)).
Laurence Alan Herbert (Larry, Born: 30-01-1953, married Tatiana Rocchi).

Heinz Gustav Hines (Czeczowitzka. Nickname: Henry). Born: 10-11-1913, Died: 16-06-1965 (aged 51). Married to Frieder Hines (Nickname: Fritzi, Born: 21-11-1912, Died: 15-09-1996). One child: Peter Hines (Born: 01-08-1945).
Address: 1938: Porzellangasse 18, IX, Vienna, Austria.
Address: Queens Drive 11, Prestwich, Lancs, Manchester, England.
Died: 21-05-1941 Manchester, Greater Manchester, England. Aged 55 (chronic lung failure)
Buried: St. Joseph's Cemetery, Moston Lane, Manchester, England.
In the Austrian address book of 1938, Anna Czeczowitzka-Quittner (1885-1941) is listed as a widow living at Porzellangasse 18, Vienna's district 9. Leading up to, and after the Anschluss in March 1938, the Czeczowitzka family were being harassed by the security services, and threatened with detention. Her son Rudolf Czeczowitzka initiated a plan to escape Vienna and after a number of options concluded that England was the preferred choice.
During this period, Rudolf was arrested and a vehicle he was driving was confiscated. He was taken to Dachau KZ where he was forced to sign a falsified declaration. The vehicle was seized without compensation and only his temporary release. The decision to flee Vienna accelerated. All manner of form filling was necessary with the so-called 'Vermögensanmeldung'. In 1938 all Jews in Austria had to make a detailed declaration of their assests as far as they amounted up to more than 5.000 RM. In the Austrian State Archive the number of her 'Vermögensanmeldung' is noted as AZ 23151.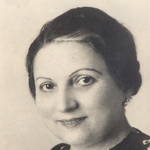 Anna Czeczowitzka-Quittner (1885-1941).
After much anguish, Anna and the boys' eventually made the break. The flight to England was successful and the family settled in Manchester, residing at 11, Queens Drive, Prestwich, Lancs. Shortly after the beginning of their new life, Anna became ill with bronchial problems and sadly died of chronic lung failure on 21 May 1941.
Sometime after the war but before 1950, and in order to be 'more British', the sons changed their names: Rudolf used his middle name as his surname and adopted his father's Christian name to become Rudolf Alexander Herbert. Heinz changed his Christian name to a phonetic English spelling to form Henry Hines.