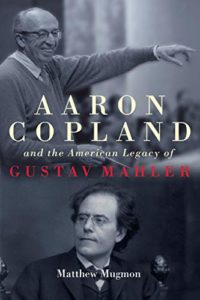 Matthew Mugmon
The iconic American composer Aaron Copland is often credited with creating an unmistakably American musical style, a style free from the powerful sway of the European classics that long dominated the art-music scene in the United States.
Yet Copland was strongly attracted to the music of the late-romantic Austrian composer Gustav Mahler, whose monumental symphonies and powerful songs have captivated and challenged American audiences for more than a century.
Drawing extensively on archival and musical materials, Aaron Copland and the American Legacy of Gustav Mahler offers the first detailed exploration of Copland's multifaceted relationship with Mahler's music and its lasting consequences for music in America. Matthew Mugmon demonstrates that Copland, inspired by Mahler's example, blended modernism and romanticism in shaping a vision for American music in the twentieth century and that he did so through his multiple roles as composer, teacher, critic, and orchestral tastemaker.
Copland's career-long engagement with Mahler's music, as Mugmon compellingly illustrates, intersected with Copland's own Jewish identity and with his links to such towering figures in American music as Nadia Boulanger, Serge Koussevitzky, and Leonard Bernstein.