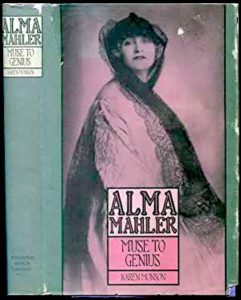 Karen Monson
The most beautiful girl in Vienna, she married Gustav Mahler, the composer, and conductor who held the most powerful position in the world of music in 1902, when she was twenty-two.
After Mahler's death, she married Walter Gropius and stayed his wife throughout the years when he was founding the Bauhaus and revolutionizing the world of design. When she was fifty, she married Franz Werfel, author of The Song of Bernadette,
The 40 Days of Musa Dagh, Jacobowsky and the Colonel, and much more. Alma was united in love, sexually or not, with Alexander von Zemlinsky, her music teacher and the only mentor ever recognized by Arnold Schoenberg; with Ossip Gabrilovitch, pianist and conductor; with Gerhart Hauptmann, the dramatist; and, most importantly, with the artist Oskar Kokoschka, who called her a -wild brat- on her seventieth birthday and wanted the love they shared to be immortalized for future generations.
The daughter of a celebrated Viennese landscape painter, Alma grew up privileged, with a taste for luxury but not always with the money to support her tastes.
Over the years, she accumulated country houses, a dwelling of landmark stature on a Venetian canal, and a mansion in Vienna.
She might have become an important composer; had she been born a century later, she could have been a conductor. As it was, she devoted her life to men whom she considered to be geniuses.