Bruno Walter
Conductor, composer, and writer Bruno Walter (1876–1962) worked closely with Gustav Mahler as the composer's assistant and protégé.
His revealing recollections of Mahler were written in 1936, marking the twenty-fifth anniversary of the composer's death. Walter first encountered Mahler more than 40 years earlier, when he served as the composer's assistant conductor in Hamburg.
He worked with Mahler again at the Vienna Opera, and after the composer's death conducted the debut of the Ninth Symphony and Das Lied von der Erde.
A staunch supporter of Mahler's genius and defender of his dour personality, Walter cites the pressures faced by a gifted artist striving for perfection.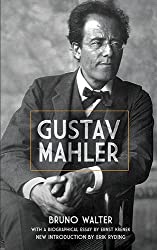 This edition of his tribute to his friend and mentor features supplemental materials that include a biographical sketch of Mahler as man and artist by Ernst Krenek, the composer's son-in-law and musical heir, and a new Introduction by Erik Ryding, author of Bruno Walter: A World Elsewhere.