Part II: Closing scene from Goethe's Faust
The second part of the symphony follows the narrative of the final stages in Goethe's poem-the journey of Faust's soul, rescued from the clutches of Mephistopheles, on to its final ascent into heaven.
Movement 2: Lied 2: Schlussszene aus Goethe's Faust.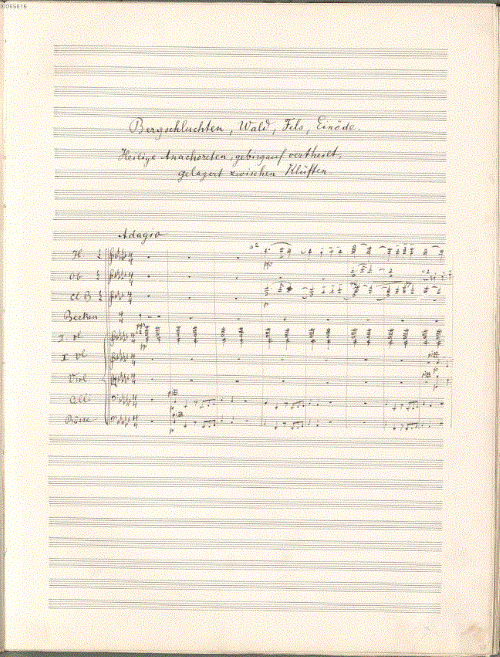 Movement 2: Lied 2: Schlussszene aus Goethe's Faust, opening.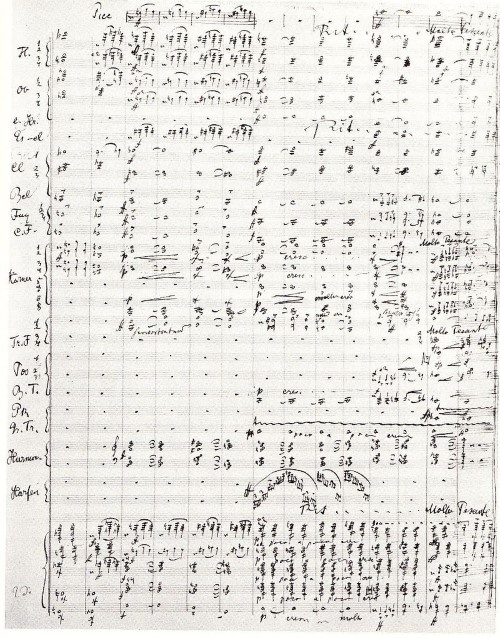 Movement 2: Lied 2: Schlussszene aus Goethe's Faust, Chorus Mysticus.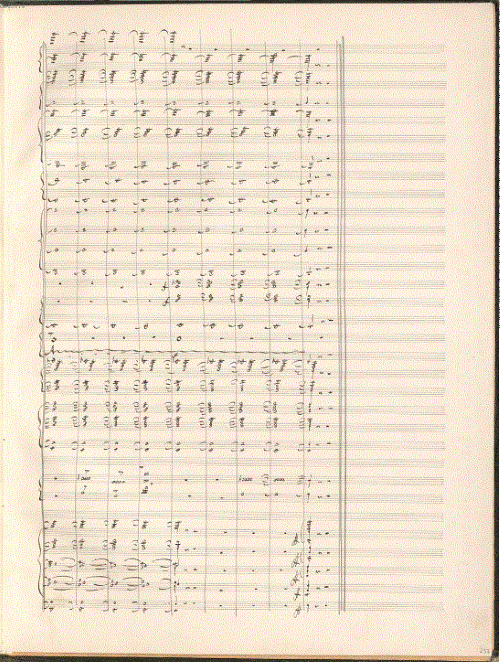 Movement 2: Lied 2: Schlussszene aus Goethe's Faust, Chorus mysticus, finale.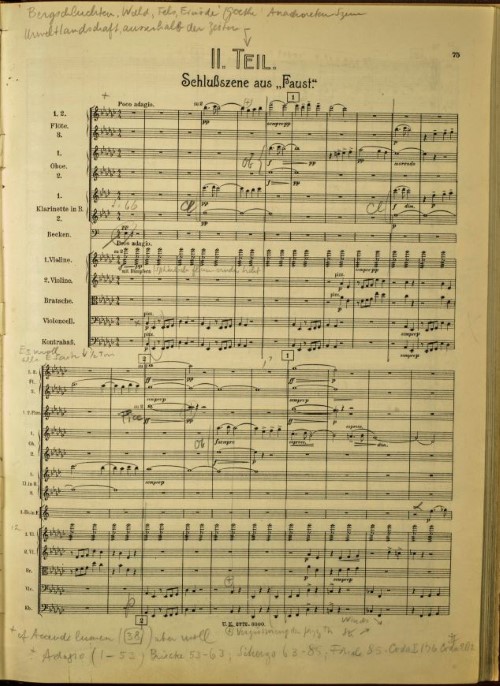 Movement 2: Lied 2: Schlussszene aus Goethe's Faust, score print.
Singers
Soprano I: Una poenitentium.
Soprano II: Magna Peccatrix.
Sopran: Mater Gloriosa.
Alto I: Mulier Samaritana.
Alto II: Maria Aegyptiaca.
Tenor: Doctor Marianus.
Baritone: Pater Ecstaticus.
Bass: Pater Profundus.
Total duration: 57:55.
Final scene from Goethe's "Faust", Part II
Part: 1. Instrumental introduction
Poco adagio.
Page score: 75.
Bar: 1.
Scene: Instrumental introduction. The long orchestral prelude is in E-flat minor and, in the manner of an operatic overture, anticipates several of the themes which will be heard later in the movement. The exposition begins in near-silence; the scene depicted is that of a rocky, wooded mountainside, the dwelling place of anchorites whose utterances are heard in an atmospheric chorus complete with whispers and echoes.
Story: –
Duration: 6:50.
Part: 2. Instrumental introduction
Piu mosso. (Allegro moderato).
Page score: 79.
Bar: 97.
Scene: Mountain gorge, forest, cliff, desert. Holy Anchorites are sheltering in rocky clefts.
Story: –
Duration: 3:15.
Part: 3.
Wieder langsam.
Page score: 86.
Bar: 167.
Scene: –
Story: –
Duration: 4:47.
Choir and echo: "Waldung, sie schwankt heran".
Voices: Choir I/II.
Choir and echo
Waldung, sie schwankt heran,
Felsen, sie lasten dran,
Wurzeln, sie klammern an,
Stamm dicht an Stamm hinan.
Woge nach Woge spritzt,
Höhle, die tiefste, schützt.
Löwen, sie schleichen stumm,
Freundlich um uns herum,
Ehren geweihten Ort,
Heiligen Liebeshort.
Part: 4.
Moderato.
Page score: 90.
Bar: 219.
Scene: Soaring up and down.
Story: A solemn baritone solo, the voice of Pater Ecstaticus, ends warmly as the key changes to the major when the trumpets sound the "Accende" theme from Part I.
Duration: 1:53.
Pater Ecstaticus: "Ewiger Wonnebrand".
Voice: Baritone.
Pater Estaticus
Ewiger Wonnebrand
Glühendes Liebeband,
Siedender Schmerz der Brust,
Schäumende Gotteslust!
Pfeile, durchdringet mich,
Lanzen, bezwinget mich,
Keulen, zerschmettert mich,
Blitze, durchwettert mich!
Daß ja das Nichtige
Alles verflüchtige,
Glänze der Dauerstern,
Ewiger Liebe Kern!
Part: 5.
Allegro – (Allegro appassionato).
Page score: 94.
Bar: 261.
Scene: Nether region.
Story: This is followed by a demanding and dramatic aria for bass, the voice of Pater Profundis, who ends his tortured meditation by asking for God's mercy on his thoughts and for enlightenment. The repeated chords in this section are reminiscent of Richard Wagner's Parsifal.
Duration: 4:42.
Pater Profundus: "Wie Felsenabgrund mir zu Fussen".
Voice: Bass.
Pater Profundus
Wie Felsenabgrund mir zu Füßen
Auf tiefem Abgrund lastend ruht,
Wie tausend Bäche strahlend fließen
Zum grausen Sturz des Schaums der Flut
Wie strack, mit eig'nem kräft'gen Triebe,
Der Stamm sich in die Lüfte trägt;
So ist es die allmächt'ge Liebe,
Die alies bildet, alles hegt.
Ist um mich her ein wildes Brausen,
Als wogte Wald und Felsengrund,
Und doch stürzt, liebevoll im Sausen,
Die Wasserfülle sich zum Schlund,
Berufen gleich das Tal zu wässern:
Der Blitz, der flammend niederschlug,
Die Atmosphäre zu verbessern,
Die Gift und Dunst im Busen trug,
Sind Liebesboten, sie verkünden,
Was ewig schaffend uns umwallt.
Mein Inn'res mög' es auch entzünden,
Wo sich der Geist, verworren, kalt,
Verquält in stumpfer Sinne Schranken,
Scharf angeschloss'nem Kettenschmerz.
O Gott! beschwichtige die Gedanken,
Erleuchte mein bedürftig Herz!
Part: 6.
Allegro deciso. (Im Anfang noch nicht eilen).
Page score: 104/105.
Bar: 384/385.
Scene: Bearing Faust's immortal essence, as they soar in the upper air.
Story: The mood lightens with the entry of the angels and blessed boys (women's and children's choruses) bearing the soul of Faust; the music here is perhaps a relic of the "Christmas Games" scherzo envisioned in the abortive four-movement draft plan. The atmosphere is festive, with triumphant shouts of "Jauchzet auf!" ("Rejoice!") before the exposition ends in a postlude which refers to the "Infirma nostri corporis" music from Part I.
Duration: 1:03.
Choir of angels: "Gerettet ist das edle Glied der Geisterwelt vom Bosen".
Choir of blessed boys: "Hande verschlinget euch".
Voices: Choir I/II, soprano, alto, boys choir.
Angels
Gerettet ist das edle Glied
Der Geisterwelt vom Bösen:
Wer immer strebend sich bemüht,
Den können wir erlösen;
Und hat an ihm die Liebe gar
Von oben teilgenommen,
Begegnet ihm die sel'ge Schar
Mit herzlichem Willkommen.
Blessed boys
Hände verschlinget euch
Freudig zum Ringverein,
Regt euch und singe
Heil'ge Gefühle drein!
Göttlich belehret,
Dürft ihr vertrauen;
Den ihr verehret,
Werdet ihr schauen.
Part: 7.
Molto leggiero.
Page score: 110.
Bar: 436.
Scene: –
Story: The first phase of development begins as a women's chorus of the younger angels invoke a "happy company of blessed children" who must bear Faust's soul heavenwards.
Duration: 1:53.
Choir of younger angel: "Jene Rosen aus den Handen".
Voices: Choir I, soprano, alto.
Younger angels
Jene Rosen, aus den Händen
Liebend-heiliger Büßerinnen,
Halten uns den Sieg gewinnen
Und das hohe Werk vollenden,
Diesen Seelenschatz erbeuten.
Böse wichen, als wir streuten,
Teufel flohen, als wir trafen.
Statt gewohnter Höllenstrafen
Fühlten Liebesqual die Geister,
Selbst der alte Satans-Meister
War von spitzer Pein durchdrungen.
Jauchzet auf! Es ist gelungen.
Part: 8.
Schon etwas langsamer und immer noch massiger – Wie die gleiche Stelle im I. Teil.
Page score: 118.
Bar: 540.
Scene: –
Story:
Duration: 2:04.
The perfect angel: "Uns bleibt ein Erdenrest".
Voices: Choir II, soprano, alto, tenor, alto-solo (alto II).
More perfect angels
Uns bieibt ein Erdenrest
Zu tragen peinlich,
Und wär' er von Asbest
Er ist nicht reinlich.
Wenn starke Geisteskraft
Die Elemente
An sich herangerafft,
Kein Engel trennte
Geeinte Zwienatur
Der innigen beiden;
Die ewige Liebe nur
Vermag's zu scheiden.
Part: 9.
Im Anfang (die ersten vier Takte) noch etwas gehalten.
Page score: 122.
Bar: 580.
Scene: Doctor Marianus in the highest, most pure cell of all (enraptured)
Story: The blessed boys receive the soul gladly; their voices are joined by Doctor Marianus (tenor), who accompanies their chorus before breaking into a rapturous E major paean to the Mater Gloriosa, "Queen and ruler of the world!". As the aria ends, the male voices in the chorus echo the soloist's words to an orchestral background of viola tremolos, in a passage described by La Grange as "emotionally irresistible".
Duration: 1:19.
The younger angel: "Ich spur' soeben nebelnd um Felsenhoh".
Doctor Marianus: "Hier ist die Aussicht frei".
Choir and blessed boys: "Freudig empfangen wir".
Voices: Choir I, soprano, alto, tenor, boys' choir.
Younger angels
(Ich spür' soeben,
Nebelnd um Felsenhöh',
Ein Geisterleben.
Regend sich in der Näh'
(Dthe mist disperse)
(Seliger Knaben,
Seh' ich bewegte Schar,)
Los von der Erde Druck,
Im Kreis gesellt,
Die sich erlaben
Am neuen Lenz und Schmuck
Der obern Welt.
Doctor Marianus
Hier ist doe Aussicht frei,
Der Geist erhoben.
Younger angels
Sei er zum Anbeginn,
Steigendem Vollgewinn
Diesen gesellt!
Blessed boys
Freudig empfangen wir
Diesen im Puppenstand;
Also erlangen wir
Englisches Unterpfand.
Löset die Flocken los,
Die ihn umgeben!
Schon ist er schön und groß
Von heiligem Leben.
Doctor Marianus
Dort ziehen Frauen vorbei,
Schwebend nach oben,
Die Herrliche mitterin
Im Sternenkranze,
Die Himmelskönignen,
Ich seh's am Glanze.
Part: 10.
Sempre l'istesso tempo.
Page score: 130.
Bar: 639.
Scene: –
Story: –
Duration: 4:03.
Doctor Marianus: "Hochste Herrscherin der Welt!".
Voices: Tenor, Choir I/II.
Doctor Marianus (continue)
Höchste Herrscherin der Welt!
Lasse mich im blauen,
Ausgespannten Himmelszelt
Dein Geheimnis schauen!
Bill'ge, was des Mannes Brust
Ernst und zart beweget
Und mit heil'ger Liebeslust
Dir entgegen träget!
Unbezwinglich unser Mut,
Wenn du hehr gebietest;
Plötzlich mildert sich die Glut,
Wie (wenn) du uns befriedest.
Doctor Marianus and choir
Jungfrau, rein im schönsten Sinn,
Mutter, Ehren würdig,
Uns erwählte Königin,
Göttern ebenbürtig.
Part: 11.
Ausserst langsam. Adagissimo.
Page score: 139.
Bar: 780.
Scene: Soars into view.
Story: In the second part of the development, the entry of the Mater Gloriosa is signalled in E major by a sustained harmonium chord, with harp arpeggios played over a pianissimo violin melody which La Grange labels the "love" theme. Thereafter the key changes frequently as a chorus of penitent women petition the Mater for a hearing.
Duration: 3:52.
"Dir, der Unberuhrbaren".
Choir II/I.
Choir of penitents and una poenitentium: "Du schwebst zu Hohen der ewigen Reiche".
Voices: Choir II, soprano I.
Mater Gloriosa and choir
Dir, der Unberührbaren,
Ist es nicht benommen,
Daß die leicht Verführbaren
Traulich zu dir kommen.
In die Schwachheit hingerafft,
Sind sie schwer zu retten;
Wer zerreißt aus eig'ner Kraft
Der Gelüste Ketten?
Wie entgleitet schnell der Fuß
Schiefem, glattem Boden!
Choir of penitent women with una poenitentium (Gretchen)
Du schwebst zu Höhen
Der ewigen Reiche,
Vernimmt das Flehen,
Du Gnadenreiche!
Du Ohnegleiche!
Part: 12.
Fliessend.
Page score: 148.
Bar: 868.
Scene: Luke VII: 36, John IV and Acts of the Apostles.
Story: This is followed by the solo entreaties of Magna Peccatrix, Mulier Samaritana and Maria Aegyptiaca. In these arias the "love" theme is further explored, and the "scherzo" theme associated with the first appearance of the angels returns.
Duration: 4:58.
Magna Peccatrix: "Bei der Liebe, die den Fussen".
Mulier Samaritana: "Bei dem Bronn, zu dem schon weiland".
Maria Aegyptiaca: "Bei dem hochgeweihten Orte".
Voices: Soprano II, Alto 1, Alto II.
Magna Peccatrix
Bei der Liebe, die den Füßen
Deines gottverklärten Sohnes
Tränen ließ zum Balsam fließen,
Trotz des Pharisäer-Hohnes:
Beim Gefäße, das so reichlich
Tropfte Wohlgeruch hernieder:
Bei den Locken, die so weichlich
Trockneten die heil'gen Glieder.
Mulier Samaritana
Bei dem Bronn, zu dem schon weiland
Abram ließ die Herde führen:
Bei dem Eimer, der dem Heiland
Kühl die Lippe durft' berühren:
Bei der reinen, reichen Quelle,
Die nun dorther sich ergießet,
Überflüssig, ewig helle,
Rings durch alle Welten fließet.
Maria Aegyptiaca
Bei dem hochgeweihten Orte,
Wo den Herrn man niederließ:
Bei dem Arm, der von der Pforte,
Warnend mich zurücke stieß,
Bei der vierzigjähr'gen Buße,
Der ich treu in Wüsten blieb:
Bei dem sel'gen Scheidegruße,
Den im Sand ich niederschrieb.
All three
Die du großen Sünderinnen
Deine Nähe nicht verweigerst,
Und ein büßendes Gewinnen
In die Ewigkeiten steigerst:
Gönn' auch dieser guten Seele,
Die sich einmal nur vergessen,
Die nicht ahnte, daß sie fehle
Dein Verzeihen angemessen!
Part: 13.
Una penitentium: "Neige, neige, du Ohnegleiche".
Page score: 164.
Bar: 1093.
Scene: Entreating the Virgin.
Story: These two motifs predominate in the trio which follows, a request to the Mater on behalf of a fourth penitent, Faust's lover once known as Gretchen, who has come to make her plea for the soul of Faust.
Duration: 0:53.
Una penitentium: "Neige, neige, du Ohnegleiche".
Voices: Soprano I.
Una poenitentium
Neige, neige,
Du Ohnegleiche,
Du Strahlenreiche,
Dein Antlitz gnadig meinem Glück!
Der früh Geliebte,
Nicht mehr Getrübte,
Er kommt zurück.
Part: 14.
Unmerklich frischer werden.
Page score: 171.
Bar: 1138.
Scene: Circling near.
Story: After Gretchen's entreaty, a solo of "limpid beauty" in Kennedy's words, an atmosphere of hushed reverence descends.
Duration: 3:24.
Blessed boys: "Er uberwachst uns schon".
Una poenitentium: "Vom edlen Geisterchor umgeben".
Voices: Boys choir, choir II, soprano, soprano I.
Blessed boys
Er überwächst uns schon
An mächt'gen Gliedern,
Wird treuer Pflege Lohn
Reichlich erwidern.
Wir wurden früh entfernt
Von Lebechören;
Doch dieser hat gelernt,
Er wird uns lehren.
Una poenitentium
Vom edlen Geisterchor umgeben,
Wird sich der Neue kaum gewahr,
Er ahnet kaum das frische Leben,
So gleicht er schon der heil'gen Schar
Sieh, wie er jedem Erdenbande
Der alten Hülle sich entrafft,
Und aus ätherischem Gewande,
Hervortritt erste Jugendkraft!
Vergönne mir, ihn zu belehren,
Noch blendet ihn der neue Tag!
Part: 15.
Sehr langsam. Hymnenartig (Ungefahr im selben Zeitmass weiter).
Page score: 184.
Bar: 1249.
Scene: Blowing in adoration.
Story: The Mater Gloriosa then sings her only two lines, in the symphony's opening key of E-flat major, permitting Gretchen to lead the soul of Faust into heaven. The final development episode is a hymn-like tenor solo and chorus, in which Doctor Marianus calls on the penitents to "Gaze aloft". A short orchestral passage follows, scored for an eccentric chamber group consisting of piccolo, flute, harmonium, celesta, piano, harps and a string quartet. This acts as a transition to the finale, the Chorus Mysticus, which begins in E-flat major almost imperceptibly—Mahler's notation here is Wie ein Hauch, "like a breath". The sound rises in a gradual crescendo, as the solo voices alternately join or contrast with the chorus. As the climax approaches, many themes are reprised: the love theme, Gretchen's song, the Accende from Part I.
Duration: 7:16.
Mater Gloriosa: "Komm! hebe dich zu hohern Spharen!".
Doctor Marianus: "Blicket auf zum Retterblick, alle reuig Zarten".
Voices: Soprano, tenor, choir II/I, boys choir.
Mater Gloriosa
Komm! Hebe dich zu höhern Sphären!
Wenn er dich ahnet, folgt er nach.
Choir
Komm!
Doctor Marianus
Blicket aut zum Retterblick,
Alle reuig Zarten,
Euch zu sel'gem Glück
Dankend umzuarten!
Werde jeder bess're Sinn
Dir zum Dienst erbötig;
Jungfrau, Mutter, Königin,
Göttin, bleibe gnädig!
Part: 16.
Sehr langsam beginnend.
Page score: 209.
Bar: 1449.
Scene: –
Story: Finally, as the chorus concludes with "Eternal Womanhood draws us on high", the offstage brass re-enters with a final salute on the Veni creator motif, to end the symphony with a triumphant flourish.
Duration: 5:43.
Chorus mysticus: "Alles Vergangliche ist nur ein Gleichnis".
Voices: Choir I/II, soprano I/II, alto I/II, tenor, baritone, bass, boys choir.
Chorus Mysticus
Alles Vergängliche
Ist nur ein Gleichnis;
Das Unzulängliche,
Hier wird's Ereignis;
Das Unbeschreibliche,
Hier ist's getan;
Das Ewig-Weibliche
Zieht uns hinan.
---
Listening Guide