No photo.
Profession: Stagedesigner.
Relation to Mahler: Worked with Gustav Mahler.
Correspondence with Mahler:
Born: 30-11-1855 Vienna, Austria.
Died: 31-08-1920 Vienna, Austria.
Buried: 00-00-0000
Stagedesigns with Gustav Mahler
At the start of Mahler's tenure in Vienna, stage designs were under the control of Anton Brioschi, the Hopfoper's official designer since 1886, and his assistant Heinrich Lefler. However, from 1903, new designs were increasingly the work of Alfred Roller (1864-1935), a member of the Secessionist group of artists into which circle Mahler had been introduced by his wife Alma. Roller was appointed to the Hofoper from June 1903; his innovative and experimental stage designs have been called "more remarkable than [Mahler's] additions to the repertoire".
Year 1901. Stagedesign by Anton Brioschi (1855-1920) for Richard Wagner (1813-1883)'s Rienzi, Act V.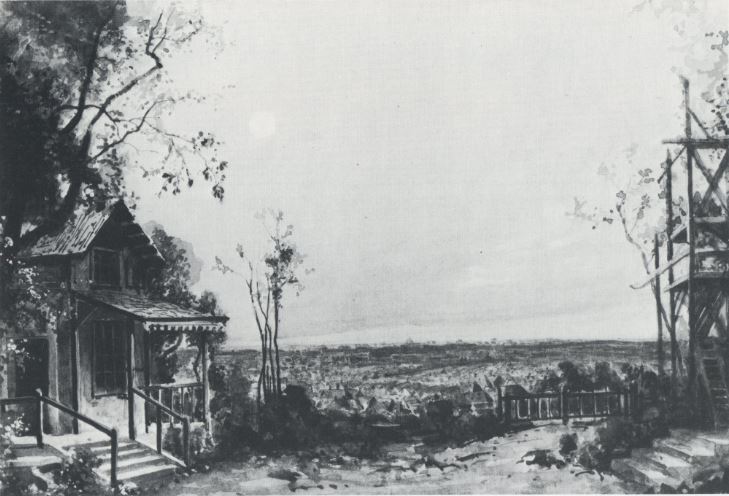 Year 1903. Stagedesign by Anton Brioschi (1855-1920) for Gustave Charpentier (1860-1956)'s Louise, Act III.
Anton Brioschi, Sohn von Carlo Brioschi (1826-1895) und Bruder von Othmar Brioschi (1854-1912) studierte an der Wiener Kunstgewerbeschule bei Josef Ritter von Storck (1830-1902), Michael Rieser (1828-1905) und Valentin Teirich (1844-1876). Er kam 1882 an das Stadttheater in Teplitz und war anschließend ein halbes Jahr bei dem Theatermaler Simon Quaglio (1795-1878) in München tätig. 1883 als Theatermaler am Hoftheater in Hannover, wo er von den lokalen Medien lobend erwähnt wird.
Ab 1884 arbeitet er in Wien an der Seite seines Vaters in dessen privatem Atelier und an der Hofoper, ab 1. Juni 1886 folgt er diesem als Leiter des Hofoperntheaterateliers nach und bleibt hier bis zu seinem Tod. 1884 Entwurf und Ausführung des Eisernen Vorhanges der Hofoper (im Zweiten Weltkrieg zerstört). Anton Brioschi stattet nach eigenen Entwürfen die bedeutendsten Inszenierungen (Verdi, Othello, 1888; Mascagni, Cavalleria rusticana, 1891; Leoncavallo, Der Bajazzo, 1893; Smetana, Die verkaufte Braut, 1896 und Dalibor, 1897; Massenet, Werther, 1892 u. v. a.) der Hofoper bis zur Jahrhundertwende aus. Seine Bühnenbilder werden von der zeitgenössischen Kritik als Bildungserlebnisse oft hymnisch gelobt und seine leuchtenden Farben mit Begeisterung erwähnt.
Mit der Berufung 1897 von Gustav Mahler als Direktor des Hauses und 1900 von Heinrich Lefler als Leiter des Ausstattungswesens wird Brioschi's Selbständigkeit eingeschränkt, er führt nun meist fremde Entwürfe aus. Ab 1903, mit der Übernahme des Dekorationswesens durch Alfred Roller (1864-1935), beschränkt sich Anton Brioschi's Aufgabenbereich nur mehr auf bühnengerechte Ausfertigung der Dekorationen nach Rollers Entwürfen.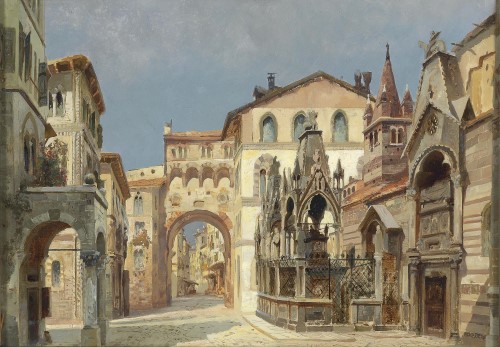 1920. Anton Brioschi (1855-1920) Scaglier gräber in Verona. Watercolour of the tombs and setting.
The Scaliger Tombs (Italian: Arche scaligere) is a group of five Gothic funerary monuments in Verona, Italy, celebrating the Scaliger family, who ruled in Verona from the 13th to the late 14th century.
Mit Anton Brioschi endet die Ära der Theatermaler-Familie Brioschi; sie bestimmte nicht nur Stil und Standard des Wiener Ausstattungswesens, sondern den Geschmack im mitteleuropäischen Theater. Zahlreiche Werke (Grafiken, Aquarelle und Ölgemälde) befinden sich in Museen oder im Privatbesitz.