Profession: Composer.
Relation to Mahler: His arrangement of Klavierquartett in a (1876) is played at Mahler Festival 2020 Amsterdam.
Correspondence with Mahler: 
Born: 13-02-1946 London.
Colin Matthews was born in London in 1946. He studied with Arnold Whittall and Nicholas Maw; in the 1970s he was assistant to Benjamin Britten (1913-1976), and worked for many years with Imogen Holst. His collaboration with Deryck Cooke (1919-1976) on the performing version of Mahler's Tenth Symphony lasted from 1963 until its publication in 1975. Over four decades his music has ranged from solo piano music through five string quartets and many ensemble and orchestral works. He was Associate Composer with the London Symphony Orchestra between 1992 and 1999, and Composer-in-Association with the Hallé from 2001-2010, now their Composer Emeritus.
Klavierquartett in a (1876) / 'Nicht zu schnell' by Gustav Mahler (1860-1911) / Colin Matthews (1946)
Many of Gustav Mahler's early works have been lost. One exception is the unfinished Piano Quartet, marked Nicht zu schnell (Not too fast), written around 1876. To some, the work may not immediately suggest Mahler, if only because he never again returned to the medium of instrumental chamber music. But the ominous atmosphere and the sweeping, almost symphonic gestures of the musical material are very much Mahlerian.
Colin Matthews was commissioned by the Royal Concertgebouw Orchestra to orchestrate the first movement of the Piano Quartet. Matthews says, 'Mahler's first primary subject at the conservatory was piano. That instrument predominates in the quartet and features a much more virtuoso style than that of the strings. In my orchestration, I had to thin out the overwrought texture of the original. I also put some of the melodic lines in different registers because the middle register was too prevalent in the piano quartet.' Matthews also added tempo and dynamic indications, as these are scarce, and in some cases altogether missing, in Mahler's manuscript. The resounding result is a full-blooded Mahlerian orchestral work with savagely seething climaxes.
'Nicht zu schnell' was first performed by the Royal Concertgebouw Orchestra at the Concertgebouw in Amsterdam in November 2009.
Arrangements of Gustav Mahler's Klavierquartett in a (1876): 'Nicht zu schnell' (2008-2009).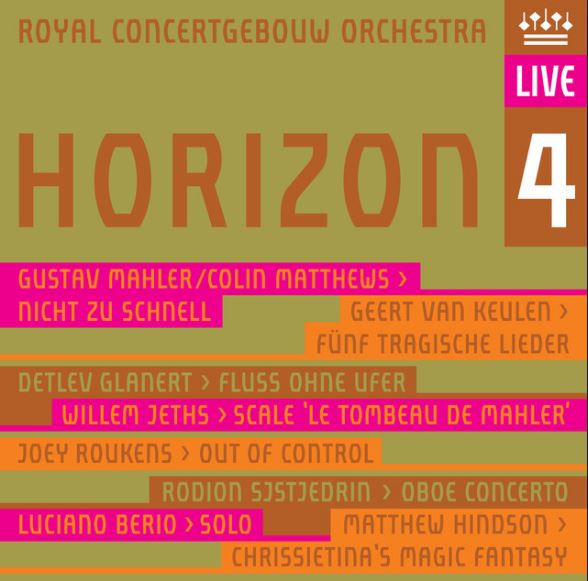 2014. Recording of  Colin Matthews (1946)'s 'Nicht zu schnell' by the Amsterdam Royal Concertgebouw Orchestra (RCO).
Orchestration
Woodwind
1 Bass clarinet.
2 Bassoon.
2 Clarinet Bb.
1 Contra bassoon.
3 Flute.
1 Cor Anglais (English horn, Englishhorn).  
2 Oboes.
Brass
4 Horn F.
3 Trombone.
3 Trumpet C.
1 Tuba.
Plucked
Timpani
Percussion (2 payers)
1 Bass drum.
1 Cymbals.
1 Cymbals suspended.
1 Tam tam.
1 Triangle.
Strings