Felix Mendelssohn Bartholdy (1809-1847).
Profession: Pianist, conductor, composer.
Residences: Leipzig.
Relation to Mahler:
Correspondence with Mahler:
Born: 03-02-1809, Hamburg, Germany.
Died: 04-11-1847, Leipzig, Germany.
Buried: Dreifaltigkeitsfriedhof No. 1, Berlin-Kreuzberg, Germany.
Jakob Ludwig Felix Mendelssohn Bartholdy born and widely known as Felix Mendelssohn, was a German composer, pianist, organist and conductor of the early Romantic period. A grandson of the philosopher Moses Mendelssohn, Felix Mendelssohn was born into a prominent Jewish family. Although initially he was raised without religion, he was later baptized as a Reformed Christian. Mendelssohn was recognised early as a musical prodigy, but his parents were cautious and did not seek to capitalise on his talent.
Mendelssohn enjoyed early success in Germany, where he also revived interest in the music of Johann Sebastian Bach, and in his travels throughout Europe. He was particularly well received in Britain as a composer, conductor and soloist, and his ten visits there – during which many of his major works were premiered – form an important part of his adult career. His essentially conservative musical tastes, however, set him apart from many of his more adventurous musical contemporaries such as Franz Liszt, Richard Wagner and Hector Berlioz. The Leipzig Conservatoire (now the University of Music and Theatre Leipzig), which he founded, became a bastion of this anti-radical outlook.
Mendelssohn wrote symphonies, concerti, oratorios, piano music and chamber music. His best-known works include his Overture and incidental music for A Midsummer Night's Dream, the Italian Symphony, the Scottish Symphony, the overture The Hebrides, his mature Violin Concerto, and his String Octet. His Songs Without Words are his most famous solo piano compositions. After a long period of relative denigration due to changing musical tastes and anti-Semitism in the late 19th and early 20th centuries, his creative originality has now been recognised and re-evaluated. He is now among the most popular composers of the Romantic era.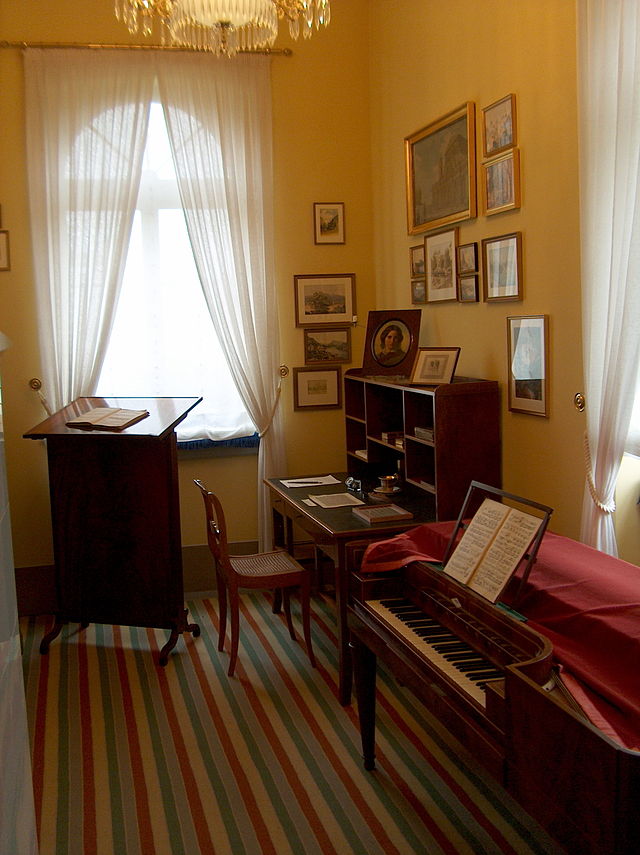 Felix Mendelssohn's study in Leipzig.
Mendelssohn suffered from poor health in the final years of his life, probably aggravated by nervous problems and overwork. A final tour of England left him exhausted and ill from a hectic schedule. The death of his sister Fanny on 14 May 1847 caused him great distress. Less than six months later, on 4 November, Mendelssohn himself died in Leipzig after a series of strokes. He was 38.
His grandfather Moses, his sister Fanny and both his parents had died from similar apoplexies. Felix's funeral was held at the Paulinerkirche, Leipzig, and he was buried at the Dreifaltigkeitsfriedhof I in Berlin-Kreuzberg. The pallbearers included Moscheles, Schumann and Niels Gade. Mendelssohn had once described death, in a letter to a stranger, as a place "where it is to be hoped there is still music, but no more sorrow or partings".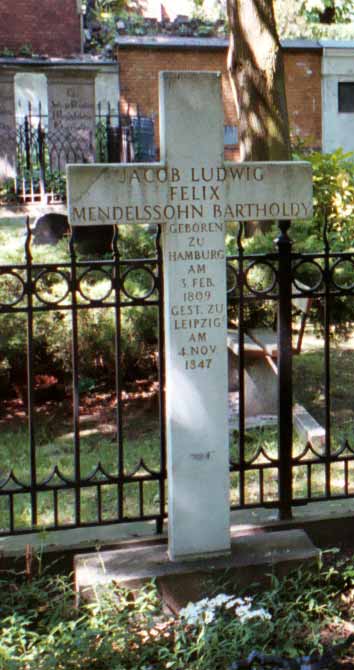 Grave of Felix Mendelssohn Bartholdy, in the background the graves of his parents Abraham Mendelssohn, mar. Mendelssohn Bartholdy (left, partially out of the photo) and Lea Salomon, adopted name: Bartholdy (mar. Mendelssohn Bartholdy).