Henry G. Boewig (1858-1939) (left).
Profession: Copyist, second violinist and librarian of the New York Philharmonic Orchestra (NYPO/NPO). 1910
Relation to Mahler: Mahlers copyist in New York.
Correspondence with Mahler:
Born: 00-08-1858 Germany.
Died: 31-03-1939 1,435 East Eighteenth Street, Brooklyn, New York (at home). Aged 80.
Buried: 00-00-0000
Copied for Gustav Mahler
To Boewig Mahler entrusted the making of the fair copy of the first movement of his own Ninth Symphony which served as the Stichvorlage. Boewig's handwriting is easily identified: it appears in many of the sources and is an important means of establishing Retuschen which Mahler incorporated in performances in New York.
Boewig
Henry G. Boewig was born in Germany in 1858 and came to the United States in 1883. When he first joined the New York Philharmonic Orchestra (NYPO/NPO) in 1888, he played in the second violin section but later became the orchestra's music librarian where his impeccable handwriting served well to copy music and make arrangements. Examples of his penmanship are fixtures of the Philharmonic's library and archives to this day; after the final bar in his manuscripts one often finds his signature and date.
Boewig's fastidiousness set the bar for clarity and precision required at the Philharmonic library for generations to come. His parts, which reflected cuts, note revisions, bowings, and phrase markings, are still consulted by today's librarians.
In 1887 Victor Herbert founded the New York String Quartet together with violinists Sam Franko and Henry Boewig, and violist Ludwig Schenck. The group's first concert was on (08-12-1887), and it continued to give free-admittance concerts for several years at Steinway Hall, earning enthusiastic critical praise.
Boewigs' own manuscripts
1. Allegro bravuro. For two piano's (10 pages). 06-1898.
2. A reminiscence: Violin solo with piano accompaniment. H Boewig, Saratoga, 1905. (4 pages) 06-1905.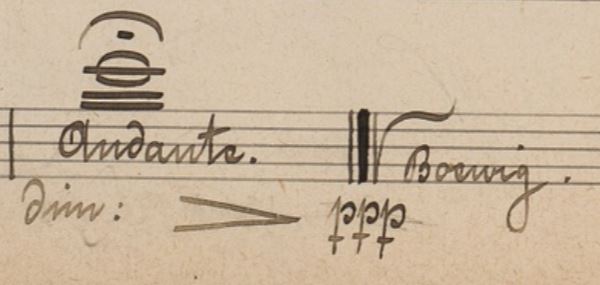 Henry G. Boewig (1858-1939) signature.
Beethoven Symphony No. 7
In the 1920s he indicated the changes made by Gustav Mahler (1860-1911) on this score of Beethoven's Symphony No. 7. Beneath Boewig's words appears Arturo Toscanini (1867-1957)'s signed reference to the changes as being "unworthy of such a musician." Toscanini was Principal Conductor of the Philharmonic from 1929-1936. Someone anonymously later added 'nomina stultorum sunt ubique locorum,' which, translated from the Latin, means: 'the names of fools appear everywhere'.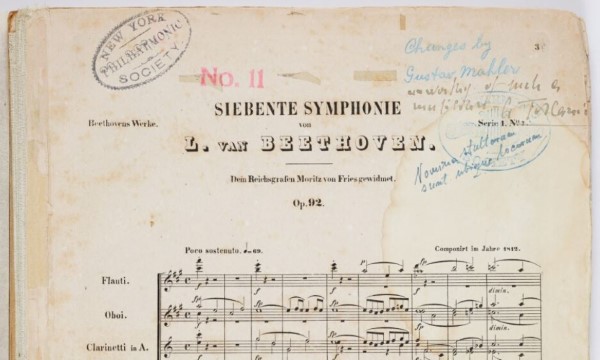 Henry G. Boewig (1858-1939). Beethoven score.
Although Boewig officially retired from the Philharmonic in 1930, he continued arranging and transcribing music for the orchestra for the next few years. He died in Brooklyn in 1939 at the age of 80.
01-04-1939 Obituary in New York Times
Henry Boewig, 80, retired musician; Oldest philharmonic member, with orchestra more than 40 Years, is dead
Henry Boewig, the oldest member of the New York PhilharmonicSymphony Orchestra before his retirement several years ago and who was librarian of that organization for more than forty years, died yesterday in his home, 1,435 East Eighteenth Street, Brooklyn., after a long illness. He was 80 years old.