Julius Friedrich Gernsheim (1839-1916).
Profession: Conductor, composer.
Residences: Frankfurt am Main, Paris, Rotterdam.
Relation to Mahler:  
Correspondence with Mahler: Yes.
Born: 17-07-1839 Worms, Germany.
Address: Bismarckstrasse 86, Berlin.
Died: 10-09-1916 Berlin, Germany.
Buried: Jewish cemetery Weissensee, Berlin, Germany.
Friedrich Gernsheim was a German composer, conductor and pianist. Gernsheim was born in Worms. He was given his first musical training at home under his mother's care, then starting from the age of seven under Worms' musical director, Louis Liebe, a former pupil of Louis Spohr. His father, a prominent Jewish physician, moved the family to Frankfurt am Main in the aftermath of the year of revolutions, 1848, where he studied with Edward Rosenhain, brother of Jakob Rosenhain.
He made his first public appearance as a concert pianist in 1850 and toured for two seasons, then settled with his family in Leipzig, where he studied piano with Ignaz Moscheles from 1852. He spent the years 1855–1860 in Paris, meeting Gioachino Rossini, Édouard Lalo and Camille Saint-Saëns.
His travels afterwards took him to Saarbrücken, where in 1861 he took the conductor post vacated by Hermann Levi (1839-1900); to Cologne, where in 1865 Ferdinand Hiller appointed him to the staff of the Conservatory (his pupils there included Engelbert Humperdinck and Carl Lachmund); he then served as musical director of the Philharmonic Society of Rotterdam, 1874-1890. In the latter year he became a teacher at the Stern Conservatory in Berlin, and in 1897 moved there to teach at the Academy of Arts, where he was elected to the senate in 1897.
Gernsheim was a prolific composer, especially of orchestral, chamber and instrumental music, and songs. Some of his works tend to Jewish subject-matter, notably the Third Symphony on the legend of the Song of Miriam. His earlier works show the influence of Schumann, and from 1868, when he first became friendly with Brahms, a Brahmsian influence is very palpable. Gernsheim's four symphonies (the first of which was written before the publication of Brahms' First Symphony) are an interesting example of the reception of Brahmsian style by a sympathetic and talented contemporary. Gernsheim's last works, most notably his Zu einem Drama (1902), show him moving away from that into something more personal. 
At the age of eleven Gernsheim made his first public appearance at a concert in the Frankfort Theater, on which occasion one of his compositions, an overture, was performed. He later (1852) made a tour through the Palatinate and Alsace as far as Strasburg. Proceeding to Cologne, and thence to Leipsic, he continued his studies for three years with Moscheles, Hauptmann, Rietz, and Richter. After a supplementary course at Paris (1855-61), he gave there a series of concerts, and was recognized as one of the best interpreters of Chopin and Schumann.
Gernsheim became musical director at Saarbrück as successor to Herman Levi in 1861, and in 1865 was called to the Conservatorium of Cologne, where he was shortly afterward appointed musical director of the Musikalische Gesellschaft, the Städtischer Gesangverein, and the Sängerbund. The leadership of the opera orchestra at the Stadttheater was also entrusted to him (1873).
He went to Rotterdam in 1874 as director of the Conservatorium and conductor of the "winter concerts"; and since 1890 has been teacher at the Stern Conservatorium at Berlin and conductor of the Choral Society connected with that institution. In 1897 he became a member of the senate of the royal academy of fine arts at Berlin, and in 1901 was appointed president of the Akademische Meisterschule für Musikalische Komposition.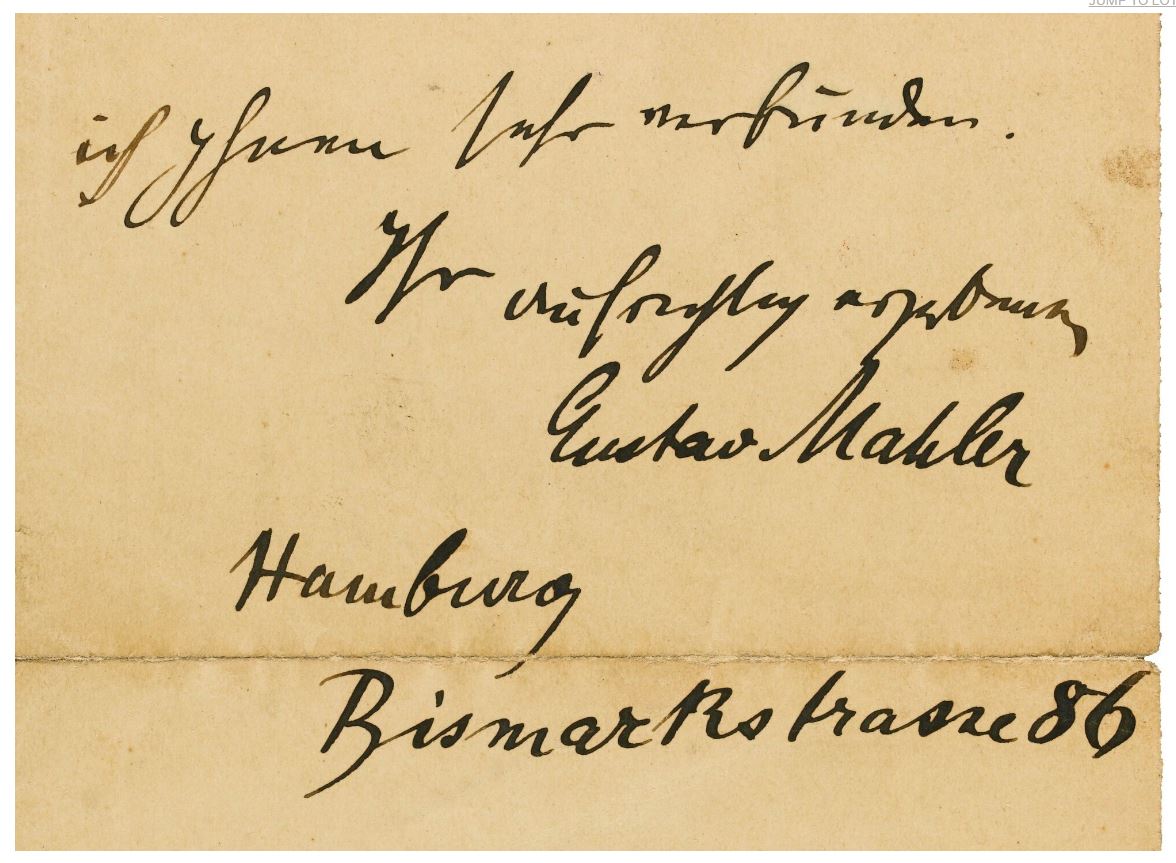 Year 1896. 25-02-1896. Letter by Gustav Mahler to Julius Friedrich Gernsheim (1839-1916) (Herr Professor!)
Confirming that the second concert in the series is scheduled (1896 Concert Berlin 16-03-1896 – Symphony No. 1, Todtenfeier, Lieder eines fahrenden Gesellen (Premiere) and asking if he would once again be able to participate.
…Wie Sie mal schon wissen werden, veranstalte ich am 16. März mein 2. Concert. Ich hätte nun wieder die Bitte an Sie, ob Sie mir auch diesmal wieder Ihre so bewahrte künstlerische Mitwirkung gewähren wollten!…
2 pages, 8vo, Hamburg, Bismarckstrasse 86, 25 February 1896, a little splitting at folds.
This letter refers to Mahler's second concert of the year in Berlin, at which Symphony No. 1 was performed for the first time without the "Blumine" movement, establishing the form of the symphony as we know it today. Also given at the same concert were the first movement of the Second Symphony and the première of the Lieder eines fahrenden Gesellen. Mahler's correspondent is Gernsheim, who was a professor at the Stern Choral Society in Berlin between 1890 and 1897.