Louis Comfort Tiffany (1848-1933).
Profession: American painter, designer, decorator, craftsman and philanthropist. He was a great and early force in the Art Nouveau momement. Shy. Spoke to no one.
Residences: 
Relation to Mahler: Board of Directors of the New York Philharmonic. Louis Tiffany asked Mahler to attend rehearsals in concealment owing to this shyness. 
Correspondence with Mahler: 
Address: Madison Avenue and East 72nd Street, New York. 20-11-1909 Visited by Gustav and Alma Mahler.
Address: Laurelton Hall, located in Laurel Hollow, Long Island, New York. The 84-room mansion on 600 acres of land, designed in the Art Nouveau mode, combined Islamic motifs with connection to nature, was completed in 1905, and housed many of Tiffany's most notable works, as well as serving as a work of art in and of itself.
Born: 18-02-1848 New York
Married: Mary Woodbridge Goddard (1872-1884; her death) and Louise Wakeman Knox (1886-1904; her death)
Died: 17-01-1933 New York. Aged 84.
Buried: 00-00-0000 Green-Wood cemetery, Brooklyn, New York.
Louis Comfort Tiffany was an American artist and designer who worked in the decorative arts and is best known for his work in stained glass. He is the American artist most associated with the Art Nouveau[1] and Aesthetic movements. He was affiliated with a prestigious collaborative of designers known as the Associated Artists, which included Lockwood de Forest, Candace Wheeler, and Samuel Colman. Tiffany designed stained glass windows and lamps, glass mosaics, blown glass, ceramics, jewelry, enamels, and metalwork. He was the first Design Director at his family company, Tiffany & Co., founded by his father Charles Lewis Tiffany.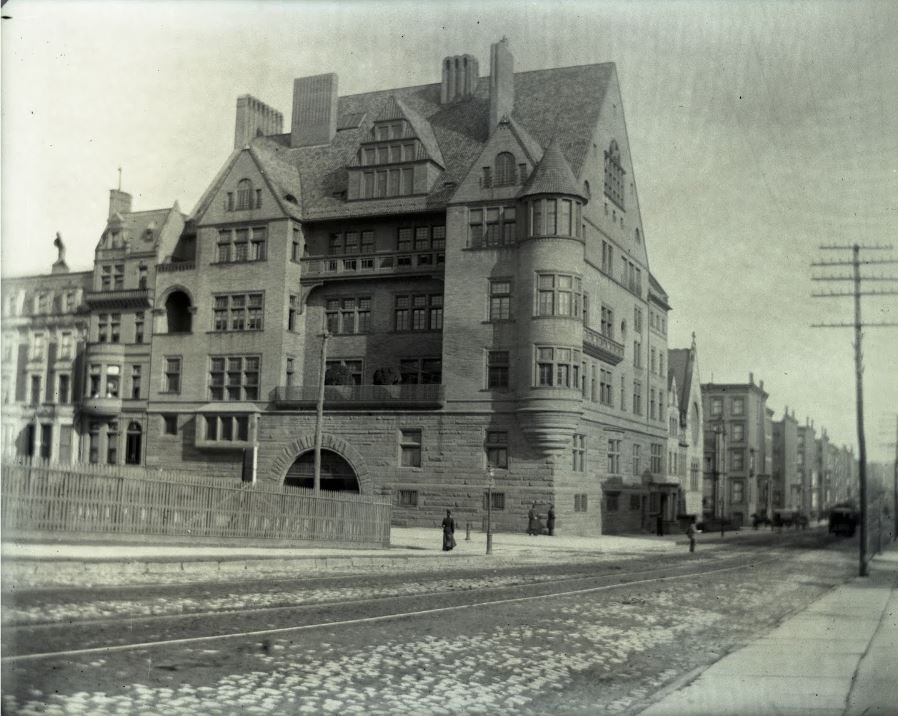 Louis Comfort Tiffany (1848-1933) Mansion. Madison Avenue and East 72nd Street, New York. 20-11-1909 Visited by Gustav and Alma Mahler.
Louis Comfort Tiffany was born in New York City, the son of Charles Lewis Tiffany, founder of Tiffany and Company, and Harriet Olivia Avery Young. He attended school at Pennsylvania Military Academy in West Chester, Pennsylvania, and Eagleswood Military Academy in Perth Amboy, New Jersey. His first artistic training was as a painter, studying under George Inness in Eagleswood, New Jersey and Samuel Colman in Irvington, New York. He also studied at the National Academy of Design in New York City in 1866-1867 and with salon painter Leon-Adolphe-Auguste Belly in 1868-1869. Belly's landscape paintings had a great influence on Tiffany.
Tiffany started out as a painter, but became interested in glassmaking from about 1875 and worked at several glasshouses in Brooklyn between then and 1878. In 1879 he joined with Candace Wheeler, Samuel Colman, and Lockwood de Forest to form Louis Comfort Tiffany and Associated American Artists. The business was short-lived, lasting only four years. The group made designs for wallpaper, furniture, and textiles. He later opened his own glass factory in Corona, New York, determined to provide designs that improved the quality of contemporary glass. Tiffany's leadership and talent, as well as his father's money and connections, led this business to thrive.
In 1881 Tiffany did the interior design of the Mark Twain House in Hartford, Connecticut, which still remains, but the new firm's most notable work came in 1882 when President Chester Alan Arthur refused to move into the White House until it had been redecorated. He commissioned Tiffany, who had begun to make a name for himself in New York society for the firm's interior design work, to redo the state rooms, which Arthur found charmless. Tiffany worked on the East Room, the Blue Room, the Red Room, the State Dining Room, and the Entrance Hall, refurnishing, repainting in decorative patterns, installing newly designed mantelpieces, changing to wallpaper with dense patterns, and, of course, adding Tiffany glass to gaslight fixtures and windows and adding an opalescent floor-to-ceiling glass screen in the Entrance Hall. The Tiffany screen and other Victorian additions were all removed in the Roosevelt renovations of 1902, which restored the White House interiors to Federal style in keeping with its architecture.
A desire to concentrate on art in glass led to the breakup of the firm in 1885 when Tiffany chose to establish his own glassmaking firm that same year. The first Tiffany Glass Company was incorporated December 1, 1885, and in 1902 became known as the Tiffany Studios.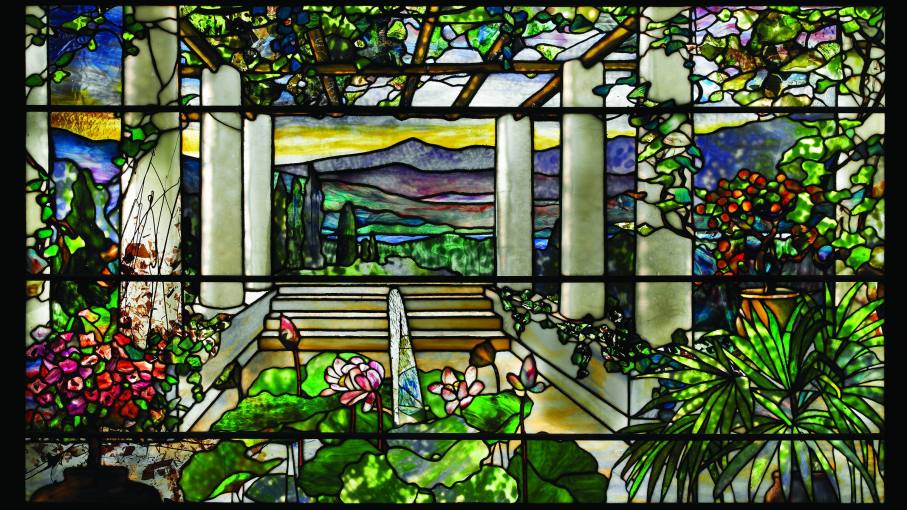 Louis Comfort Tiffany (1848-1933).
In the beginning of his career, Tiffany used cheap jelly jars and bottles because they had the mineral impurities that finer glass lacked. When he was unable to convince fine glassmakers to leave the impurities in, he began making his own glass. Tiffany used opalescent glass in a variety of colors and textures to create a unique style of stained glass. Tiffany acquired Stanford for the "copper foil" technique, which, by edging each piece of cut glass in copper foil and soldering the whole together to create his windows and lamps, made possible a level of detail previously unknown. This can be contrasted with the method of painting in enamels or glass paint on colorless glass, and then setting the glass pieces in lead channels, that had been the dominant method of creating stained glass for hundreds of years in Europe.
The First Presbyterian Church building of 1905 in Pittsburgh, Pennsylvania, is said to be unique in that it uses Tiffany windows that partially make use of painted glass. Use of the colored glass itself to create stained glass pictures was motivated by the ideals of the Arts and Crafts movement and its leader William Morris in England. Fellow artists and glassmakers Oliver Kimberly and Frank Duffner, founders of the Duffner and Kimberly Company and John La Farge were Tiffany's chief competitors in this new American style of stained glass. Tiffany, Duffner and Kimberly, along with La Farge, had learned their craft at the same glasshouses in Brooklyn in the late 1870s.
In 1889 at the Paris Exposition, Tiffany was said to have been "overwhelmed" by the glass work of Émile Gallé, French Art Nouveau artisan. He also met artist Alphonse Mucha.
In 1893, Tiffany built a new factory called the Stourbridge Glass Company, later called Tiffany Glass Furnaces, which was located in Corona, Queens, New York, hiring the Englishman Arthur J. Nash to oversee it. In 1893, his company also introduced the term Favrile in conjunction with his first production of blown glass at his new glass factory. Some early examples of his lamps were exhibited in the 1893 World's Fair in Chicago. At the Exposition Universelle (1900) in Paris, he won a gold medal with his stained glass windows The Four Seasons.
In 1902, Tiffany became the first Design Director for Tiffany & Co., the jewelry company founded by his father.
1911 saw the installation of an enormous glass curtain fabricated for the Palacio de Bellas Artes in Mexico City. It is considered by some to be a masterpiece.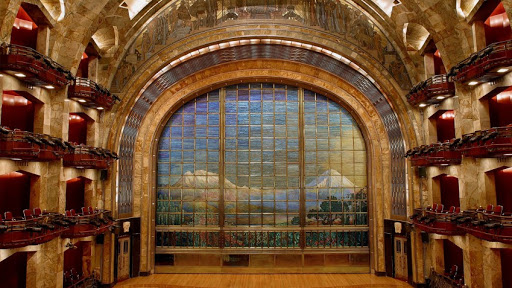 Louis Comfort Tiffany (1848-1933): Glass curtain in the Palacio de Bellas Artes in Mexico City.