Marie Soldat-Roeger (1863-1955).
Profession: Violinist.
Relation to Mahler: Worked with Gustav Mahler.
Correspondence with Mahler:
Born: 25-03-1863 Graz, Austria. Also: Roger.
Died: 30-09-1955 Graz, Austria.
Buried: Unknown.
Marie Soldat-Roeger was a violin master and virtuoso active in orchestral and chamber music in the Vienna of the late nineteenth and early twentieth century. A pupil of violin master Joseph Joachim (1831-1907), she was born 'Marie Soldat', but in 1889 married a lawyer named Roeger.
Marie Soldat-Roeger was discovered by Johannes Brahms (1833-1897) when she was a girl of 15, For many years she was the only woman to play his violin concerto. In 1895 she founded the celebrated, all-female Soldat-Roeger Quartet, whose viola-player was Natalie Bauer-Lechner (1858-1921).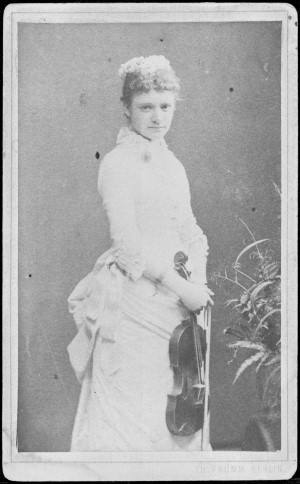 Marie Soldat-Roeger (1863-1955).
Soldat was born in Graz, Austria, and began to study the violin in 1871. She was also a gifted pianist and vocalist, and it wasn't until 1879 that she decided to focus on the violin. That same year she came to the attention of both Brahms and Joachim, both of whom aided her in her musical studies. She became closely associated with the Brahms violin concerto, and she – not Joachim – was the one who introduced it to many European cities. Rachel Barton Pine now plays her 1742 del Gesu, which Brahms arranged for Soldat to acquire.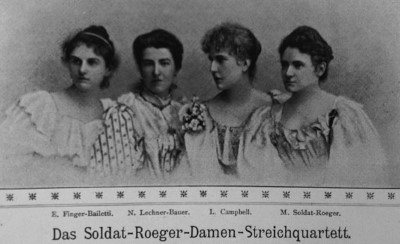 E. Finger-Bailetti, Natalie Bauer-Lechner (1858-1921), I. Campbell and Marie Soldat-Roeger (1863-1955) in Soldat-Roeger Quartet.
Recordings made for Odeon in c. 1920.
James Creighton re-issued these recordings in the 1980s.
Pavilion Records re-released her performance of the slow movement of Spohr's 9th violin concerto as part of their CD compilations in the 1990s.