Chronology: Year 1895
Location: Philharmonie
Nature: Ninth Philharmonic Subscription Concert
Program: Mendelsshohn, Saint-Saens, Mahler, Chopin, Liszt, Weber
Composition Mahler:
Attended by
1895 Concert Berlin 04-03-1895 – Symphony No. 2 – movement 1, 2 and 3.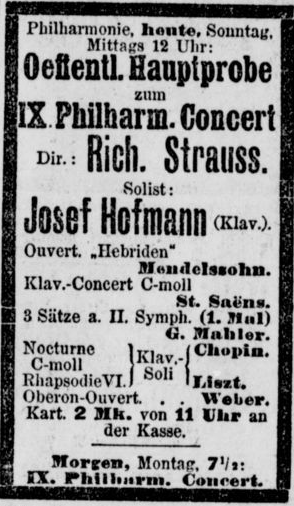 1895 Concert Berlin 04-03-1895 – Symphony No. 2 – movement 1, 2 and 3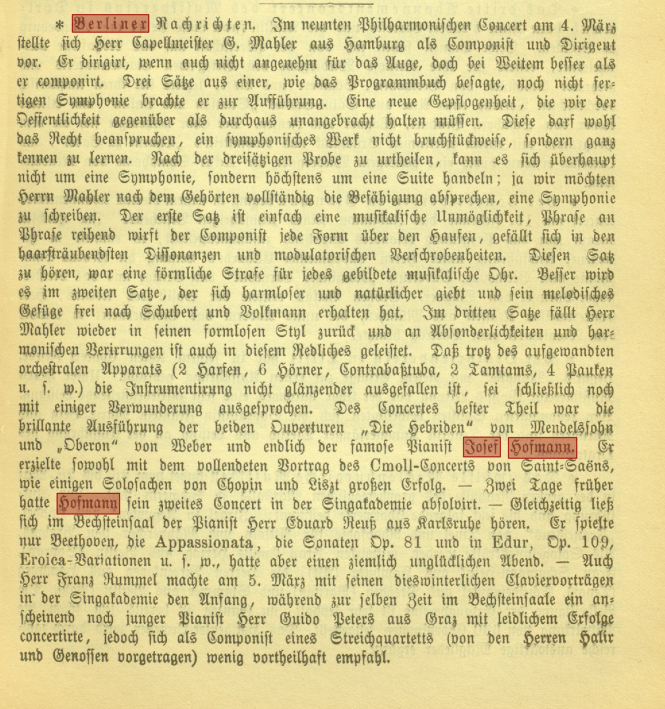 1895 Concert Berlin 04-03-1895 – Symphony No. 2 – movement 1, 2 and 3 Review Berliner Nachrichten.
Berliner Nachrichten. Im neunten Philharmonischen Concert am 4. Marz stellte sich Herr Kapellmeister G. Mahler aus Hamburg als Componist und Dirigent vor. Er dirigirt, n>enn auch nicht augenehm für das Auge, doch bei Weitem besser als er eomponirt. Drei Sätze aus einer, wie das Programmbuch besagte, noch nicht fer fertigen ­ tigen fertigen Symphonie brachte er zur Aufführung. Eine neue Gepflogenheit, die wir der Oesfentlichkeit gegenüber als durchaus unangebracht halten müssen. Diese darf wohl das Recht beanspruchen, ein symphonisches Werk nicht bruchstückweise, sondern ganz kennen zu lernen.
Nach der dreisätzigen Probe zu urtheilen, kann es sich überhaupt nicht um eine Symphonie, sondern höchstens um eine Suite handeln: ja wir möchten Herrn Mahler nach dem Gehörten vollständig die Befähigung absprechen, eine Symphonie zu schreiben. Der erste Satz ist einfach eine musikalische Unmöglichkeit, Phrase an Phrase rechend wirft der Componist jede Form über den Haufen, gefällt sich in den haarsträubendsten Dissonanzen und modglatorischen Verschrobenheiten. Diesen Satz zu hören, war eine förmliche Strafe für jedes gebildete musikalische Ohr. Besser wird cs im zweiten Satze, der sich harmloser und natürlicher giebt und sein melodisches Gefüge frei nach Schubert und Volkmann erhalten hat. Im dritten Satze fällt Herr Mahler wieder in seinen formlosen Styl zurück und an Absonderlichkeiten und har harmonischen ­ monischen harmonischen Verirrungen ist auch in diesem Redliches geleistet.
Daß trotz des aufgewandten orchestralen Apparats (2 Harfen, 6 Hörner, Contrabaßtuba, 2 Tamtams, 4 Pauken u. s. w.) die Jnstrumentirung nicht glänzender ausgefallen ist, sei schließlich noch mit einiger Verwunderung ausgesprochen. Des Concertes bester Theil war die brillante Ausführung der beiden Ouvertüren "Die Hebriden" von Mendelssohn und "Oberon" von Weber und endlich der famose Pianist Josef Hofmann. Er erzielte sowohl mit dem vollendeten Vortrag des C-molls-Concerts von Saint-Saäns, wie einigen Solosachen von Chopin und Liszt großen Erfolg. — Zwei Tage früher hatte Hofmann sein zweites Concert in der Singakademie absolvirt.