Profession: Writer, musicologist, first biographer Gustav Mahler (1905). Published the first large biography 1913 in Berlin..
Residences: Vienna.
Relation to Mahler: Biographer Gustav Mahler. Gustav Mahler Festival Amsterdam 1920.
Correspondence with Mahler: Yes.
Born: 07-12-1870 13 Gonzagagasse, I Vienna, Austria.
Address 1902: IX, Kolingasse 19, Vienna, Austria.
Died: 18-03-1932 Low sanatorium, IX Vienna, Austria. Same location as Gustav Mahler (1860-1911) died. Aged 61.
Buried: Unknown.
Reburied: 12-01-1954 Grinzing cemetery, Vienna, Austria. Grave 13-2-7. Same cemetery as Gustav Mahler (1860-1911) and Alma Mahler (1879-1964). Also in Spechts' grave is his thirth wife Alexandra Laura Specht-Pagin.
Richard Specht was an Austrian lyricist, dramatist, musicologist and writer. Specht is most well known for his writings on classical music, and in his time was seen as a leading music journalist. He was a great authority on the music of Gustav Mahler, and in later life became a regular acquaintance of his widow, Alma Mahler (1879-1964).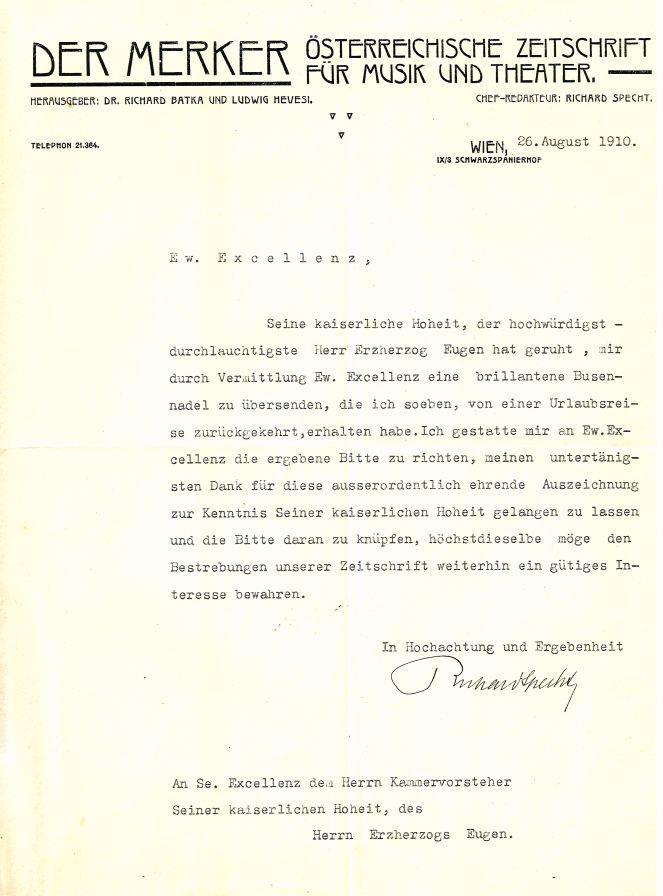 26-08-1910. Letter by Richard Specht (1870-1932) to the chamberlain of Archduke Eugen. "An den Kammervorsteher von Erzherzog Eugen: "Seine kaiserliche Hoheit, der hochwürdigst – durchlauchtigste Herr Erzherzog Eugen hat geruht, mir durch Vermittlung Ew. Excellenz eine brillantene Busennadel zu übersenden, die ich soeben, von einer Urlaubsreise zurückgekehrt, erhalten habe. Ich gestatte mir an Ew. Excellenz die ergene Bitte zu richten, meinen untertänigsten Dank für diese ausserordentliche ehrende Auszeichnung zur Kenntnis Seiner kaiserlichen Hoheit gelangen zu lassen uund die Bitte daran zu knüpfen, höchstdieselbe möge den Bestrebungen unserer Zeitschrift weiterhin ein gütiges Interesse bewahren". Writing paper Der Merker (1909-1922), Osterreichische Zeitschrift fur Musik und Theater, Chef-Redacteur: Richard Specht (1870-1932). Herausgeber: Dr. Richard Batka (1868-1922) und Ludwig Hevesi (1843-1910).
Copyright photo Bert van der Waal van Dijk.
He was, amongst other things, a contributor to the Wiener Illustrierten Extrablatts and other Viennese newspapers. From 1910, he worked at the Merker publishing house. In 1925, he was appointed to a professorship at the institution that is now the University of Music and Performing Arts, Vienna.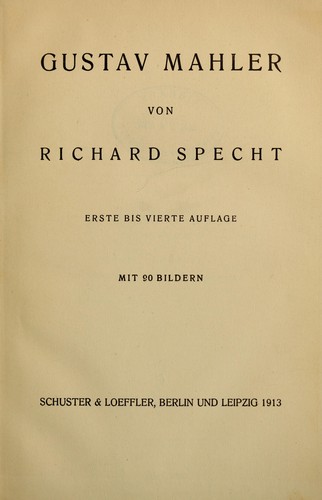 1913. Richard Specht (1870-1932) biography, Leipzig.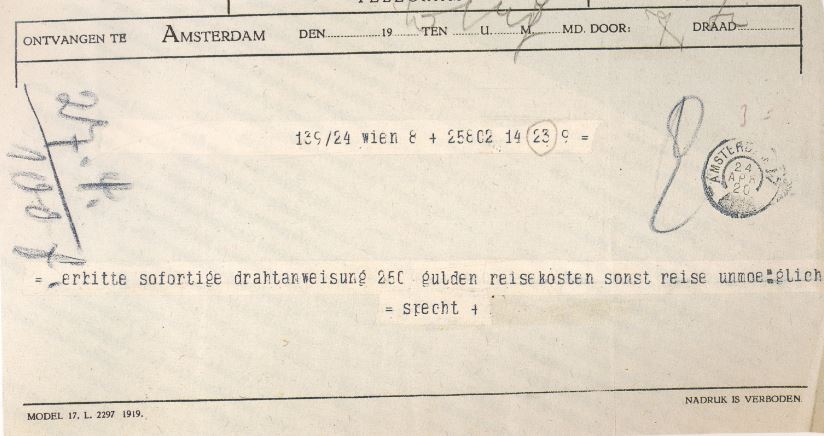 1920. Telegram of Richard Specht (1870-1932), claiming expenses for his trip to the Gustav Mahler Festival Amsterdam 1920. 'Otherwise voyage not possible'.
Fiction
Gedichte (1893).
Das Gastmahl des Plato, Drama (1895).
Pierrot bossu, Drama (1896).
Mozart, twelve poems (1914).
Florestan Kestners Erfolg, a story (1929).
Die Nase des Herrn Valentin Berger, Drama (1929).
Academic works
Johann Strauss II (1909).
Gustav Mahler (1913).
Das Wiener Operntheater – Fifty years of memories (1919).
Die Frau ohne Schatten – Introduction to the music (1919).
Richard Strauss and his work (1921).
Julius Bittner (1921).
Emil Nikolaus von Reznicek – A preliminary study (1922).
Arthur Schnitzler – The poet and his work. A study (1922).
Wilhelm Furtwängler (1922).
Franz Werfel (1926).
Johannes Brahms: Leben und Werk eines deutschen Meisters (1928; English translation by Eric Blom).
Giacomo Puccini. Das Leben, der Mensch, das Werk (1931; English translation, 1933).
Visited Gustav Mahler Festival Amsterdam 1920.
Richard Specht entstammte einer jüdischen Familie, er war der Sohn von Ladislaus Specht, einem Textilkaufmann, und Pauline, geborene Kuh. Er wurde gemeinsam mit seinen Brüdern von Rudolf Steiner, Esoteriker, Philosoph und Begründer der Anthroposophie, als Hauslehrer unterrichtet. Er studierte Klavier und Musiktheorie und ab 1887 vier Semester Architektur an der Technischen Hochschule in Wien, war danach aber zuerst kaufmännisch tätig.
Sein Interesse galt jedoch der Literatur; als Lyriker und Dramatiker gehörte er zum Schriftstellerkreis "Jung Wien" und war Mitarbeiter der Arbeiter-Zeitung in Wien, schrieb aber auch für den Berliner Börsen-Courier und veröffentlichte Beiträge in der Neuen Freien Presse und im Pester Lloyd.
Unter dem Einfluss von Brahms, Brüll (einem Verwandten mütterlicherseits) und Goldmark interessierte er sich zunehmend für die Musik und arbeitete als Musikkritiker für die Wiener Allgemeine Zeitung, das Illustrierte Wiener Extrablatt und Die Zeit. Ab 1908 war er Mitarbeiter für die Wiener Zeitschrift für Musik. 1909 gründete er zusammen mit Richard Batka die einflussreiche, halbmonatlich erscheinende, Musikzeitschrift Der Merker, die er bis 1919 mit Batka und danach mit Julius Bittner leitete. 1914-1920 war er Redakteur der Programmhefte der Abonnementkonzerte der Wiener Philharmoniker. Ab 1920 arbeitete Specht als freier Schriftsteller, hielt zahlreiche Vorträge im Rundfunk und Vorlesungen über Literatur und Ästhetik am Neuen Wiener Konservatorium.
1925 wurde er zum Professor an der Wiener Akademie für Musik und darstellende Kunst ernannt.
Bekannt ist Specht vor allem für seine Schriften über klassische Musik und galt zu seiner Zeit als einer der führenden Musikpublizisten. Befreundet war er u.a. mit Arthur Schnitzler. Er engagierte sich maßgeblich für die Musik Gustav Mahlers und gehörte zu den regelmäßigen Gästen im Salon von Mahlers Witwe Alma Mahler-Werfel.
Specht war dreimal verheiratet: ab 1912 mit der Pianistin Vera Schapira (1891-1930), ab 1920 mit Wanda Maria Halban (1894-1986), der Nichte des Gynäkologen Josef von Halban, ab 1927 mit der Schauspielerin Alexandrine Pagin (1894-1953).