Robert Blass (1867-1930) as Gurnemanz in Parsifal.
Profession: Bass.
Relation to Mahler: Worked with Gustav Mahler.
Correspondence with Mahler:
Born: 27-10-1867 New York, America.
Died: 03-12-1930 Berlin, Germany.
Buried: Unknown.
American bass. Educated in New York public schools, Blass entered the Leipzig Conservatory in 1887, planning violin study with Hans Sitt. Found to have an excellent singing voice, he continued instead under Gustav Ewald and then in Frankfurt with Julius Stockhausen. In 1895 Blass debuted at Weimar as Heinrich in Lohengrin, leading to engagements in Germany.
13-11-1900 bebut at New York Metropolitan Opera (MET), 481 performances. Last performance 21-04-1922.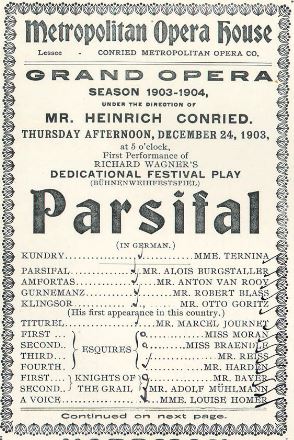 Robert Blass (1867-1930) as Gurnemanz in Parsifal 24-10-1903.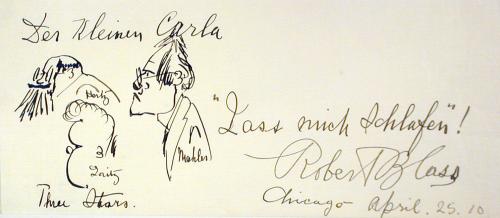 Year 1910. Chicago 25-04-1910: Alfred Hertz, Otto Goritz (1873-1929) and Gustav Mahler (1860-1911). Signee, Let me sleep!, Robert Blass (1867-1930). 'Let me sleep.'
A Chicago album was first owned by Henrietta Schwill (born approximately 1870) to Albert and Carrie Schwill. Albert was head of a malt company in Chicago, IL that bore his name. With other relatives taking jobs within the company, this enabled his family to live quite comfortably. The earliest entries in the book appear in the 1880s. Though Henrietta would have been just a teenager, she was within enough society circles to have contact with notable musicians of the day. One of the last entries in the album shows a new addition to the family: Carla, the Heinzens' daughter. This album leaf, addressed to Carla, is interesting because of the Caricatures of the "Three Stars": Alfred Hertz (conductor), Otto Goritz (1873-1929) (baritone) and Gustav Mahler (1860-1911). Signee is Robert Blass (1867-1930).
More
Er stammte aus einer deutscher Familie. 1887 kam er nach Leipzig und studierte zuerst Violinspiel, später Gesang bei Julius Stockhausen in Frankfurt a.M. 1892 Debüt am Hoftheater von Weimar als König Heinrich im »Lohengrin« er blieb bis 1897 an diesem Haus engagiert und sang dann 1897-98 am Stadttheater von Lübeck, 1898-1900 am Stadttheater von Bremen.Er gab während dieser Zeit Gastspiele an verschiedenen deutschen Bühnen, so 1897 an der Hofoper von München, 1900 an der Hofoper von Dresden. Man hörte ihn bei den Bayreuther Festspielen 1901 abwechselnd als Gurnemanz und als Titurel im »Parsifal« sowie als Hagen in der »Götterdämmerung«.
1899 wirkte er am Berliner Theater des Westens in der Uraufführung von Heinrich Zöllners »Die versunkene Glocke« mit. Gastspiele an der Londoner Covent Garden Oper 1900 als Hagen in der »Götterdämmerung«, 1901-03 als König Heinrich im »Lohengrin«, als Pogner in den »Meistersingern«, als Landgraf im »Tannhäuser«, als Marke im »Tristan« und als Hunding in der »Walküre«. Es folgte ein Engagement an der Metropolitan Oper New York (1900-10), wo er als Antrittsrolle den Landgrafen im »Tannhäuser« sang. 1909 wirkte er dort in der New Yorker Premiere von Smetanas »Verkaufter Braut« als Kruschina mit.
1905 nahm in Amsterdam (gegen das Verbot von Bayreuth) an der holländischen Premiere des »Parsifal« teil. Dann kam er wieder nach Deutschland, gastierte 1910 an der Berliner Hofoper und war 1913-19 am Deutschen Opernhaus Berlin tätig, wo er 1914 in der Premiere des »Parsifal« die Partie des Gurnemanz übernahm. 1920-22 war er dann abermals an der New Yorker Metropolitan Oper im Engagement. Dort ist er insgesamt in 25 Partien und in 234 Vorstellungen (ohne die Aufführungen während der alljährlichen Gastspiel-Tournee des Ensembles) aufgetreten.
Von den Partien, die er an der Metropolitan Oper sang, sind zu nennen: der Sarastro in der »Zauberflöte«, der Rocco im »Fidelio«, der Hohepriester in der »Königin von Saba« von Goldmark, der Ramphis in »Aida«, der Gaveston in »La Dame blanche« von Boieldieu, an erster Stelle aber seine Wagner-Gestalten vom Daland im »Fliegenden Holländer« bis hin zum Gurnemanz im »Parsifal«, den er in der denkwürdigen New Yorker Erstaufführung des »Parsifal« am 24.12.1903 vortrug. Er wirkte an der Metropolitan Oper auch in den Premieren der Opern »Manru« von Paderewski (1902), »Der Wald« von Mrs. Ethel Smith (1902) und »Salome« von R. Strauss mit. In den Spielzeiten 1920-22 waren seine Partien an der Metropolitan Oper vor allem der Marke im »Tristan« und der Gurnemanz. Später lebte er in Berlin und wirkte dort als Pädagoge.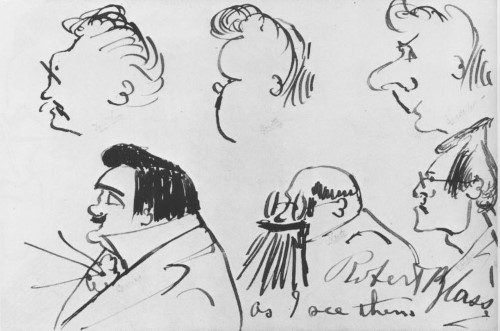 Year? Sketch of Mahler (lower right) and other personalities. 'As I see them.