Gustav Mahler aboard
Steamship S.S. Kronprinzessin Cecilie
Name: S.S. Kronprinzessin Cecilie.
Namesake: Crown Princess Cecilie.
Owner: North German Lloyd.
Port of registry: German Empire Bremen.
Route: Transatlantic.
Builder: AG Vulcan, Stettin, Germany.
Launched: 1 December 1906.
Maiden voyage: 14 July 1907.
Fate: Interned, 1914; Seized by U.S., 1917.
SS Kronprinzessin Cecilie was an ocean liner built in Stettin, Germany in 1906 for North German Lloyd that had the largest steam reciprocating machinery ever fitted to a ship. The last of four ships of the Kaiser class, she was also the last German ship to have been built with four funnels. She was engaged in transatlantic service between her homeport of Bremen and New York until the outbreak of World War I.
S.S. Kronprinzessin Cecilie.
On 4 August 1914, at sea after departing New York, she turned around and put into Bar Harbor, Maine, where she later was interned by the neutral United States. After that country entered the war in April 1917, the ship was seized and turned over to the United States Navy, and renamed USS Mount Vernon (ID-4508). While serving as a troop transport, Mount Vernon was torpedoed in September 1918. Though damaged, she was able to make port for repairs and returned to service. In October 1919 Mount Vernon was turned over for operation by the Army Transport Service in its Pacific fleet based at Fort Mason in San Francisco. USAT Mount Vernon was sent to Vladivostok, Russia to transport elements of the Czechoslovak Legion to Trieste, Italy and German prisoners of war to Hamburg, Germany. On return from that voyage, lasting from March through July 1920, the ship was turned over to the United States Shipping Board and laid up at Solomons Island, Maryland until September 1940 when she was scrapped at Boston, Massachusetts.
S.S. Kronprinzessin Cecilie.
Kronprinzessin Cecilie, built at Stettin, Germany, in 1906 by AG Vulcan Stettin, was the last of a set of four liners built for North German Lloyd, and the last German liner to carry four smokestacks. She was the product of ensuing competition between Germany and the United Kingdom for supremacy in the North Atlantic. Her older sister, Kaiser Wilhelm der Grosse had been introduced in 1897 and was a great success. Her popularity prompted North German Lloyd to build three more superliners, namely Kronprinz Wilhelm (1901), Kaiser Wilhelm II (1903) and finally Kronprinzessin Cecilie.
In 1907 Wiegard trusted Eduard Scotland and Alfred Runge with the interior design of the ship. They designed luxury cabins where the beds would convert to sofas and the washstands would convert into tables. All of the metalwork was gilded; the surfaces were generally white while the wooden surfaces of violet amaranth were inlaid with agate, ivory and citron wood.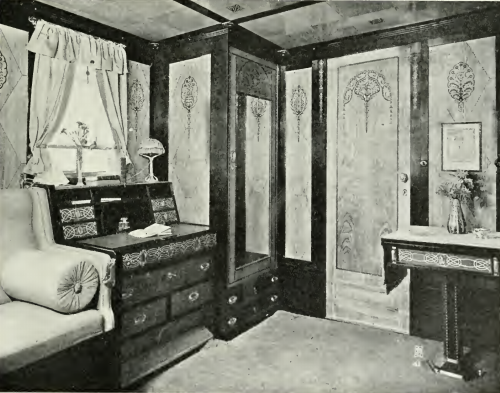 S.S. Kronprinzessin Cecilie. Interior.
As designed the ship had 287 first class, 109 second class cabins and 7 compartments for steerage passengers. Passenger capacity was 775 first class, 343 second class and 770 steerage passengers for a total of 1,888 supported by a crew of 679 that included 229 stewards and stewardesses and 42 cooks, pantrymen, barbers, hairdressers and other passenger service people. Two "Imperial suites" had a parlor, private dining room, bedroom and bath room with toilet while eight other suites had all but the dining room. Twelve deluxe rooms had a large bedroom with bathroom and toilet.
The liner was 19,400 GT and was 215.29 metres (706 ft 4 in) length overall, 208.89 metres (685 ft 4 in) length between perpendiculars, by 22.00 metres (72 ft 2 in) abeam. She had two reciprocating, quadruple-expansion steam engines that powered two screw propellers. Kronprinzessin Cecilie sailed at a comfortable 23 knots (43 km/h; 26 mph).
Named after Crown Princess Cecilie of Prussia, she was launched by her father in law Wilhelm II, German Emperor. In July 1907, the new Kronprinzessin Cecilie was planned to leave Bremerhaven on her maiden voyage. However, before the voyage could take place, the ship sank in Bremerhaven harbour. It was not until the next month on 6 July, had the ship been pumped out and repaired, before setting out on 14 July.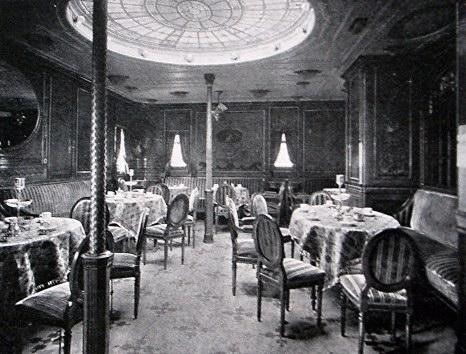 S.S. Kronprinzessin Cecilie. "Vienna Café"
In comparison with a $2,500 first class suite ticket, the immigrant could sail on Kronprinzessin Cecilie for a mere $25 – one hundred times cheaper
The interiors of the "four flyers", as they were called, were special. The entire ship was fitted with the best of craftsmanship Germany could offer; the salons were full of ornamented wood and gilded mirrors. While her sister, SS Kaiser Wilhelm II was thought by some to be too extravagant, Kronprinzessin Cecilie was a popular ship. Some of her first class suites were fitted with dining rooms so the passengers who booked the suite could dine in private if they did not wish to take their meals in the main restaurant. Also, a fish tank was placed in the kitchen, providing first class passengers with the freshest of fish.