Gustav Mahler aboard
Steamship S.S. Amerika
Name: S.S. Amerika.
Namesake: German spelling of America.
Owner: Hamburg America Line.
Builder: Harland and Wolff Belfast.
Yard number: 357.
Launched: 20 April 1905.
Completed: 21 September 1905.
In service: 11 October 1905.
Out of service: 1 August 1914.
Fate: Seized by United States, April 1917.
Belfast, Northern Ireland, by the noted shipbuilding firm of Harland and Wolff, Ltd. Built for the Hamburg America Line, the steamer entered transatlantic service in the autumn of 1905, when she departed Hamburg on 11 October, bound for the United States.
A slightly larger sister ship, S.S. Kaiserin Auguste Victoria was being built at the same time at Hamburg and would remain the largest ship in the world until the Lusitania. Easily one of the most luxurious passenger vessels to sail the seas, Amerika entered upper New York Bay on 20 October, reaching the Hamburg America piers at Hoboken, New Jersey, in mid-afternoon. Some 2,000 people turned out to watch her as she was moored near her consorts at the Hamburg America Line which were bedecked in colorful bunting in nearby slips.
S.S. Amerika.
Lavishly decorated throughout, Amerika boasted of a couple of unique shipboard features; an electric passenger elevator, and an a-la-carte restaurant which, from early morning to midnight, offered a variety of dishes to delight the discriminating gourmet.
From 1905 to 1914, Amerika plied the North Atlantic trade routes touching at Cherbourg, France, while steaming between Hamburg and New York. Toward the end of that period, her itinerary was altered so that the ship also called at Boulougne, France, and Southampton, England.
S.S. Amerika.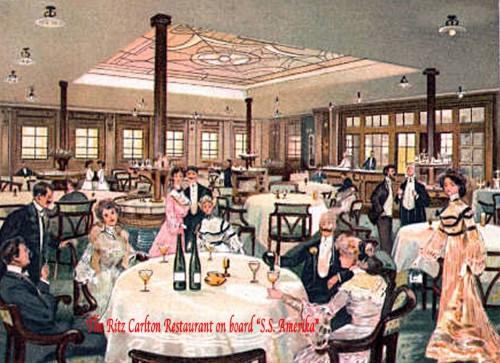 S.S. Amerika, Ritz Carlton restaurant.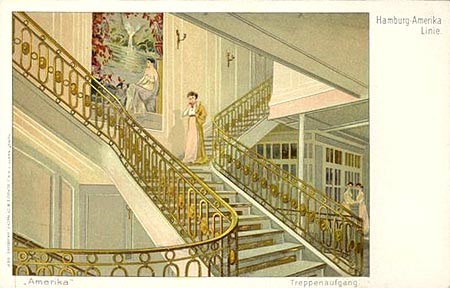 S.S. Amerika, stairs.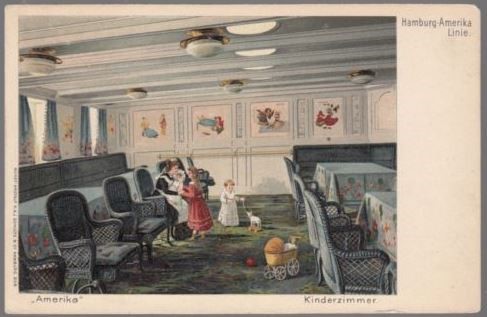 S.S. Amerika, nursery.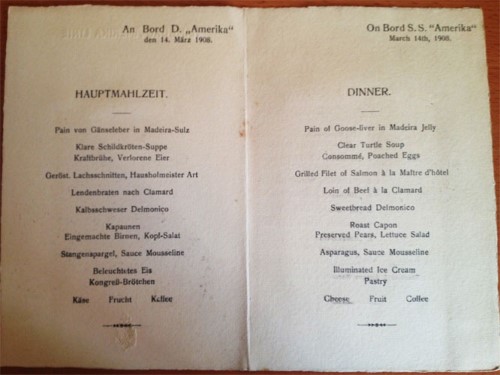 S.S. Amerika. Dinner dated March 14th 1908 – 177×117 mm. A folded card with a very good drawing of the SS Amerika on the front cover. Inside a 12 course dinner in English and German with French and a few US dishes. On the back cover is the music programme with a lovely drawing of a violinist. Clean and handsome.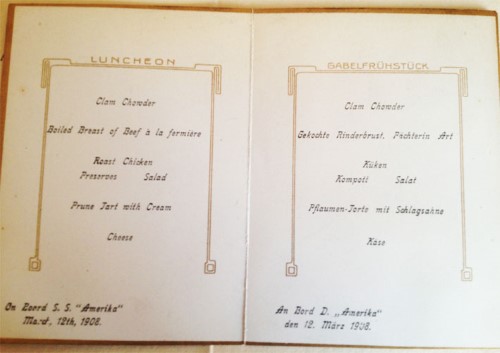 S.S. Amerika. Lunch dated March 12th 1908 – 130×90 mm. A folded card with a header titled 'A Suggestion' on the front cover. Inside a plain 6 course lunch in English and German. On the back cover are a couple of glue strips that suggest this menu was pasted into a folder at some time. All text and menu borders in gilt. The guttering has been strengthened but still a clean and handsome item. Overall in very good condition and housed in a handsome cardboard folder covered in grey marbled paper with a label on the front cover. A rare item of Escoffier ephemera. 
The Hamburg Amerika Liner company requested Auguste Escoffier and Cesar Ritz's services for the planning and inauguration of the Kitchens and Restaurants on the brand new liners "S.S. Amerika" and the 'S.S. Kaiserin Auguste Victoria. Both of these ships were built side by side at the Harland Wolff shipyards in Belfast. 'Amerika' was launched first on April 20th 1905, According to the Morton Allan Directory of European Passenger Steamship Arrivals (Baltimore: 1987), the "S.S. Amerika" sailed between Hamburg and New York from 1905-1913.
For the year 1914 it sailed between Hamburg and Boston; the Amerika's last U.S. arrivals were to Boston on 19 June and 24 July 1914. In 1912, it was the first ship to warn Titanic of icebergs. The kitchens and dining rooms of the liners S.S. Amerika and S.S. Kaiserin Auguste Victoria opened with the very original a la carte restaurants. The service on board all of those liners was called the "The Ritz Carlton Restaurants". There had never been an a'la Cartre restaurant of any kind on a ship before. Adding the names of Escoffier and Ritz to this novel enterprise and the interest, support and demand completely filled the dining rooms every day. The new restaurants became stunning successes. They even had to significantly expand the kitchen of the 'S.S. Kaiserin Auguste Victoria' after the first voyage. Escoffier's secondment from the Carlton Hotel to the Hamburg Amerika line was to last until 1915 and would further help to cement his reputation as the gastronomic Master craftsman of the age.