The castle from the first half of the 13th was renovated over the course of its life in the Renaissance and Baroque styles, with the last renovation taking place after the fire in 1879. Many structural architectural elements have survived, such as the cylindrical tower, the Renaissance loggia, and two gates. The museum is located on the ground floor of the Malý palác (Small Palace) in the castle's upper courtyard. The exposition features a one-of-a-kind installation that depicts how museums presented their exhibits in the 1930s. Items on display showcase the city's history with the products and tools of the local craftsmen, guild relics, and a rich numismatic collection and collection of paintings.
The weapons collection is located in the hall with its exceptional sgraffito ceiling ornamentation. Throughout the year, the museum gallery presents temporary painting and photograph exhibits. In the summer months, the castle complex plays host to occasional fencing, theatre, and musical performances. Since 2007, the castle tower has been opened for public tours in the summer months. This Bergfried-type tower is 32 metres tall, and was built in the mid-13th century. After conquering its 111 stairs, visitors are rewarded with an impressive view of the surrounding landscape.
Ledec nad Sazavou. Castle.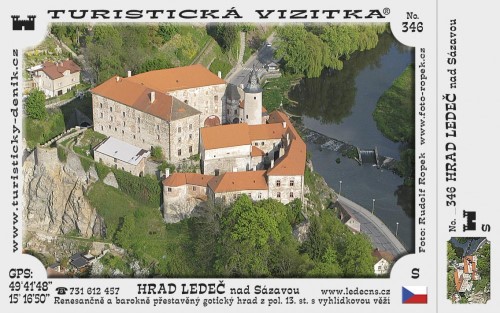 Ledec nad Sazavou. Castle.