1907 Concert Frankfurt am Main 18-01-1907 – Symphony No. 4.
After 1848, the Museum Society concentrated more and more on music, although until 1886 it organized lectures with speakers such as Felix Dahn, Alfred Brehm and Richard von Helmholtz. From 1832 to 1860, the Museumskonzerte was held in the large dining room of the Hotel Weidenbusch in the Steinweg, which offered space for 1000 visitors. In 1851 the Städel took over the important painting collections.
In 1860 Carl Müller took over the direction of the Museumskonzerte, who was also successor to Messers as conductor of the Cäcilienverein. In 1861, the company's concerts were relocated to the newly constructed Saalbau in the Junghofstraße and thus made accessible to a wide public.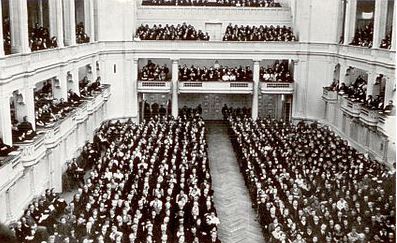 The hall building, a work of the Frankfurt architect Heinrich Burnitz, had a concert hall with 1800 seats and a small hall for lectures and chamber concerts, as well as the necessary additional rooms, as well as a banquet hall in the bridge building over the Junghofstraße. The large hall, measuring 42 to 24 meters, was 14 meters high and had excellent acoustics. On 18 November 1861 he was opened with a solemn performance of the creation of Joseph Haydn.
For eight decades, until his destruction in 1944, he remained the center of Frankfurt's concert life.