Fortress theater Ofen (1900).
Theater
Former church in Fort Buda.
Opened 17-10-1878.
1.200 visitors.
Standing places.
07-05-1800 Beethoven played here.
Closed in 1924, demolished in WW II, ceconstruction in 1978.
Performances conducted by Gustav Mahler in his theater:
04-02-1891 The Merry Wives of Windsor (Nicolai).
11-02-1891 Cavallaria rusticana (Mascagni).
06-03-1891 Cavallaria rusticana (Mascagni).
Following the dispersal of the Carmelite Order (1784), the Szent József (Saint Joseph) church of their monastery was first transformed into a military depot, then, by the approval of Emperor Joseph II, into a theatre. The execution of the building's transformation into a theatre building took place between January and October 1787, based on the plan and design by Farkas Kempelen counselor at the emperor's court, a famous Hungarian polymath. The main front was also renovated in the Baroque Classical style, typical of the era.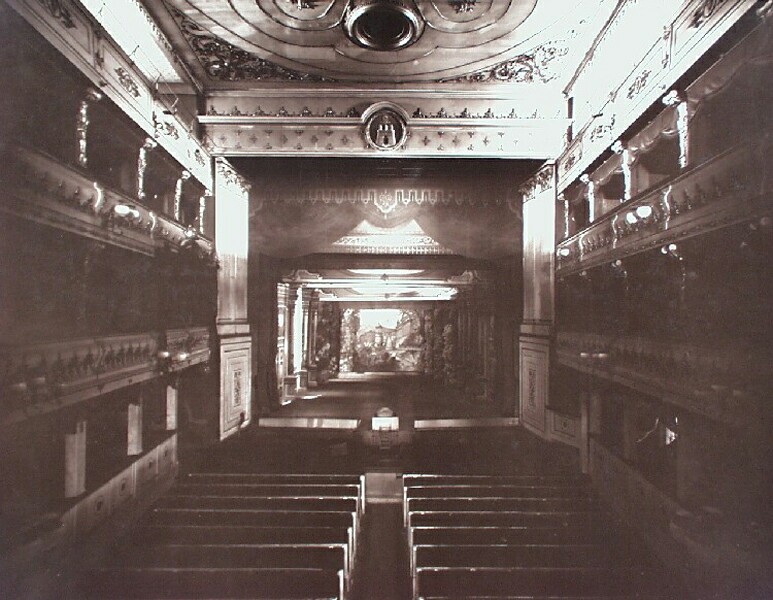 Fortress theater Ofen (1890).
The language of theatre plays for a long time was German, but the first Hungarian play was performed here in October 5, 1790. László Kelemen's troupe played Kristóf Simai's drama "Igazházi" (approx. " The Faithful One"). On 07-05-1800 Beethoven played music in the theatre, and József Katona's Bánk Ban – which later became the Hungarian national drama – was also played for the first time here.
Plays in the theatre, which throughout its history underwent several reconstructions, – were performed until 1924 acted by different troupes. From 1870 until the turn of the century it had been operating as the repertory theatre of the Hungarian National Theatre.
Following this period until World War II, the building was again used as a depot. It suffered heavy damage during the 1944-1945 siege and stayed in a ruinous state for as long as 1977 when it became renovated. After it had re-opened its doors, it gave home to several theatre troupes. From 1982 once again it became the repertory theatre of the Hungarian National Theatre until 2001, and since then it has been operating as the Hungarian Dancing Theatre.