1910 Concert New York 01-02-1910.
Year 1909. Exterior New Theater.
New Theater (later: Century Theatre) on Central Park West in New York City, taken from the northeast.
The New Theatre was once called "New York's most spectacularly unsuccessful theater" in the WPA Guide to New York City. Envisioned in 1906 by Heinrich Conried, a director of the Metropolitan Opera House, its construction was an attempt to establish a great theatre at New York free of commercialism, one that, broadly speaking, would resemble the Comédie Française of Paris. Thirty founders each subscribed $35,000 at the start, and a building designed to be the permanent home of a repertory company was constructed on Central Park West on the Upper West Side at a cost of three million dollars. Architecturally, it was one of the handsomest structures in the city, designed by the prominent Beaux-Arts architectural firm Carrère and Hastings.
With Winthrop Ames as the only director, the New Theatre Company occupied the building for only two seasons, 1909-1910 and 1910-1911. Capable of seating 2,300 persons, the New Theatre was opened on November 6, 1909, with impressive ceremonies and apparently under the most favoring auspices, but a serious defect in the acoustics became apparent at once and this was only partly remedied by the installation of a sound-deflecting bell.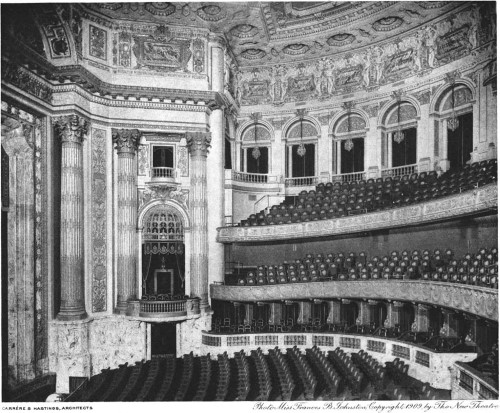 Year 1909. Auditorium New Theater.
The building was located a mile above the Theater District, and it was exceedingly expensive to maintain. Financially, the venture proved to be a boondoggle. At the end of the second season, it was found to be impracticable to plan for a third. The building was leased to other theatre managers, who changed the name to the Century Theatre (1911), the Century Opera House (1913), the Century once more (1915), with Florenz Ziegfeld as manager.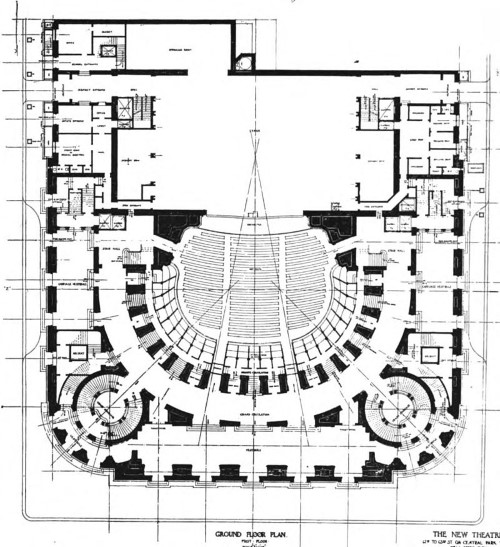 Year 1909. Ground floor plan New Theater.
In 1917, producers Florenz Ziegfeld and Charles Dillingham opened the roof garden as a nightclub and named it the Cocoanut Grove, based on the success of a similar venue, Ziegfeld Midnight Frolic at the New Amsterdam Theatre. It was of no use. The "Shrine of Snobbism" as a populist New York paper dubbed it (WPA Guide) was demolished and the Art Deco Century Apartments, designed by the office of Irwin S. Chanin, rose on the site in 1931.