39th Street (1411 Broadway).
3,625 seats.
54 Mahler performances.
Demolished in 1967.
Opera's
Concerts
See also
The Met was founded in 1880 as an alternative to the previously established Academy of Music opera house, and debuted in 1883 in a new building on 39th and Broadway (now known as the "Old Met").
1905. New York Metropolitan Opera (MET).
The first Metropolitan Opera House opened on October 22, 1883, with a performance of Faust. It was located at 1411 Broadway between 39th and 40th Streets and was designed by J. Cleaveland Cady. Gutted by fire on August 27, 1892, the theater was immediately rebuilt, reopening in the fall of 1893. Another major renovation was completed in 1903. The theater's interior was extensively redesigned by the architects Carrère and Hastings. The familiar red and gold interior associated with the house dates from this time. The old Met had a seating capacity of 3,625 with an additional 224 standing room places.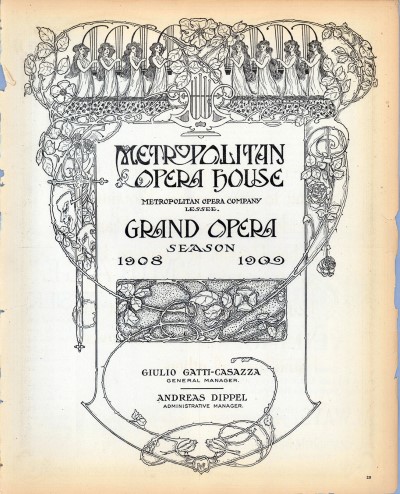 Year 1909. New York Metropolitan Opera (MET).
The theater was noted for its elegance and excellent acoustics and it provided a glamorous home for the company. Its stage facilities, however, were found to be severely inadequate from its earliest days. Over the years many plans for a new opera house were explored and abandoned, including a proposal to make a new Metropolitan Opera House the centerpiece of Rockefeller Center. It was only with the development of Lincoln Center that the Met was able to build itself a new home. The Met said goodbye to the old house on April 16, 1966, with a lavish farewell gala performance. The theater closed after a short season of ballet later in the spring of 1966 and was demolished in 1967.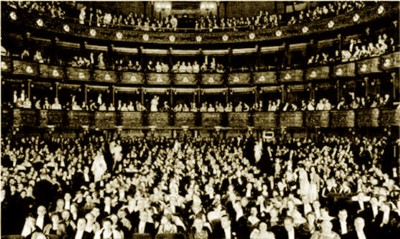 Year 1909. New York Metropolitan Opera (MET).
The Metropolitan Opera Company was founded in 1880 to create an alternative to New York's old established Academy of Music opera house. The subscribers to the Academy's limited number of private boxes represented the highest stratum in New York society. By 1880, these "old money" families were loath to admit New York's newly wealthy industrialists into their long-established social circle. Frustrated with being excluded, the Metropolitan Opera's founding subscribers determined to build a new opera house that would outshine the old Academy in every way. A group of some 22 men assembled at Delmonico's restaurant on April 28, 1880. They elected officers and established subscriptions for ownership in the new company. The new theater, built at 39th and Broadway, would include three tiers of private boxes in which the scions of New York's powerful new industrial families could display their wealth and establish their social prominence. The first Met subscribers included members of the Morgan, Roosevelt, and Vanderbilt families, all of whom had been excluded from the Academy. The new Metropolitan Opera House opened on October 22, 1883, and was an immediate success, both socially and artistically. The Academy of Music's opera season folded just three years after the Met opened.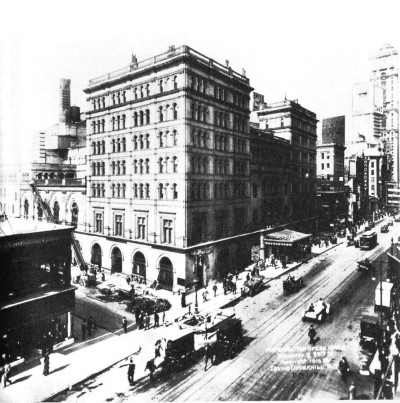 1912. New York Metropolitan Opera (MET).
The company performed not only in the new Manhattan opera house, but also started a long tradition of touring throughout the country. In the winter and spring of 1884 the Met presented opera in theaters in Brooklyn, Boston, Philadelphia (see below), Chicago, St. Louis, Cincinnati, Washington D.C., and Baltimore. Back in New York, the last night of the season featured a long gala performance to benefit Mr. Abbey. The special program consisted not only of various scenes from opera, but also offered Mme. Marcella Sembrich (1858-1935) playing the violin and the piano, as well as the famed stage actors Henry Irving and Ellen Terry in a scene from Shakespeare's The Merchant of Venice.
Conried and Gatti-Casazza
The administration of Heinrich Conried (1855-1909) in 1903-1908 was distinguished especially by the arrival of the Neapolitan tenor Enrico Caruso (1873-1921), the most celebrated singer who ever appeared at the old Metropolitan. He was also instrumental in hiring conductor Arturo Vigna. Conried was followed by the 27-year tenure, from 1908 to 1935, of the magisterial Giulio Gatti-Casazza (1869-1940) who had been lured by the Met from a celebrated tenure as director of Milan's La Scala Opera House. His model planning, authoritative organizational skills and brilliant casts raised the Metropolitan Opera to a prolonged era of artistic innovation and musical excellence. Gatti-Casazza brought with him the fiery and brilliant conductor Arturo Toscanini (1867-1957), the music director from his seasons at La Scala.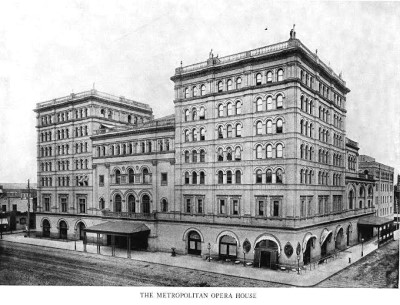 1914. New York Metropolitan Opera (MET).
Many of the most noted singers of the era appeared at the Met under Giulio Gatti-Casazza (1869-1940) leadership, including sopranos Rosa Ponselle, Elisabeth Rethberg, Maria Jeritza, Emmy Destinn (1878-1930), Frances Alda, Frida Leider, Amelita Galli-Curci, and Lily Pons; tenors Jacques Urlus, Giovanni Martinelli, Beniamino Gigli, Giacomo Lauri-Volpi, and Lauritz Melchior; baritones Titta Ruffo, Giuseppe De Luca, Pasquale Amato, and Lawrence Tibbett; and basses Friedrich Schorr, Feodor Chaliapin (1873-1938), Jose Mardones, Tancredi Pasero and Ezio Pinza.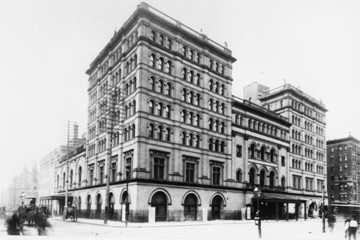 Undated. New York Metropolitan Opera (MET).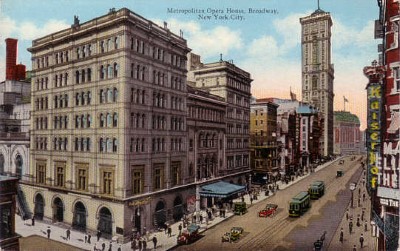 Undated. New York Metropolitan Opera (MET) postcard.