Member Information
Additional Information
Anatole Fistoulari (1907-1995).
Relation to Gustav Mahler (1860-1911): A son in law
Gustav Mahler (1860-1911). Previous generation.
More
Profession: Conductor.
Residences: Kiev, London.
Anatole Fistoulari was a noted 20th century conductor. He was born in Kiev Ukraine into a musical family (his father, Gregor Fistoulari, studied with Rimsky-Korsakov and Anton Rubinstein and was a well-known conductor). Anatole conducted for the first time at the age of seven, on the program Tchaikovsky's Symphony No. 6, the 'Pathetique'. In 1931, he conducted several seasons in Paris for the great Russian bass Fyodor Chaliapin. In 1933, he began his collaboration with Léonide Massine's Ballets Russes in Paris, touring in London and all over the United States in 1937. In 1939 he joined the French army and after their defeat by Hitler escaped to England and found himself in London during World War II.
In 1942 Fistoulari married Anna Mahler, daughter of the famed composer Gustav Mahler (by whom he had a daughter, Marina, in 1943). In 1943, he was appointed principal conductor of the London Philharmonic Orchestra. During this period, he had a contract for 120 concerts, which was a nearly unbelievable responsibility for the youthful conductor. He needed to widen his repertoire to include items like his father-in-law's Fourth Symphony to accommodate his busy concert schedule. In 1948, he became a British citizen. He conducted opera and concert schedules especially with either the London Philharmonic or London Symphony Orchestras.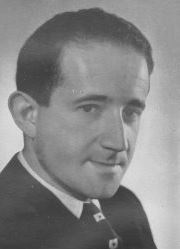 1945. Anatole Fistoulari (1907-1995).
He conducted operas in New York and was a guest conductor in many countries. In 1956, he toured France and the USSR with the London Philharmonic Orchestra. Ultimately, his legacy is through his studio recordings made during the late 1940s through the mid-1960s. Anatole Fistoulari was always a specialist in the interpretation of ballet music.
He was also a noted conductor of Tchaikovsky and the Russian School, as well as romantic and impressionistic French music. In the 1950s his recordings mostly for MGM, Decca, EMI, RCA and Mercury provided some prestige and popularity for him. Of special note, the Mercury performances of Sylvia by Leo Delibes (1836-1891) and Giselle by Adolphe Adam.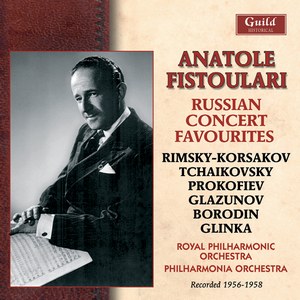 1958. Anatole Fistoulari (1907-1995)
He recorded all three Tchaikovsky ballets. He recorded for Decca, the Tchaikovsky Swan Lake a total of three times:
1952 with the London Symphony;
1961 legendary performance, in stereo with the Royal Concertgebouw Orchestra (RCO/KCO) in 02-1961, in the Royal Concertgebouw.
1973 Decca Phase Four Series (3 disc set), featuring Ruggiero Ricci as violin soloist.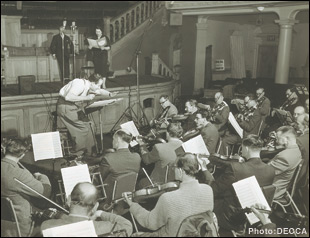 1961. Anatole Fistoulari (1907-1995). Royal Concertgebouw Orchestra (RCO/KCO), Royal Concertgebouw, Amsterdam.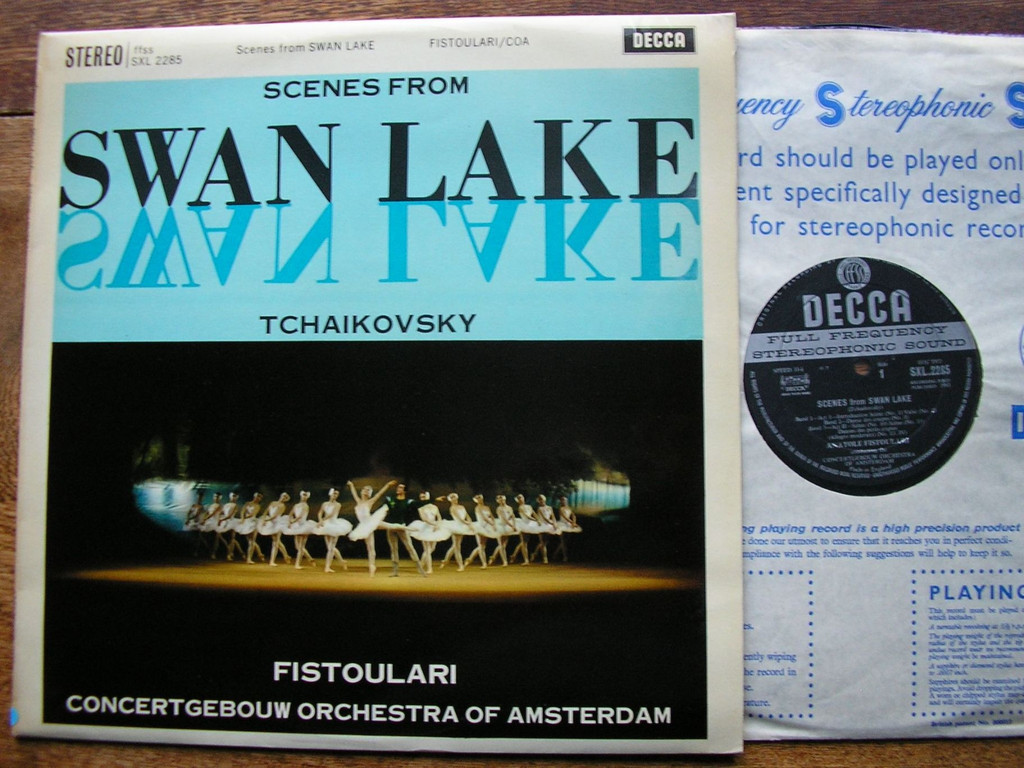 1961. Anatole Fistoulari (1907-1995). Royal Concertgebouw Orchestra (RCO/KCO), Royal Concertgebouw, Amsterdam.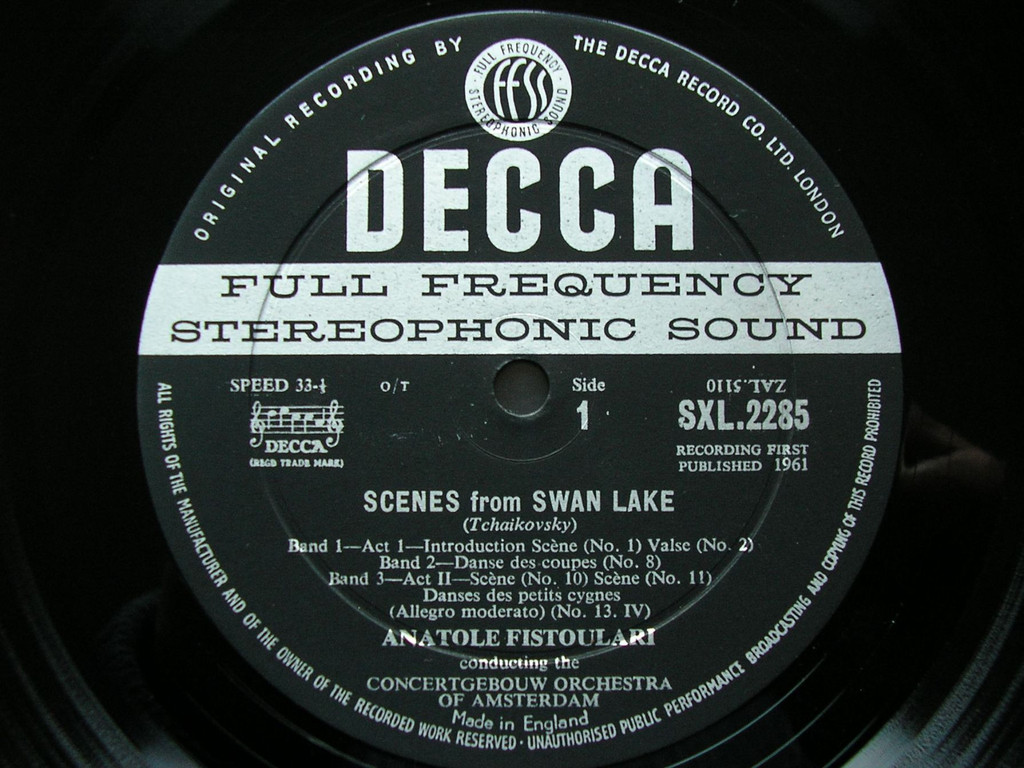 1961. Anatole Fistoulari (1907-1995). Royal Concertgebouw Orchestra (RCO/KCO), Royal Concertgebouw, Amsterdam.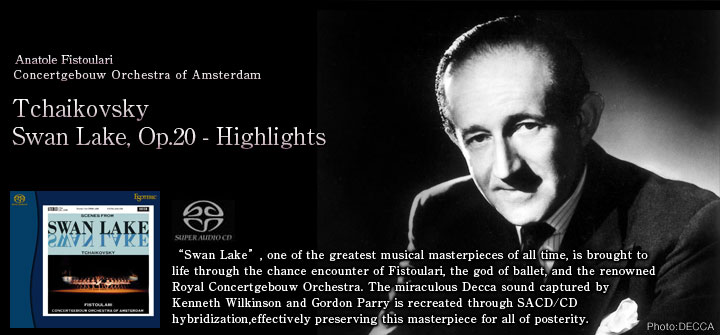 1961. Anatole Fistoulari (1907-1995). Royal Concertgebouw Orchestra (RCO/KCO), Royal Concertgebouw, Amsterdam.
He made his last recordings with Decca Phase Four in the early 1970s, including Tchaikovsky's Symphony No. 4. Besides his ballet recordings, Fistoulari served as recording accompanist to many legendary singers including Jan Peerce, Inge Borkh, Victoria de los Ángeles, and Boris Christoff, pianists like Edwin Fischer, Vladimir Ashkenazy, Clifford Curzon, Wilhelm Kempff, Earl Wild and Shura Cherkassky as well as violinists like Yehudi Menuhin and Nathan Milstein. He died in London on August 21, 1995, having suffered for many years, crippled with arthritis.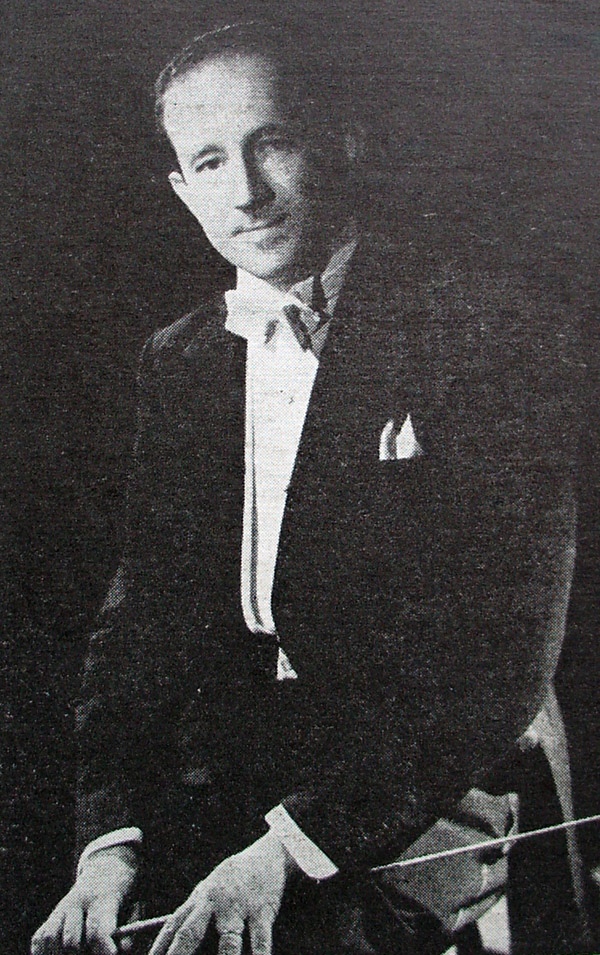 Anatole Fistoulari (1907-1995).
Anatole Fistoulari's father, Gregor, was a distinguished musician who had studied with Nicolay Rimsky-Korsakov and Anton Rubinstein and had been active in St Petersburg. He taught his son to conduct, and at the age of seven Anatole made his public debut, directing Tchaikovsky's Symphony No. 6, 'Pathétique', in Kiev; by the age of twelve he was conducting in Germany, Holland and Romania.
He left Russia in 1921, and lived in Germany until 1924, when he went to France to continue his musical studies. There he met the Russian bass Feodor Chaliapin, who introduced him to Russian opera. He was appointed conductor of Chaliapin's company, the Grand Opéra Russe, in 1933, and appeared with it conducting the Colonne Orchestra in Paris, as well as on tour in France and Spain. The connection with the stage continued when, in 1938, he became conductor of the Ballets Russes de Monte Carlo, then led by Leonide Massine; the company's tours made Fistoulari well-known throughout Europe and America.
Having taken French citizenship, at the outbreak of World War II Fistoulari joined the French army. Following its collapse he managed to reach England and eventually to reactivate his career as a conductor by suggesting the production of Russian opera to the impresario Jay Pomeroy, with the result that he conducted the London production of Mussorgsky's opera Sorochintsy Fair in 1942.
Fistoulari, with his flamboyant style and penchant for Russian music, then extremely popular, was soon conducting the London Symphony and London Philharmonic Orchestras, and held the post of chief conductor of the latter during 1943 and 1944. Between 1943 and 1951, he was married to Anna Mahler, the daughter of the composer, and, in 1948, he became a British citizen.
From 1944 onwards, Fistoulari became a prolific recording conductor, initially making records for Decca with the National Symphony Orchestra as well as with the London Symphony and the New Symphony Orchestras. The repertoire which he directed at this time was highly representative of the taste of the period: highlights included the first recording of Khachaturian's Piano Concerto with Moura Lympany, Mendelssohn's Piano Concerto No. 1 with Eileen Joyce, ballet music from Gounod's Faust and Glière's The Red Poppy, operatic overtures, and the Symphonies No. 7 by Beethoven and No. 8 by Schubert.
After World War II, Fistoulari's career was essentially that of an international guest conductor: for instance he conducted the Royal Ballet during the 1954–1955 season and toured Russia with the London Philharmonic Orchestra in 1956.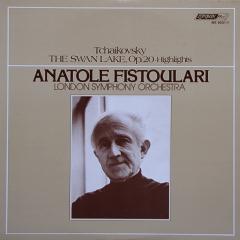 Anatole Fistoulari (1907-1995).
Fistoulari was extremely active in the recording studio up until the early 1970s and his discography was extensive, being notable for its concentration upon accompaniments and ballet music. Among the numerous piano concerto records that he conducted were Rachmaninov's No. 2 with Julius Katchen and No. 3 with Vladimir Ashkenazy; both the Liszt works with Wilhelm Kempff, as well as that composer's No. 1 with Shura Cherkassky; Tchaikovsky's No. 1 with Earl Wild; the Grieg with Clifford Curzon; and more unusual, the Concerto in Brazilian Forms by Hekel Tavares with Felicja Blumenthal. Violin concertos included that by Brahms and Saint-Saëns's No. 3 with Nathan Milstein, and the Khachaturian with Ruggiero Ricci. Fistoulari's numerous recordings of ballet music included an abridged but vital account of Tchaikovsky's Swan Lake for Decca, an early stereo recording for Everest of excerpts from Khachaturian's Gayaneh, and for Mercury complete accounts of Giselle and Sylvia.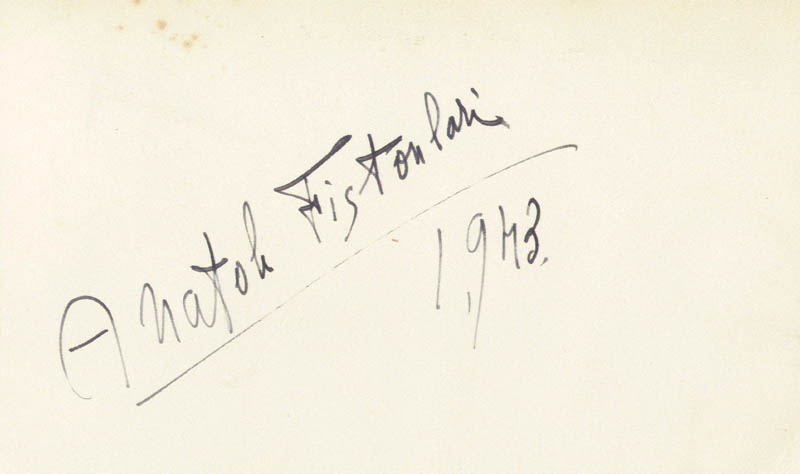 1943. Anatole Fistoulari (1907-1995) signature.
During the dawn of the LP era, Fistoulari made many recordings of unusual repertoire for the Parlophone branch of EMI, which were released in the USA on the MGM label. These included much French and Russian music, such as Fauré's Dolly Suite, d'Indy's Istar, Poulenc's Les Biches, Tchaikovsky's The Tempest and Hamlet, and Glazunov's Stenka Razin, as well as several short concerted works with the pianist Fabienne Jacquinot, notably Liszt's Totentanz, Debussy's Fantaisie, Richard Strauss's Burleske, and the Piano Concertos No. 5 by Saint-Saëns and No. 1 by Milhaud. Also from these sessions came Fistoulari's account of the first suite from Luigini's Ballet égyptien, which retained its place in the catalogue for many years.