Amadeo von der Hoya (1874-1922).
Profession: Violinist, composer, pedagogue
Residences: Berlin, New York
Relation to Mahler: Had previously been concert master in New York, auditioned for Mahler but was not hired.
Correspondence with Mahler: Yes

09-10-1900 Vienna: Letter to Amadeo von der Hoya (1874-1922). A letter in which Mahler reports that Hoya can not audition in 10-1900 because he will then be traveling to Munich. Hoya wanted to audition for the appointment as concertmaster. The meeting finally took place in 11-1900. Only the signature under the letter is by Gustav Mahler. Akte Z563.

Born: 00-00-1874 New York
Died: 00-00-1922 
Buried: 00-00-0000
Studied in Berlin. Pupil of Joseph Joachim (1831-1907), Emile Sauret (1852-1920) and Carl Halir (1859-1909). Concertmaster in Weimar, pedagodue in Linz.
1904 in Linz.
30 works in 47 publications: Modern Studies on the Violin Positions (1911-1913).
Some of Hoya's violin studies from Moderne Lagenstudien für Violine (1913) and Grundlegende Doppelgriff-Studien (1906) are in Seybold's Neue Violin-Etüden-Schule, Op.182 – Book 5, No.5, and Book 8, No.1.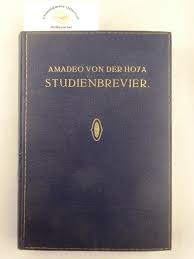 Amadeo von der Hoya (1874-1922), Studienbrevier (1919).