Profession: Violinist.
Relation to Mahler: Worked with Gustav Mahler.
Correspondence with Mahler:
Born: 01-02-1859 Bohenelbe, Bohemia.
Died: 21-12-1909 Berlin, Germany.
Buried: 00-00-0000 Wilmersdorf cemetery, Berlin, Germany.
18-04-1886 Year 1886 c029. 1886 Concert Prague 18-04-1886 Lieder eines fahrenden Gesellen, Lieder fur Singstimme (Premieres, piano).
12-12-1892 Year 1892 c051. 1892 Concert Hamburg 12-12-1892.
Also: Karel Halí?, Karol, Karl, Hali?.
Karel Halí? was born in Hohenelbe, Bohemia (now Vrchlabí, Czech Republic), and studied with Antonín Bennewitz in Prague and with Joseph Joachim (1831-1907) in Berlin. He was leader in the orchestras at Königsberg (1879), Mannheim (1881) and Weimar (1884–94). His playing of the Bach Double Concerto with Joachim at the Bach Festival at Eisenach in 1884 was immensely successful. He became leader of the Berlin Court Opera and professor at the Hochschule für Musik.
Halí? toured the United States in 1896 and 1897. He was renowned for his playing of the Beethoven Violin Concerto in D major, and he played the work at his American debut on 13 November 1896, where it was described as "one of the most interesting and admirable pieces of violin playing that have been heard in New York". The performance was compared favourably to the previous performance of the work in New York by Eugène Ysaÿe, and the review concluded "To hear Herr Halir play … is to understand what is meant by classical violin playing".
On 4 December 1896 he gave the first performance in Carnegie Hall of Louis Spohr's Violin Concerto No. 8, with the New York Symphony Orchestra conducted by Walter Damrosch. He joined the Joachim Quartet on his return to Berlin. He also led his own string quartet, to which Felix Weingartner's String Quartet No. 1 was dedicated.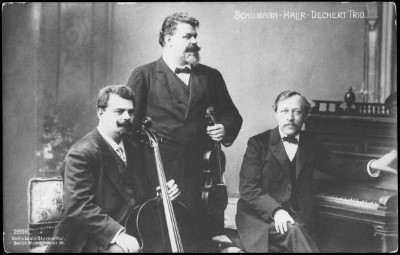 Carl Halir (1859-1909). Schumann-Halir-Dechert Trio.
Although not the soloist at the premiere (that was Adolph Brodsky), Karel Halí? championed Tchaikovsky's Violin Concerto in D major, which was not popular in its early years. When Tchaikovsky attended a performance of the work by Halí? in Leipzig in 1888, he called it "a memorable day". In 1905, Halí? premiered the revised version of Sibelius's Violin Concerto in D minor in Berlin, under the baton of Richard Strauss. That same program had Halí? playing the premiere of Charles Martin Loeffler's Divertissement for violin and orchestra, which Fritz Kreisler and Eugène Ysaÿe had declined to play owing to its technical demands.
He performed various other premieres, such as the European premiere of Amy Beach's Violin Sonata in Berlin on 28 October 1899, with Teresa Carreño. He wrote a cadenza for the Brahms Violin Concerto in D major. In 1888 Karel Halí? married Therese Zerbst (1859-?), a noted singer. His pupils include David Mannes.