Profession: Tenor.
Relation to Mahler: Worked with Gustav Mahler.
Correspondence with Mahler:
Born: 05-01-1873 Riga, Letland.
Died: 19-12-1947 Denver, America.
Buried: 00-00-0000
He made his debut (1896) at Freiburg as Lionel in ''Martha''. On 13-12-1904 he appeared at the Berlin Hofoper in the premiere of R. Leoncavallo's "Der Roland von Berlin". He was a member of the Metropolitan Opera for six seasons (1908-1914). In 1914, at the Berlin Deutschen Opernhausin, he sang the title role  in the première of R. Wagner's ''Parsifal''. He was the favorite singer emperor Wilhelm II, who gave him several times souvenirs. In 1916 he accepted the American citizenship. During the 1920's he lost his whole property and lived completely forgotten as a singing teacher in Denver (Colorado). When Johanna Gadski,  in the 1929-1931 seasons, undertook a North America tour with the German Opera Company, she invited him to take part in it and he appeared again with success as Tristan, Siegmund and Siegfried. In 1932 he opened in New York a vocal studio, however sat down later again in Denver. He was married the soprano Else Jörn-Becker.
1898-1899 Zurich Stadttheater.
1899-1902 Hamburg Stadttheater.
1902-1908 Berlin Hofoper.
1905-1908 London Covent Garden.
1908-1914 New York Metropolitan Opera.
More
Carl Jörn, auch Karl Jörn, war ein deutschamerikanischer Opernsänger (Tenor) und Gesangspädagoge.
Jörn, Sohn eines Schumachermeisters, entdeckte im 18. Lebensjahr seine Stimme und damit zugleich seinen zukünftigen Lebensberuf. Ein großer Kunst- und Musikmäzen bot ihm die Mittel, um sich gründlich für die Bühnentätigkeit vorbereiten zu können. Schütte-Harmsen, Gesangsmeisterin Jacobs und Frau Luise Ress (Berlin) verdankt er seine Ausbildung. Sein erstes Engagement fand er 1896 in Freiburg, wo er als "Lyonel" debütierte und zwei Jahre verblieb. 1898 trat er in den Verband des Stadttheaters in Zürich, und kam von dort auf Empfehlung Ludwig Barnays ans Stadttheater nach Hamburg (1899). Am 13. März 1900 sprang Jörn gewissermaßen in letzter Stunde für den Hofopernsänger Adolf Philipp ein. 1902 wurde er fest verpflichtet, danach ging er an die Berliner Hofoper von 1902 bis 1908. Er war der Lieblingssänger Kaiser Wilhelms II., der ihm mehrfach Geschenke machte.
Von 1905 bis 1908 war er regelmäßig Gast an der Londoner Covent Garden Oper, er trat auch als Gast in Brüssel und Amsterdam auf. Im Jahre 1908 ging er in die USA an die Metropolitan Opera New York, wo er bis 1914 wirkte. 1914 kreierte er am Deutschen Opernhaus Berlin in der dortigen Premiere den "Parsifal". Obwohl man ihn in Berlin halten wollte und sich sogar Kaiser Wilhelm II. für seinen Verbleib einsetzte, ging er in die USA zurück. 1916 wurde er US-amerikanischer Staatsbürger und beendete seine Sängerlaufbahn. Sein Vermögen verlor er durch Spekulationen mit dubiosen Erfindungen in den 1920er Jahren. Er lebte danach als Gesanglehrer in Denver. Als Johanna Gadski von 1929 bis 1931 mit der German Opera Company durch die USA tourte, lud sie ihn ein, daran teilzunehmen. 1932 eröffnete er in New York ein Gesangstudio, ging aber später wieder nach Denver.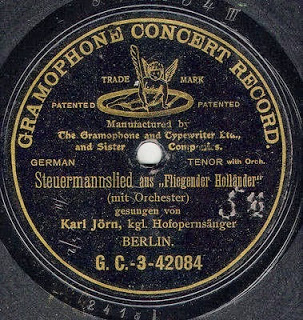 Carl Jorn (1873-1947) (Karl).