Charles Rennie Mackintosh (1868-1928).
Profession: Architect, designer.
Residences:
Relation to Mahler:
Correspondence with Mahler:
Born: 07-06-1868 Glasgow, Scotland.
Died: 10-12-1928 London, England. Aged 60.
Buried: 00-00-0000 London, England. Charles Rennie Mackintosh was diagnosed with throat and tongue cancer. A brief recovery prompted him to leave the hospital and convalesce at home for a few months. Mackintosh was admitted to a nursing home where he died on 10-12-1928 at the age of 60. He was cremated at Golders Green Crematorium in London, his ashes are buried in the grounds (with a marker).
Charles Rennie Mackintosh was a Scottish architect, designer, water colourist and artist. He was a designer in the post impressionist movement and also the main representative of Art Nouveau in the United Kingdom. He had considerable influence on European design.
This style was admired by Mackintosh because of: its restraint and economy of means rather than ostentatious accumulation; its simple forms and natural materials rather than elaboration and artifice; the use of texture and light and shadow rather than pattern and ornament. In the old western style, furniture was seen as ornament that displayed the wealth of its owner and the value of the piece was established according to the length of time spent creating it. In the Japanese arts furniture and design focused on the quality of the space, which was meant to evoke a calming and organic feeling to the interior.
At the same time a new philosophy concerned with creating functional and practical design was emerging throughout Europe: the so-called "modernist ideas". The main concept of the Modernist movement was to develop innovative ideas and new technology: design concerned with the present and the future, rather than with history and tradition.
Heavy ornamentation and inherited styles were discarded. Even though Mackintosh became known as the 'pioneer' of the movement, his designs were far removed from the bleak utilitarianism of Modernism. His concern was to build around the needs of people: people seen, not as masses, but as individuals who needed not a machine for living in but a work of art. Mackintosh took his inspiration from his Scottish upbringing and blended them with the flourish of Art Nouveau and the simplicity of Japanese forms.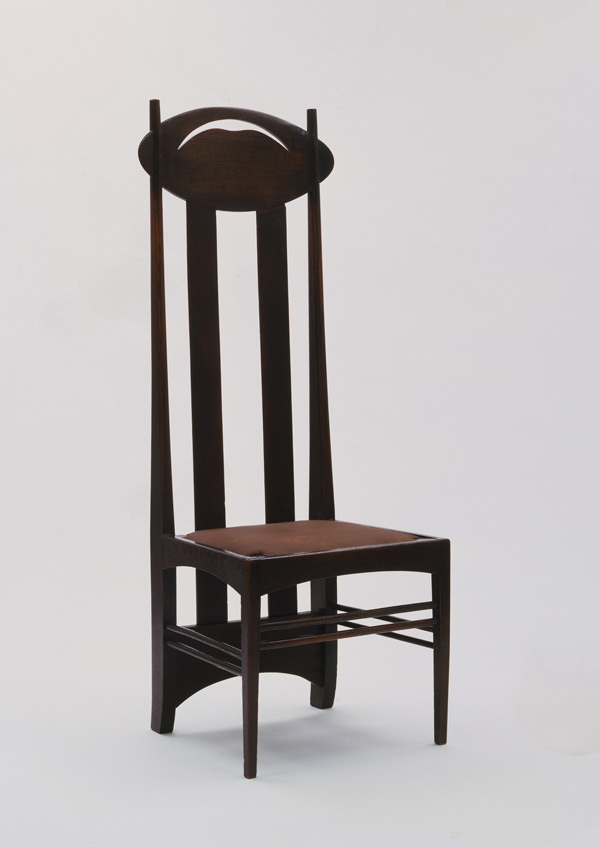 Charles Rennie Mackintosh, Side Chair, Oak and silk, The Museum of Modern Art, New York. Gift of the Glasgow School of Art (1897).
While working in architecture, Charles Rennie Mackintosh developed his own style: a contrast between strong right angles and floral-inspired decorative motifs with subtle curves, e.g. the Mackintosh Rose motif, along with some references to traditional Scottish architecture. The project that helped make his international reputation was the Glasgow School of Art (1897–1909). During the early stages of the Glasgow School of Art Mackintosh also completed the Queen's Cross Church project in Maryhill, Glasgow.
This is considered to be one of Charles Rennie Mackintosh most mysterious projects. It is the only church by the Glasgow born artist to be built and is now the Charles Rennie Mackintosh Society headquarters. Like his contemporary Frank Lloyd Wright, Mackintosh's architectural designs often included extensive specifications for the detailing, decoration, and furnishing of his buildings. The majority if not all of this detailing and significant contributions to his architectural drawings were designed and detailed by his wife Margaret Macdonald Mackintosh (1864-1933) whom Charles had met when they both attended the Glasgow School of Art.
His work was shown at the Vienna Secession Exhibition in 1900. Mackintosh's architectural career was a relatively short one, but of significant quality and impact. All his major commissions were between 1896 and 1906, where he designed private homes, commercial buildings, interior renovations and churches.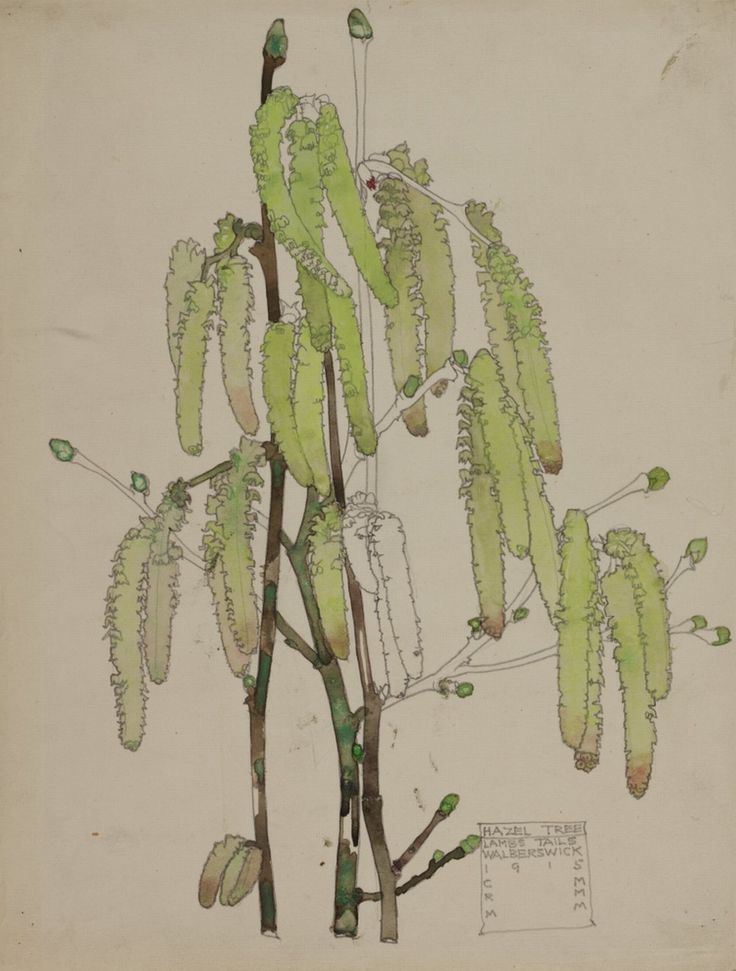 Charles Rennie Mackintosh, "Hazel Tree, Lamb's Tails", watercolour (1915).
The four
Rennie Mackintosh, his future wife Margaret Macdonald Mackintosh (1864-1933), her sister Frances MacDonald, and Herbert MacNair met at evening classes at the Glasgow School of Art. They became known as a collaborative group, "The Four", or "The Glasgow Four", and were prominent members of the "Glasgow School" movement. The group exhibited in Glasgow, London and Vienna, and these exhibitions helped establish Mackintosh's reputation. The so-called "Glasgow" style was exhibited in Europe and influenced the Viennese Art Nouveau movement known as Sezessionstil (in English, the Vienna Secession) around 1900.
Mackintosh also worked in interior design, furniture, textiles and metalwork. Much of this work combines Mackintosh's own designs with those of his wife, whose flowing, floral style complemented his more formal, rectilinear work.