Profession: Composer, pianist.
Residences: New York, Frankfurt, Wiesbaden, Boston.
Relation to Mahler:
Correspondence with Mahler:
Born: 18-12-1860 New York, America.
Died: 23-01-1908 New York, America.
Buried: 00-00-0000 MacDowell Colony, Hillcrest Farm, Peterborough, New Hampshire, America.
Edward Alexander MacDowell was an American composer and pianist of the Romantic period. He was best known for his second piano concerto and his piano suites Woodland Sketches, Sea Pieces, and New England Idylls. Woodland Sketches includes his most popular short piece, To a Wild Rose. In 1904 he was one of the first seven Americans honored by membership in the American Academy of Arts and Letters.
Edward MacDowell was born in New York City. He received his first piano lessons from Juan Buitrago, a Colombian violinist who was living with the MacDowell family at the time. He later received lessons from friends of Buitrago, including the Venezuelan pianist and composer Teresa Carreño.
His family later moved to Paris, France, where in 1877 he was admitted to the Paris conservatory. He then continued his education at Dr. Hoch's Conservatory in Frankfurt, Germany where he studied piano with Carl Heymann and composition with Joachim Raff. When Franz Liszt visited the conservatory in 1879 and attended a recital of student compositions, MacDowell performed some of his own compositions, along with a transcription of a Liszt symphonic poem. MacDowell also taught piano at "Schmitt's Akademie für Tonkunst" in Darmstadt (now known as the "Akademie für Tonkunst") for a year.
In 1884, MacDowell married Marian Griswold Nevins, an American who was one of his piano students in Frankfurt for three years. About the time that MacDowell composed a piano piece titled "Cradle Song", Marian suffered an illness that resulted in her being unable to bear children. The MacDowells settled first in Frankfurt, then in Wiesbaden. From 1885 to 1888 MacDowell devoted himself almost exclusively to composition. Driven in part by financial difficulties, he decided to return to the United States in the autumn of 1888. The MacDowells lived in Boston until 1896, when Edward was appointed professor of music at Columbia University. He held this position until 1904. In addition to composing and teaching, from 1896-1898 he directed the Mendelssohn Glee Club. MacDowell composed some music for the group to perform.
In 1896 Marian MacDowell purchased Hillcrest Farm, to serve as their summer residence in Peterborough, New Hampshire. MacDowell found his creativity flourished in the beautiful setting. MacDowell's compositions included two piano concertos, two orchestral suites, four symphonic poems, four piano sonatas, piano suites, and songs. He also published dozens of piano transcriptions of mostly 18th century pre-piano keyboard pieces.
From 1896 to 1898, MacDowell also published 13 piano pieces and 4 partsongs under the pseudonym of Edgar Thorn. These compositions were not mentioned in Lawrence Gilman's 1909 biography of MacDowell. They were listed without opus numbers in MacDowell's Critical and Historical Essays (1912) and in John F. Porte's Edward MacDowell (1922). They were listed with opus numbers in Oscar Sonneck's Catalogue of First Editions of Edward MacDowell (1917).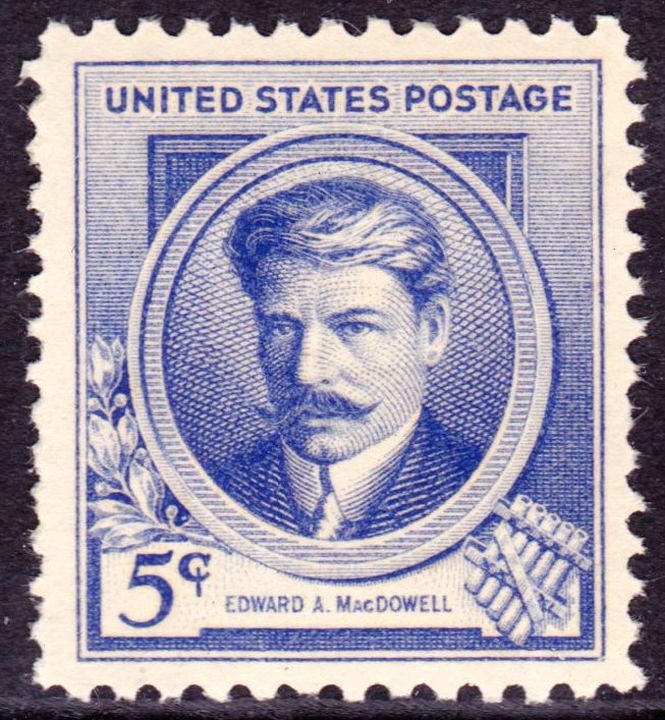 In 1904, MacDowell was one of the first seven people chosen for membership in the American Academy of Arts and Letters. After this experience, the MacDowells envisioned establishing a colony for artists near their summer home in Peterborough, New Hampshire. MacDowell was also a noted teacher of the piano, and his students included John Pierce Langs, a student from Buffalo, NY with whom he became very close friends. Langs was also close to noted Canadian pianist Harold Bradley, and both championed MacDowell's piano compositions. The linguist Edward Sapir was also among his students.
MacDowell was often stressed in his position at Columbia University, due to both overwork and conflict with the administration about what the appropriate role of music should be within the setting of a great university. He announced his resignation abruptly early in 1904, raising an unfortunate public controversy in so doing. E. Douglas Bomberger's 2013 biography notes that MacDowell suffered from Seasonal affective disorder throughout his life, and often made major negative decisions in the darkest months of the year; in this case a particularly calamitous event. Bomberger advances a new theory for the sudden decline of MacDowell's health: bromide poisoning. He had long suffered from insomnia, and potassium bromide or sodium bromide were the standard treatment for that condition, and in fact were used in many common remedies of the day. MacDowell also was in contact with bromides through his avid hobby of photography.
A 1904 accident in which MacDowell was run over by a Hansom cab may have contributed to a growing disorder and dementia. Of his final years, Lawrence Gilman, a contemporary, described: "His mind became as that of a little child. He sat quietly, day after day, in a chair by a window, smiling patiently from time to time at those about him, turning the pages of a book of fairy tales that seemed to give him a definite pleasure, and greeting with a fugitive gleam of recognition certain of his more intimate friends."
The Mendelssohn Glee Club raised money to help the MacDowells. Friends launched a public appeal to raise funds for his care; among the signers were Horatio Parker, Victor Herbert, Arthur Foote, George Whitefield Chadwick, Frederick Converse, Andrew Carnegie, J. P. Morgan and former President Grover Cleveland
Marian MacDowell cared for her husband to the end of his life. In 1907 she founded the MacDowell Colony by deeding the Hillcrest Farm to the newly established Edward MacDowell Association. She led the Association and Colony for more than 25 years, building its endowment through resuming her performing career, and creating a wide circle of support, especially among women's clubs and musical sororities. MacDowell died in 1908 in New York City and was buried at the MacDowell Colony at his beloved Hillcrest Farm.