Profession: Conductor, composer.
Residences: 
Relation to Mahler: 
Correspondence with Mahler: 
Born: 26-02-1896 Wissenkerke, the Netherlands.
Died: 11-09-1973 Breda, the Netherlands. Aged 77.
Buried: 00-00-0000
Eduard Flipse was a Dutch conductor and composer. Flipse was from 1926 to 1962, conductor of the Rotterdam Philharmonic Orchestra and made it a professional ensemble. He managed to rebuild the orchestra after World War II. Famous was his performance of the Eighth Symphony of Gustav Mahler at the Ahoy hall in Rotterdam on 03-07-1954, with the participation of eleven Rotterdam choirs and his own orchestra reinforced with the Brabants Orkest. Leonard Bernstein (1918-1990) was impressed by this (one of the first) recordings of Mahlers 8th. Recording: Soloists, combined Rotterdam choirs and the Rotterdam Philharmonic Orchestra. Recorded live on 03-07-1954. Holland Festival. 125th Anniversary of "Toonkunst" Holland. Recorded by Philips (A 00226 L).
Live performance and recording in Ahoy, Rotterdam, the Netherlands (1954).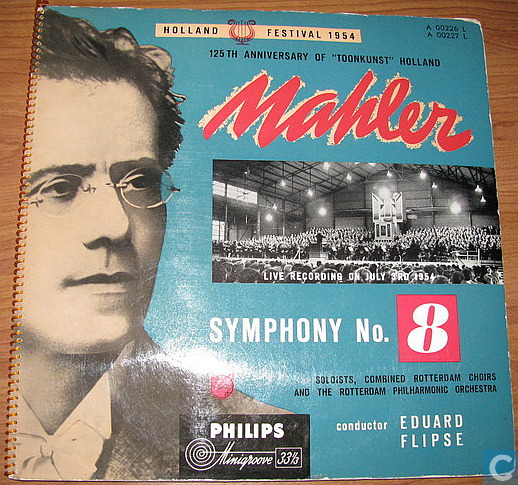 Album cover.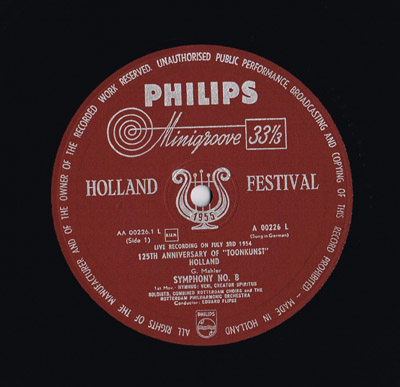 Label.