Year 1896 or Year 1897. Alphons Diepenbrock (1862-1921) and his wife Elsa Diepenbrock (1868-1939).
Profession: Speech therapist.
Relation to Mahler: Friend.
Correspondence with Mahler:
Born: 22-07-1868 Briele, the Netherlands. Lived in House Annastate, Hintham 17-19, Den Bosch.
Married: 08-08-1895 Rosmalen, the Netherlands, 1895-1921 to Alphons Diepenbrock (1862-1921).
Died: 30-08-1939 Amsterdam, the Netherlands (aged 71).
Buried: 02-09-1939 Amsterdam, the Netherlands, RK Begraafplaats Buitenveldert, grave A-I-238.
Maiden name: Wilhelmina Elisabeth Petronella Cornelia de Jong van Beek en Donk (also: Elsa, Elisabeth, Liesbeth, Else, Lies, Liesje).

Brother: Jan de Jong van Beek en Donk (1863-1935).
Sister: Cecile de Jong van Beek en Donk (born: 19-05-1866 Alkmaar, died 1944) (Cile, Ciletje). Writer (Novel "Hilda van Suylenburg" in 1898), Feminist. Married 1890-1899 to Adriaan Goekoop (1859-24-09-1914) (Paul) and married 1904-1934 to Michel Frenkel (1860-1934).
Daughters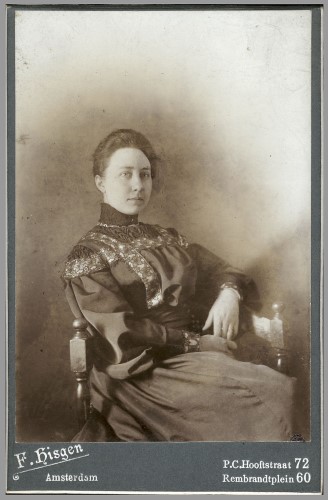 Year 1898. Elsa Diepenbrock (1868-1939). She is sitting in the chair in which Herman Gorter (poet, 1864-1927) has read "Mei" (May) to Alphons Diepenbrock (1862-1921).
Mahler in minor
The day that Gustav Mahler arrived in Amsterdam for the third time, in March 1906 (Year 1906), he did not find Alphons Diepenbrock (1862-1921) at home. Elsa Diepenbrock (1868-1939), as a hostess, struggled to hide in which sad mood she was: Mother was dead for exactly a year. Despite Fons' absence, Mahler immediately ran up the stairs and wanted to admire the little Joanna in the nursery. With amiable gentleness he looked at the sweet little thing, Elsa wrote in her diary.
He said: "Es schaut so weich in die Welt", just like his little Anna, whom he therefore called Gucki (Anna Justine Mahler (Gucki) (1904-1988)), to grumble. The warmth of Mahler did Elsa well. All the beautiful character traits, the gleam of his eyes, the enchantment of his smile and the fascinating strange gestures: perhaps he was the most extraordinary person she had ever met. The next day, with Fons there, Mahler sat on his chat again. When he was only eight years old, he already acted as a child prodigy. But his father was wise, he said, and never let him read rave reviews, at most he gave him a cork cake as a reward. Suddenly the composer shot in a fierce glow over Japanese culture. Their philosophy was the highest religion form. Fons brought in that Japanese exclusively cultivated the will, but Mahler objected that besides self-control they also had emotion.
"In the Japane everything is beauty! " he said. "What a difference with the West, in the Abendland one has to close his nose when one comes out!"
Mahler's enthusiasm could turn into pure anger if he did not feel a bond with conversational partners who contradicted him. This was the day after at an obligatory oyster dinner (Restaurant Van Laar) of the Board of the Concertgebouw, where the composer sat down without Fons and Elsa. It baffled him that not all his discipients showed respect for the Max Havelaar masterpiece, from which Alma had often read it to him. One board member did not even consider Douwes Dekker a good official. Mahler cooked. His reaction was recorded by the administrator of the Concertgebouw:
"At last he got up and said that he was very sad that he had to defend a man like Douwes Dekker in his own homeland and that, as Douwes Dekker was facing him at the moment, he was against him would say: (with a deep bow) Mr. Douwes Dekker, I have great respect for you and it is a great honor for me that you want to sit with me at the same table. Then he said something else that it came down to us that we were 'droughts of dryness' or something like that.
That evening Mahler had a greater disappointment at the Amsterdam premiere of the Fifth Symphony and the Kindertotenlieder for an indifferent audience. Elsa and Fons found it a painful experience:
"It was a fiasco, unfortunately, for us, especially for Fons, a horrible evening. He had heard a few chunks at the rehearsal in the morning and found it beautiful, in the evening he could not get in at all, we sat grimly at grinning Jews, which distracted and the Symphonie is very strange and erratic, at least hear a first. Those Kindertotenlieder are almost too poignant, so nice and deep. There were groups of people who left after each song! 1906 Concert Amsterdam 08-03-1906 – Kindertotenlieder, Ruckert-lied, Symphony No. 5.
Afterwards, Mahler tried to recover from the failure in House Diepenbrock. His face was painful and he remained silent. Fons consoled him with the words: "I envy you for your enemies," causing the mood to fail. Two days later Mahler got his revenge in conducting his youth work Das klagende Lied. With fervent applause the audience called him three times back on stage. He was put on a laurel wreath. Elsa could not assume that he had composed this work before he was twenty, so mature, so beautiful, so completely Mahler. In the following months she sang softly a phrase from Das complaining Song as Joanna got restless under dressing. The child then immediately stopped crying.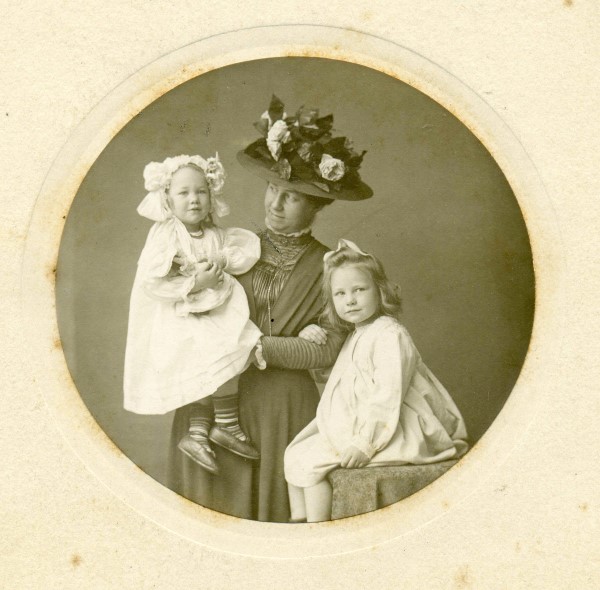 Year 1909. Elsa Diepenbrock (1868-1939) with Thea and Joanna.
Two weeks after the premiere Fons and Elsa, in ideal listening conditions from the balcony of the Fifth Symphony, would get a big and wonderful impression. Fons no longer felt that the Fifth meant decline after the Fourth, just the opposite. In the sublime Adagietto he heard a love song. Elsa-still in mourning- found it rather a comfort, a charity from above.
Farewell Mahler
Mahler had named Fons and Elsa "meine Freunde". His dismay at House Diepenbrock had always been "a feast for them in the higher sense." For Mahler himself, their family life must have seemed a haven of peace in addition to his with Alma.
Elsa remembered to the day of October 1909 that she and her children had seen Mahler in the streets behind the Concertgebouw, after three years, and he had approached her with his typical, springy gestures and his magic smile: "Ah guadige Frau, ich erenne Sie an den Kleinen".
His own little daughters were three years older. His weakness for the girls Diepenbrock was reinforced by the macabre coincidence that Thea was born the day he lost his eldest daughter Maria Anna Mahler (Putzi) (1902-1907).
"When Elsa heard the Kindertotenlieder four months after Mahler's death, she could only cry. "Mahler is dead, the criticism full of praise", she wrote cynically, "that is the premium on dying.
Diepenbrock traveled to Vienna for the funeral. At home Elsa tried to implant the worship for Mahler in her children. They recognized him on the pictures he was walking with Daddy (Pappie). Jang was able to precisely imitate Mahler's movements when conducting. The mourning for Mahler united the family. After the funeral, Fons wrote to his wife for the first time with her former nickname: "The funeral was very impressive; one has to leave immediately if one buries Mahler". See Gustav Mahler funeral.