Profession: Pianist.
Relation to Mahler: Worked with Gustav Mahler. Liszt pupil.
Correspondence with Mahler:
Born: 08-10-1862 Hamburg, Germany.
Died: 27-04-1942 Vienna, Austria. Aged 79.
Buried: 00-00-0000 
22-03-1902 Year 1902 c147. 1902 Concert St Petersburg 22-03-1902.
Emil Georg Conrad von Sauer was a notable German composer, pianist, score editor, and music (piano) teacher. He was a pupil of Franz Liszt and one of the most distinguished pianists of his generation. Josef Hofmann called von Sauer "a truly great virtuoso." Martin Krause, another Liszt pupil, called von Sauer "the legitimate heir of Liszt; he has more of his charm and geniality than any other Liszt pupil."
Sauer was born in Hamburg, Germany on October 8, 1862 as Emil Georg Conrad Sauer. He studied with Nikolai Rubinstein at the Moscow Conservatory between 1879 and 1881. On an 1884 visit to Italy he met the Countess von Sayn-Wittgenstein, who recommended him to her former paramour, Franz Liszt. He went on to study with Liszt for two years, but did not for some time consider himself a Liszt pupil. In an 1895 interview, he even denied it: "It is not correct to regard me as a pupil of Liszt, though I stayed with him for a few months. He was then very old, and could not teach me much. My chief teacher has been, undoubtedly, Nicholas Rubinstein." In his later years, however, Sauer realized the influence of Liszt on himself and on music in general.
From 1882 Sauer made frequent and successful tours as a virtuoso pianist; his performing career lasted until 1940. He premiered in London in 1894 and New York in 1899. In 1901 he was appointed head of the Meisterschule für Klavierspiel at the Vienna Academy. Sauer left this post in April 1907 but returned to it in 1915.
In 1917, Sauer was raised to the peerage by the Austrian-Hungarian Monarchy, which added the nobiliary particle "von" to his name. He was also awarded the Gold Medal of the Royal Philharmonic Society of London. Emil von Sauer was married twice. Angelica Morales (Sauer), his second wife, carried on his legacy in teaching. Sauer had two sons with Morales: Julio and Franz. Emil von Sauer recirded recording for Welte-Mignon in Leipzig in 1905.
Regardless of his own opinion initially, Sauer was considered as emphasizing the original Liszt approach to pianism as well as a strong Romantic approach to a musical technique that demanded a total command of the keyboard in what was known as the Liszt School of piano. Unlike his fellow pupil Moriz Rosenthal, who could overwhelm the keyboard with orchestral force, von Sauer was said to caress the piano in a suave, polished manner. His recordings show him to have been a smooth pianist who was inclined toward relaxed tempos and exactitude of detail over temperament. While his playing may have sometimes lacked in breadth, it was always elegant and beautifully finished.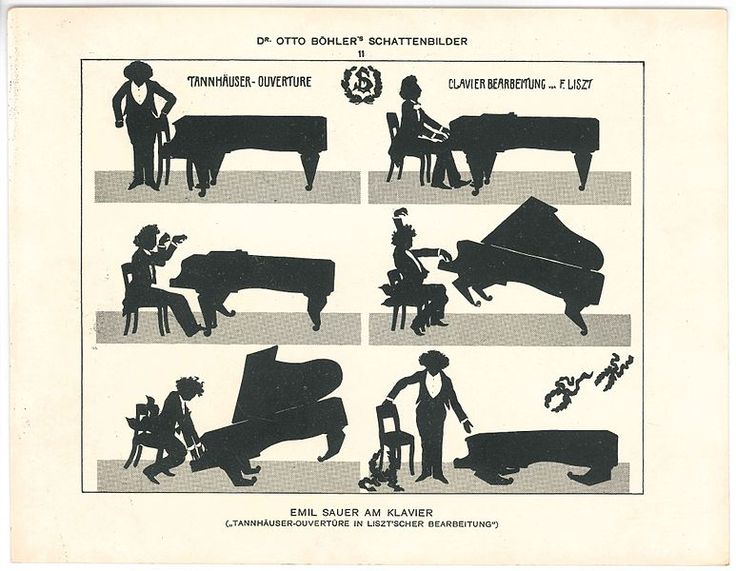 Emil von Sauer (1862-1942), silhouettes (1913), by Otto Böhler (1847-1913).
Emil von Sauer was born on 8th October in Hamburg as the son of a merchant. He inherited his artistic blood from his mother's family. His grandfather Julius Gordon was a well-known and sought-after portrait painter whose daughter showed tremendous musical talent at an early age. Consequently, Sauer received his first piano lessons from his mother. Upon leaving school he went to the famous Moscow Conservatoire at the recommendation of Anton Rubinstein. The Principal of the Conservatoire was Nikolaus Rubinstein, the brother of Anton, who at the same time held a piano masterclass. Sauer remained in Moscow as a student of Rubinstein for 2 years and on his death returned home. Sauer's efforts to be accepted by concert promoters were a complete failure. Anyone of any influence was deaf to the unknown pianist, Sauer. Later in life Sauer described in his autobiography how he could have played with 20 fingers without jolting people out of their indifference towards him.
Meanwhile the family were poor and Sauer had no other alternative than to give piano lessons in order to provide for their daily needs. Friends of his mother lured him to London in autumn 1882. 1t was here that he met the most important patron of his life, Hercules Brabazon. Brabazon was a man of private means who shared a tremendous and fanatical passion for painting and music alike. It was Brabazon's habit to travel to the south during winter where he would revel in colour and his passion for painting manifested itself in dozens of watercolours. The almost 60 year old Brabazon immediately recognised the enormous talent of the then 20 year old pianist and made him the generous offer of not only accompanying him on his next journey but also financing what was practically his first recital tour. The journey took them to Spain and it was here that Sauer's career began.
On the occasion of his 75th birthday Sauer commented on his meeting with Brabazon ln an interview: "Perhaps I would have remained a small piano teacher running from lesson to lesson if it wasn't for the fact that I found a patron who offered me the possibility of giving my first recital". In Rome, which was also touched on this journey, Sauer's name was already known by Princess Wlttgenstein who was living there and who was once the lover of Liszt. The Princess received him and was electrified by his playing. She immediately sent a telegram to Liszt, which in those days certainly was not commonplace and with this recommendation Sauer and Brabazon packed their cases ln a hurry and departed for Weimar to Liszt. Sauer remained a student of Liszt until the composer's death. However, during this period Sauer's name had already become well known allowing the development of an intensive recital career. Qn l5th January 1885 he achieved his first great success in Berlin, especially with the press who dedicated columns to him. After this concert which he gave with the Berlin Philharmonic in the presence of the Court, Sauer was a famous man, being one of the greatest planists in the world, and the most famous concert halls throughout the world opened their doors to him.
On 7th December 1890 Sauer gave his first concert with the Vienna Philharmonic and became acquainted with the city for the first time. This city, as for many other musicians, would become his second home. From the beginning of the 1880's until his death, Sauer performed on the most famous concert platforms throughout the world. Wherever he played he celebrated unbelievable triumphs which sound like a fairy story for us today. Would it be possible to imagine today that a solo concert, on account of the public having been driven to a state of ecstasy and always demanding more encores could last until 2 a.m. in the morning? This was Sauer and especially in Slavic countries where the scale of enthusiasm reached enormous proportions again and again: Monarchs and heads of state showered him with titles and medals. As an example, for a long time he was the only German artist to be a Commander of the French Legion of Honour, Sultan Abdul Hamid bestowed membership of the Medjidie order upon him, the London Philharmonic Society presented him with the golden Beethoven medal, he was the bearer of rare Spanish orders, of the Franz Joseph order and many more. Many famous music institutions throughout the world bestowed honorary membership upon him including the Liszt Academy in Budapest, The Company of Friends of Music, Vienna and The Vienna Philharmonic. He knew the most famous personalities of more than half a century and had many persosonal friends amongst them.
Besides his virtuoso piano career his intensive career as a teacher must be mentioned. Over a long period he held a piano masterclass at the Vienna State Academy of Music and represented the most lmportant instrumental personality the State Academy ever had. Even today internatlonal names such as Elly Ney, Stephan Askenase, Lubka Kolessa, and, last but not least, Angelika Morales, who was to become his second wife, testify to his success as a pedagogue.
Just as astounding are Sauer's many substantial compositions. On 9th April 1942, during the Second World War, von Sauer played the Schumann Cocerto in the Golden Hall of the Vienna Musikverein as part of an anniversary concert celebrating 100 years of the Vienna Philharmonlc. It was the last time that an audience were able to hear his magical sound. After a short illness the great artist died in his Vienna home in the 4th district, Graf Starhemberg-Gasse4. He was almost 80 years old.
Finally, a fact which highlights Sauer's unique artistry. Throughout the last 30 years of his career he played with only 9 fingers. On account of a contraction of the tendon of the middle finger of the left hand the finger was forced in a permanent bent position and was unable to be stretched. Therefore the illness made this finger useless. The depth of such an adjustment for a pianist can really only be fully understood by an expert. It was necessary to rearrange the whole fingering for the left hand. Sauer achieved this without interruption to his recital work and what is even more astounding is the fact that nobody was aware or knew. Even his closest family members were only informed of the circumstances much later. This fact serves as an striking example how a true genius triumphs over all difficulties.
Apart from the artist one should not forget Sauer as a person because one aspect without the other in unthinkable. Sauer was a grand seigneur from head to foot and a classical example of a man of the world par excellence. A man full of charm, a conversationalist and refined in his dealings with people combined wlth a humbleness typical of true great artists.
At the piano his gestures and facial expressions were an unforgettable spectacle and when in his greatest moments an ecstatic smile came across his face he would cast a glance towards the audience. This look seemed to reach beyond the hall and into eternity, a glance from eyes like blue water similar to that of an old seaman. At such moments it was impossible to escape the magic of this fascinating personality.
Consequently, Emil von Sauer was the last authentic guardian and representative of the Liszt tradition, of the golden age of piano playing. Fate seems to force the giants of art and culture in all its forms into a few decades. Just as Greek sculpture reached its pinacle within a few decades at the time of Pericles which would not be surpassed over the next 2,500 years, likewise the golden age of piano playing lasted from the 1830s until the middle of this century with Franz Llszt at its beginning and Emil von Sauer at its end. As the last in a series of great universal piano virtuosi in the noblest meaning of the word and also a magnificent Chopin interpreter Sauer has taken many secrets of his regal art with him to the grave. The beautiful words which Grillparzer spoke at the side of Beethoven's grave are also valid for Emil von Sauer: "Whoever should follow will not continue but must begin because his predecessor only stopped where art ended".