Profession: Soprano.
Residences: London, Prague, Berlin, New York City.
Relation to Mahler: 
Born: 26-02-1878, Prague, Czech Republic.
Died: 28-01-1930, Ceske Budejovice, Czech Republic.
Buried: 03-02-1930, Vysehradsky cemetery, Prague, Czech Republic.
1910 Opera New York 12-12-1910 with Emmy Destin?
Emmy Destinn (Emílie Pavlína V?nceslava Kittlová, Emma Kittlova, Ema Destinnová, Erna Destinnova, Ema Destinova) was one of the greatest dramatic sopranos of the twentieth century and one of the most sought-after singers before WWI thanks to a voice of exceptional richness, power, and control. She sang with Enrico Caruso and other superb opera singers in the most prestigeous opera houses, such as Bayreuth, Berlin's Hofoper, London's Covent Garden and New York's Metropolitan. Destinn's passion for music led to many remarkable achievements in her career and was a great inspiration to her colleagues. She holds a prominent place in the history of opera.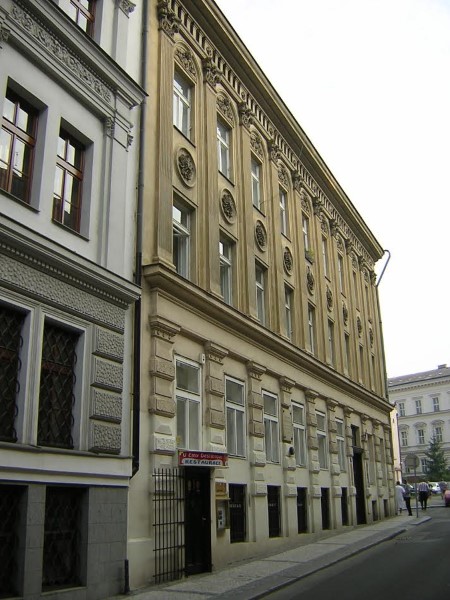 Place of birth Emmy Destinn (1878-1930). Now Restaurant U Emy Destinnové. Katarinska No. 7 Prague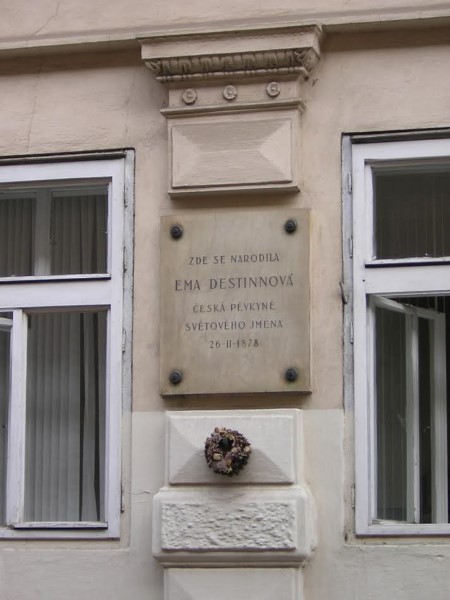 Place of birth Emmy Destinn (1878-1930). Katarinska No. 7 Prague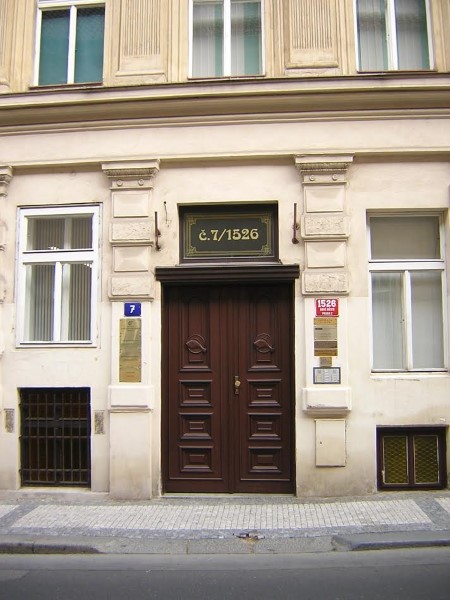 Place of birth Emmy Destinn (1878-1930). Katarinska No. 7 Prague
1878-1897 Early Years
Emmy Destinn, née Emilie Paulina Venceslava Kittlova, was born on 26-02-1878 in an old Prague family as the oldest of five children. She was a child prodigy whose early interest in music was encouraged by her parents, both enthusiastic supporters of arts.
Emmy first studied violin with Ferdinand Lachner and acting with Otylie Sklenarova-Mala. From 1892 to 1897 she studied voice with mezzo-soprano Marie von Dreger-Loewe who was known under her artistic pseudonym Destinn which Emmy later adopted as a tribute to her beloved teacher.
1898-1909 Berlin
Emmy Destinn's entrance onto the operatic stage was far from smooth, however. She was rejected by three opera houses (Prague's National Theatre, Dresden's Semper Opera and Berlin's Theater des Westens) before she finally debuted in Berlin's Hofoper in 1898. Her very first performance of Santuzza on 19-07-1898 was an immediate success.
For the next decade Destinn enjoyed success after success in Berlin. She sang in 43 roles, most often as Santuzza, Carmen a Mignon, and made 706 stage appearances at the Hofoper. The triumph of Destinn's Berlin's engagement was her stunning performance of Richard Strauss's Salome, first performed on 05-12-1906, with the composer conducting the orchestra.
1908 New York Metropolitan Opera (MET).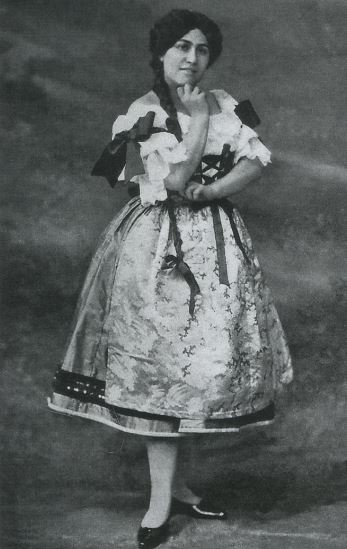 Emmy Destinn (1878-1930) in The Bartered Bride (Prodaná nev?sta) as Ma?enka.
1901-1902 Bayreuth
At Bayreuth, where she was invited by Wagner's widow Cosima, Destinn was given an enthusiastic reception as Baureth's very first Senta. Her artistic achievements during the two guest seasons at Bayreuth opened doors to major European opera houses, including London's Covent Garden.
1904-1919 London
For twelve spring seasons between 1904 and 1919 Destinn performed in London, making 225 appearances in 18 operas on Covent Garden's stage. One of her most acclaimed performances at Covent Garden was the London premiere of Madama Butterfly on 18-07-1905, with Enrico Caruso as her partner. Caruso and Destinn performed together at 47 occasions in London, in a succession of operas including Cavalleria Rusticana, Aida, Les Huguenots, Don Giovanni, Madama Butterfly, Andrea Chenier, Tosca, and Un Ballo in Maschera.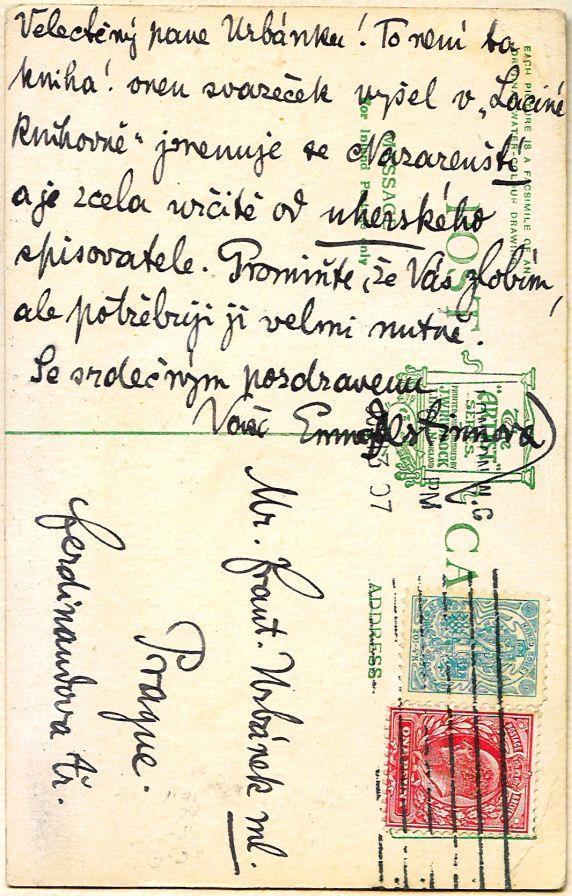 1907. Postcard from Emmy Destinn (1878-1930) in London to Frantisek Urbánek in Prague; about a book by a Hungarian writer. Copyright: Bert van der Waal van Dijk.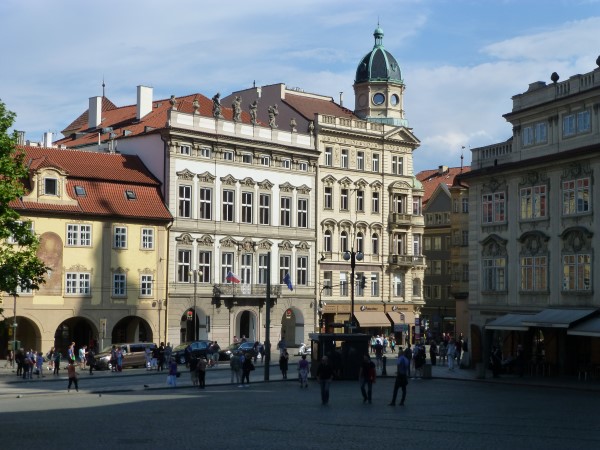 House Emmy Destinn (1878-1930). Period 1908-1914. Kaiserstejnsky Palac No. 23/37. Malostranske Namesti (square). Lesser town Square.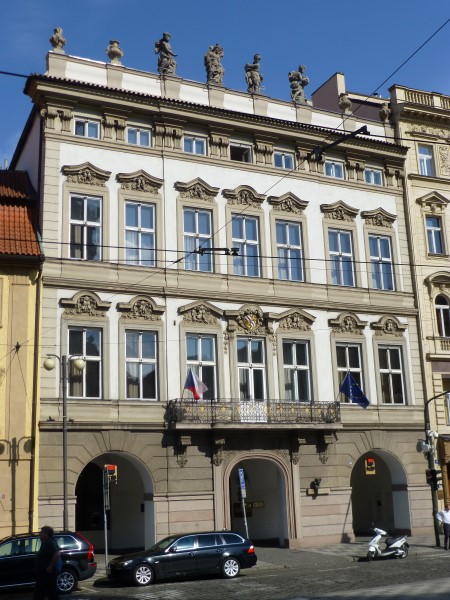 House Emmy Destinn (1878-1930). Period 1908-1914. Kaiserstejnsky Palac No. 23/37. Malostranske Namesti (square). Lesser town Square.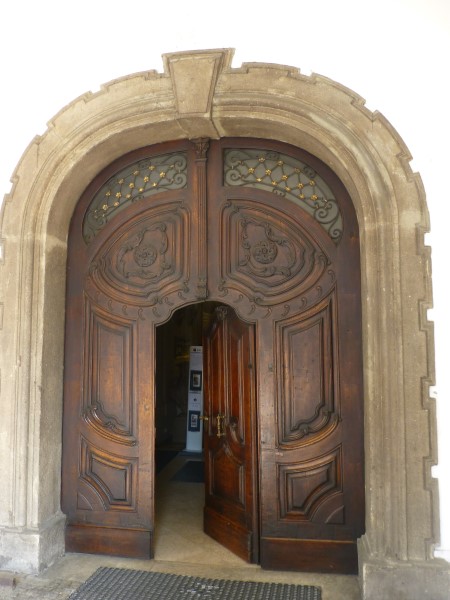 House Emmy Destinn (1878-1930). Period 1908-1914. Kaiserstejnsky Palac No. 23/37. Malostranske Namesti (square). Lesser town Square.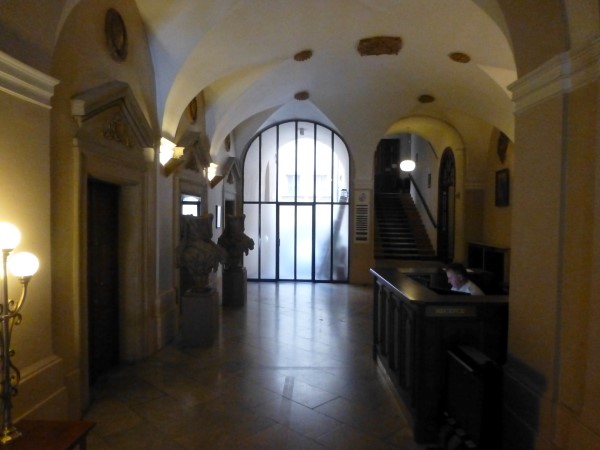 House Emmy Destinn (1878-1930). Period 1908-1914. Kaiserstejnsky Palac No. 23/37. Malostranske Namesti (square). Lesser town Square.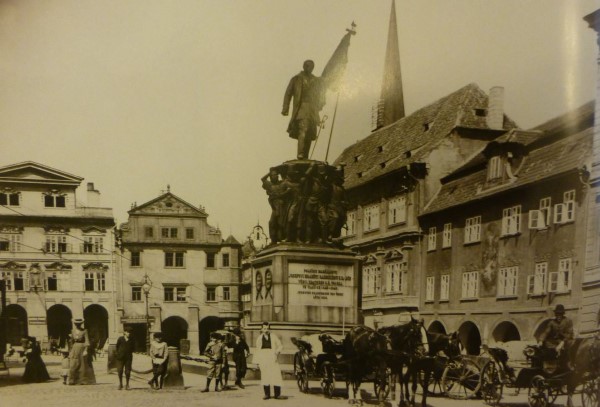 Malostranske Namesti (square). Lesser town Square.
1908-1909-1910 Journeys to America
02-11-1908 From Bremerhaven. On 15-11-1905 she disembarked in New York. First journey.
02-11-1909 From Berlin. Second journey.
00-11-1910 Again to America.
1908-1916 New York
Destinn debuted at the Metropolitan Opera on 16.11.1908 in Aida. Enrico Carusso was her partner and Arturo Toscannini conducted the Metropolitan's orchestra. Destinn performed eight full seasons at the Met where she made 249 stage appearances in 21 roles. Her most acclaimed role at the Metropolitan was Minnie, with Carusso and Toscanini, in the world premiere of Puccini's La Fanciulla del West.
Her return from the midst of the New York season of 1915-1916 to war-torn Europe had a fateful consequences for Destinn's career. Her links with the patriotic resistance movement at home resulted in her confinement by the authorities to her summer residence at Straz nad Nezarkou in South Bohemia. Her unvoluntary two-year absence from the Met had meanwhile opened doors for a new generation of singers.
1918-1923 Prague
As the war drew to its end, Destinn was allowed to sing at least at Prague's National Theatre. She made 82 appearances on its stage, most frequently as Milada (13 times), Marenka (12) and Libuse (9). She also performed in theatres in Pilsen, Brno, and several other venues. The audiences everywhere greeted her with enthusiastic manifestations of support for her patriotism which was central to Destinn's character.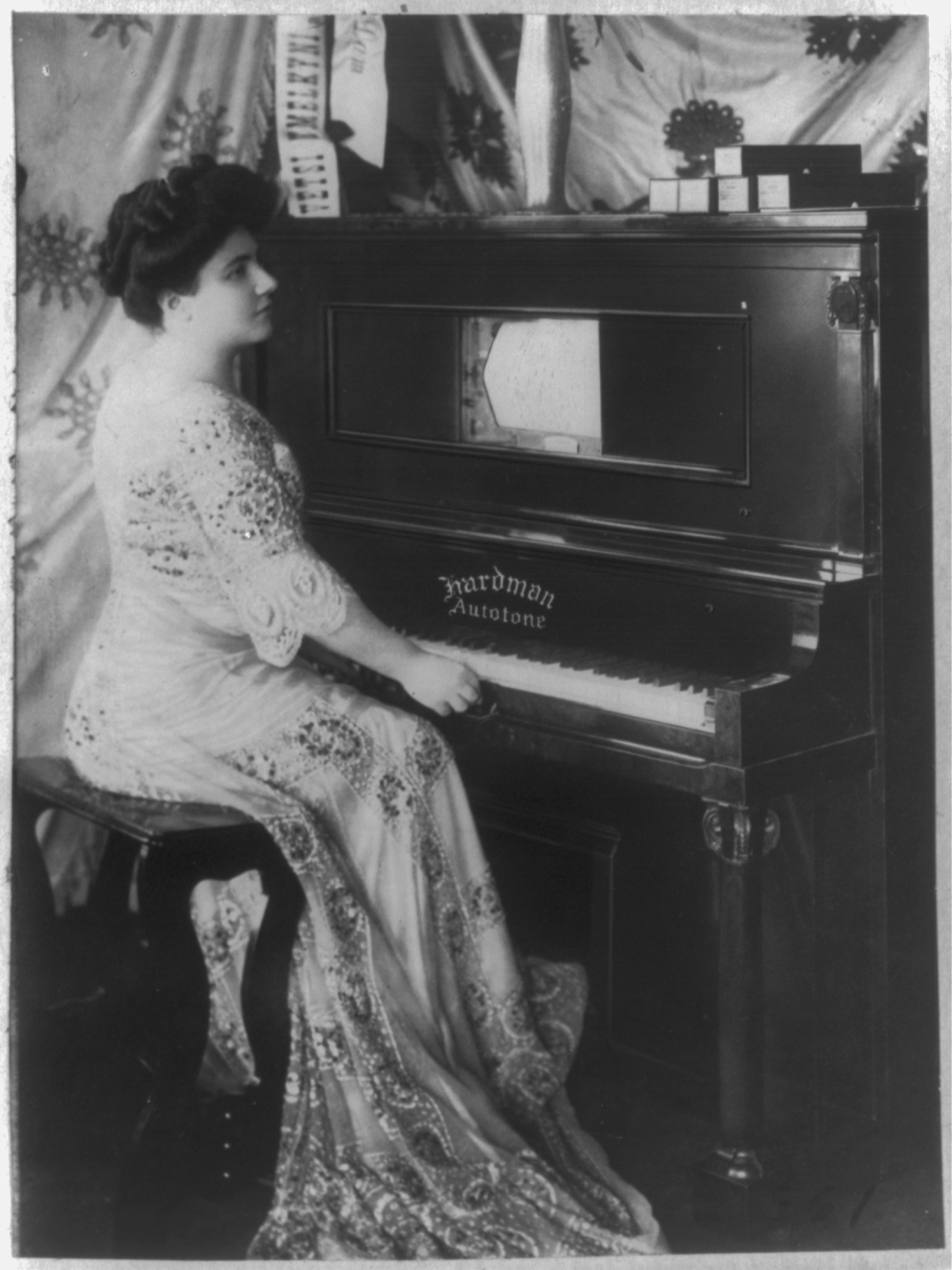 1919-1923 European Tours
During her entire career Emmy Destinn promoted Czech Opera. She was instrumental in staging The Bartered Bride in New York on February 19, 1909, where it was performed under the baton of Gustav Mahler. She also made possible a performance of Dalibor in Berlin on October 10, 1909. She had popularised arias and scenes from Libuse, The Devil's Wall, The Secret, The Kiss, Rusalka, The Jacobin, and Jenufa. She also presented an exclusively Czech repertoire during her first post-war tour with the Czech Quartet, violinist Jaroslav Kocian and a choral ensemble, touring London, Paris, Geneva, Berne and Zürich. Twenty-five years after her début, in the 1922/1923 season, she bid farewell to regular artistic activity with her concert tour to Copenhagen, Stockholm and Oslo and guest appearances on home stages in Pilsen, Bratislava, Ostrava, Brno, and at Sarka and Vysehrad in Prague, where she sang to thousands in Madama Butterfly and in Coronation of Libuse, composed by Rudolf Zamrzla to her own libretto.
Emmy Destinn died unexpectedly of a stroke, while visiting her doctor in Ceske Budejovice, on 28-01-1930.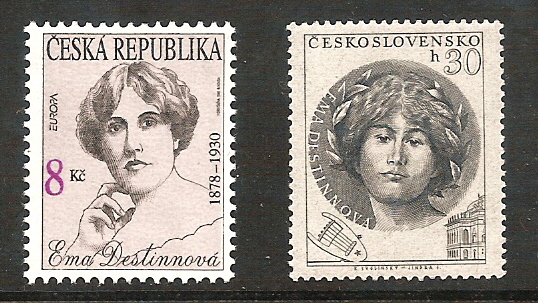 More
A noted lyrico spinto soprano of the early 20th Century, she is remembered both for her wide repertoire and for her creation of a dozen roles. Born Emilie Pavlina Venceslava Kittlova to a musical family of wealth and position, she originally intended a career as a violinist but changed paths in her teens as the quality of her voice became evident.
Taking the name of her teacher Marie Loewe-Destinn for the stage, she sang briefly at Dresden then made her Berlin debut on 19-07-1898 as Santuza in Pietro Mascagni's "Cavalleria Rusticana". Emmy became a fixture of the Berlin Court Opera and on 05-12-1906 was accorded the honor of singing the title role in that city's first performance of Richard Strauss' "Salome".
While based at Berlin she traveled widely, singing Senta in Wagner's "The Flying Dutchman" at Bayreuth in 1901 and making her Covent Garden London debut on 02-05-1904 as Donna Anna in Mozart's "Don Giovanni". Emmy took her bow at New York's Metropolitan Opera in 1908 as the title heroine of Verdi's "Aida", joined Enrico Caruso in the London premiere of Puccini's "Madame Butterfly", and again partnered with the great tenor for the 10-12-1910 Metropolitan world premiere of the same composer's "La Fanciulla del West", singing Minnie to Caruso's Dick Johnson.
She found success in numerous other Verdi roles including Leonore in "Il Trovatore", Alice Ford from "Falstaff", and Amalia of "Un Ballo in Maschera", as well as in the title leads of Bedrich Smetana's patriotic "Libuse" and Georges Bizet's "Carmen", but her career was essentially ruined by World War I as she returned home to find her passport revoked due to her political associations.
Able to go back to both Covent Garden and the Metropolitan in 1919, she saw the best roles taken over by others, though she did sing occasionally at the New York house thru 1920. Following her 1926 retirement from the stage, she kept busy as a poet and novelist until her death from a stroke. Emmy's image is on the Czech 2,000 Koruna bill; a portion of her legacy of about 200 records remains in print on CD.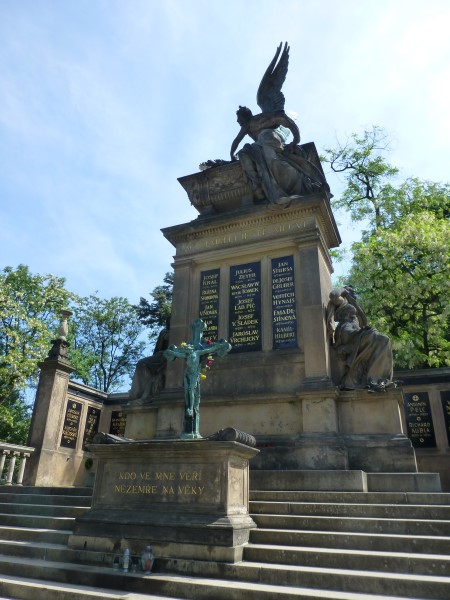 Grave Emmy Destinn (1878-1930). Vysehradsky cemetery. Slavin tomb.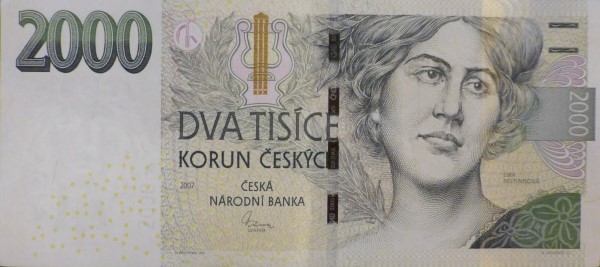 Emmy Destinn (1878-1930) on a 2000 crowns Czech banknote.