1890. Ferdinand Pfohl (1862-1949).
Profession: Music critic. Hamburg.
Relation to Mahler: 
Correspondence with Mahler: 
Born: 12-10-1862 Cheb (Loket, Elbogen an der Eger, Bohemia)
Died: 16-12-1949 Hamburg-Bergedorf, Germany
Buried: Friedhof Bergedorf, Hamburg.
Studied music in Leipzig. Since 11-1892 in Hamburg.
Continued the Musikfeuilletons in the "Hamburger Nachrichten" on the recommendation of Hans von Bulow (1830-1894).
Mahler invited Pfohl for a rehearsal for the premiere of Symphony No. 1.
Visited Mahler in his Hamburg home.
Ferdinand Pfohl was a German music critic, music writer and composer.
Pfohl studied law at Prague, then in Leipzig he studied music as private pupil of Oscar Paul and attended courses in philosophy at the university, worked as music critic at Leipziger Tageblatt and Königlich-Leipziger Zeitung; from November 1892 to 1931 he was music editor of Hamburger Nachrichten, since 1913 to 1934 teacher and co-director of Vogt Conservatory in Hamburg (Thompson – Slonimsky – Sabin, p. 1619). Prof. h.c., Dr. phil. h.c., author of many books on music, e.g. a biography on famous Hungarian conductor Arthur Nikisch and on Richard Wagner.
Pfohl was amongst the most highly regarded music critics in Germany; his opinions carried a great deal of weight. Amongst music circles he was particularly well known as a writer and composer (Willscher in Musik in Geschichte und Gegenwart, 2005).
His compositions include a lot of lieder, some piano pieces and works for orchestra.
The Pfohl-Woyrsch-Society, Pfohl-Woyrsch-Gesellschaft e.V. Hamburg is going to revive his music and to inform about his musical and literary works.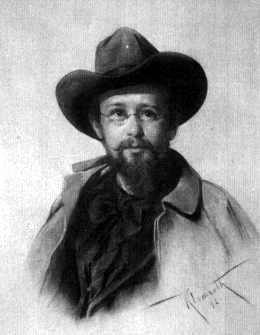 1892. Ferdinand Pfohl (1862-1949).
Pfohl was amongst the most highly regarded music critics in Germany; his opinions carried a great deal of weight (Schaal in MGG 1962). Amongst music circles he was particularly well-known as a writer and music critic. His music was performed fairly frequently during his lifetime and received much acclaim.
The following statement is taken from a review written by Heinrich Chevalley on the debut of Pfohl's "Ocean Symphony" with full orchestra and organ.
"All these movements testify, without exception, to his rich musical invention, a remarkable knowledge of the rules of counterpoint, and an unusual, truly dazzling talent of orchestration. … pure brilliance and richness in the new, innovative combination of sounds. … only a genius could so advantageously employ the orchestral body to such fantastic heights."
"Embued with vitality, Pfohl possesses an enviable imagination. A topic or idea may just catch his attention and immediately it will be drawn into the vortex of his creative powers; equally so, a spark may penetrate his soul, and immediately flames will leap and blaze in all directions – a magical firework, an orgy of flames. Thus is Pfohl as critic; thus he is as composer."
In 1911, Pfohl published a biography about Richard Wagner that was widely circulated, and also guides to six operas by this Bayreuth master in which he demonstrated his exceptional analytical abilities (Schaal in 'Musik in Geschichte und Gegenwart' 1962). Pfohl also wrote a comprehensive portrait of celebrated conductor Arthur Nikisch, with whom he had formed close ties. Numerous other books were devoted mainly to music and composers of the 19th century.
He was well acquainted with a great number of music personalities of his time, and even befriended some of them: Eugen d`Albert, Feruccio Busoni, Edvard Grieg, Engelbert Humperdinck, Gustav Mahler, Jules Massenet, Giacomo Puccini, Max Reger, Richard Strauss, Siegfried und Cosima Wagner, Ermanno Wolf-Ferrari, and Felix Woyrsch. His correspondence with Humperdinck has been preserved as have several letters he received from Mahler and Reger.. Many other letters from significant personalities have gone missing.
Since his student days in Leipzig, Pfohl enjoyed a friendship with the great composer Ferruccio Busoni. After Busoni's early death, Pfohl published a particularly memorable article in "Musikwelt" (1925). As part of the Busoni estate, ten of Pfohl's letters to Busoni are now kept in the state library (Staatsbibliothek) in Berlin.
Pfohl was born on the 12th October, 1862 in a small west Bohemian town, Elbogen, located on the Eger River (the town is called Loket, on the Ochre River, in today's Czech Republic). His father, Ferdinand Pfohl Sr., was a leading member of the municipal administration in Elbogen for many years.
Although the young Ferdinand had a special interest in music, he studied law in Prague – submitting to the wishes of his father.
However this changed with his visit to a performance of Parsifal in 1883 in Bayreuth, which renewed in him the conviction that music was his true calling: "You belong to music, only and exclusively to music, and music to you; music is your blood, your soul." As a result, he broke off his studies of law and moved to musically-rich Leipzig in 1885, where he studied music theory and composition with Professor Oskar Paul and attended lectures in the faculty of philosophy at the University of Leipzig.
His first major orchestral piece, "The Apsarase", debuted in 1887 in the Albert Hall in Leipzig, followed by "Savonarola" in 1889, a symphonic poem. From his Leipzig years, the lieder cycle "Mondrondels", from the "Pierrot Lunaire" collection by Giraud, should be especially mentioned. Evidently this was the first setting to music of the "Pierrot-collection," antedating Arnold Schoenberg's composition by 20 years. According to a contemporary critic:
"All in all, Pfohl proved to be an imaginative composer with this work, demonstrating that he is solidly grounded amongst the modernists, discarding the rules of yesterday and allowing the creative spirit to create freely—limited only by those confines of one's own imagination."
Lutz Lesle states in 1999, that the "Humoresque" of this cycle ventures into impressionistic realms of sound by its excessive use of chromatically shifted triads arranged in parallel.
When Pfohl quit his law studies, his father withdrew his financial support, and he was left to fend for himself. However, he soon was successful in earning his livelihood by writing music reviews for two Leipzig newspapers. These articles impressed his readers, notably Edvard Grieg as well as the extraordinary conductor and piano virtuoso Hans von Bulow. As a result, von Buelow recommended Pfohl to head up the music section of the influential daily Hamburg newspaper "Hamburger Nachrichten". Pfohl held this post from November 1892 to the end of 1931.
In his articles and reviews, he demonstrated his talent for analysis as well as his writing genius; his writing style was lively and compelling, grounded in a comprehensive knowledge of the subject. Indeed, it was mainly his books and his work as a music critic that earned him an honorary professorate from Herzogtum Anhalt in 1914 and a honorary doctorate of philology from the University of Rostock in 1923.
As of 1908, Pfohl was also a co-director in the highly regarded Vogt Conservatory in Hamburg, teaching music history, music theory, harmony and style. From 1943 to 1948 he continued to educate in the field of music by working as a lecturer at the School for Music and Theatre (which developed into today's Academy for Music and Theatre in Hamburg).
As well, beginning in 1924, he gave numerous lectures on the radio, which were delivered in his lively and amusing manner, with thoughtful analyses and readily accessible language to capture the interest of his listeners. With the beginning of the national socialist era in 1933, however, he was forbidden to continue with these activities on political grounds.
On the 16th. December, 1949, Pfohl died at the age of 87 in Hamburg-Bergedorf. Yet his works as a writer and critic live and survive. For example, a manuscript with his memories of Gustav Mahler's creative period in Hamburg was published by the Danish music researcher Knud Martner in 1973.
To his injustice, a majority of Pfohl's compositions, which belonged primarily to the late romantic period, have been almost completely forgotten. Only on occasion are his works heard in a concert hall or on the radio. And yet during his lifetime, his orchestral works were conducted throughout Germany by notable conductors such as Arthur Nikisch with "Ballettszene," Felix Mottle with part of the "Ocean Symphony," as well as Hermann Kretschmar, Max Reger and Hans Sitt with the "Rhapsodie Twardowsky" for orchestra, male choir and mezzo-soprano. Unfortunately, the only notes that remain are of these orchestral works.
Others that survived include the following piano works: "Elegische Suite" and "Strandbilder," as well as the lieder cycles "Mondrondels", "Schilflieder", "Sirenenlieder" und "Turmballaden", and finally, a variety of musical interpretations of poems from Josef von Eichendorff, Goethe, Paul Heyse, Friedrich Nietzsche, Wilhelm Raabe, Max Haushofer, and Otto Erich Hartleben.