Francis MacMillen (1885-1973) in 1910.
Profession: Violinist.
Relation to Mahler: Worked with Gustav Mahler.
Correspondence with Mahler:
Born: 14-10-1885 Marietta, Ohio, 213 Fourth Street, America.
Died: 14-07-1973 Lausanne, Switzerland.
Buried: 00-00-0000 
29-11-1910 Year 1910 c284. 1910 Concert New York 29-11-1910.
02-12-1910 Year 1910 c285. 1910 Concert New York 02-12-1910.
Also: Francis Rea MacMillen, MacMillan.
Im Alter von sieben Jahren begann er am Chicago College of Music zu studieren, wo sein Lehrer Bernhard Listemann war. Von 1895 bis 1899 studierte er bei Karl Markees (einem Joachim-Schüler) und bei Herrn Kalir in Berlin und von 1900 bis 1902 bei César Thomson am Königlichen Konservatorium Brüssel, wo er zwei Preise bekam. Im Herbst 1902 debütierte er in einem Vauxhall in Brüssel und unternahm anschließend eine Konzerttournee durch Belgien, Deutschland und England. Im Herbst 1903 spielte er in London und unternahm eine weitere Konzerttournee durch England.
Sein amerikanisches Debüt fand am 7. Dezember 1906 in der Carnegie Hall mit der New York Symphony Society unter der Stabführung von Walter Damrosch statt. Es folgte eine umfangreiche Tournee mit 98 Konzerten durch den Osten und den Mittleren Westen der Vereinigten Staaten. Im Sommer 1907 kehrte er wieder nach London zurück, wo er drei Konzerte mit dem Queen's Hall Orchestra unter der Leitung von Henry Wood spielte. Seitdem konzertierte er viel in den USA und Europa mit Begleitung des Schweizer Pianisten Johnny Aubert. Im November/Dezember 1910 spielte er wieder mit dem New York Symphony Orchestra, dirigiert von Gustav Mahler. Er ist auch Autor einiger Kompositionen für Violine: Barcarole, Serenade Nègre, Causerie, Liebeslied, Nijinsky u. a.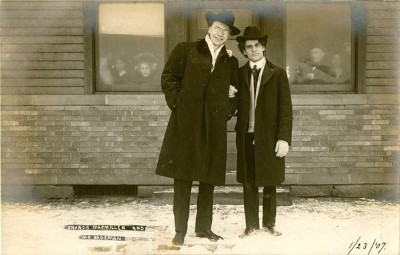 Francis MacMillen (1885-1973) and Richard Hageman (1907).
More
Article in The Cornell Daily Sun 1930: Internationally Known Artist To Play Tonight. Francis MacMillan, violinist to appear in arivate recital at conservatory:
Francis Macmillen, noted American violinist, will be presented in private recital by the Ithaca Conservatory of Music and Affiliated Schools ln the Little Theater at 8:15 o'clock the evening. The violinist is visiting Ithaca to complete arrangements for the special Master classes which he will conduct at the Conservatory during this summer, and has consented to play for a group of guests of the Conservatory officials. 
Mr. Macmillen's public career is of unusual Interest. He studied ln Europe at an early age, and at 16 was declared laureate of the Brussels Royal Coservatory. The honor carried with It  "First Prize with Greatest Distinction" and the $5,000 Van Hal prize, honors won for the first time by an American. 
By the age of 21 he had obtained world-wide recognition, and later continued his studies under famous masters in Petrograd. His repertoire is said to include practically every standard concerto for violin. He is at present on a concert tour in the southern states. The violinist will be accompanied by Ralph Angell, distinguished young pianist, formerly of Ithaca, who has just completed a busy season, filling engagement, with Hans Kindler and Felix Salmond, cellists.
More
Article San Francisco Call 1913: Violin Virtuoso Coming Macmillen Plans Tour:
Definite announcement was made here today by T. Arthur Russell, the English impresario, that Mr. Francis Macmillen, the famous young violin virtuoso, whose British and continental destinies he has guided with such sensational success, is going to America next autumn for an extended tour of the United Statas and Canada. Negotiations for this tour by the American have been under way for some time, according to Mr. Russell, but the actual signing of the contracts did not take place until today. The impresario's statement contains the further information that Macmillen is expected to arrive in America about October 1. He will open his New York season with a recital at Carnegie hall during the first week in November.
Macmillen for more than a decade has been rated one of the greatest of the many violinists who have played here. With each succeeding performance the critics have lauded his playing with growing enthusiasm. This popularity of the American with British audiences took on a superlative form at the conclusion .of his last recital her at Queens hall d.uring the season Just closed. The audience arose as a body at the end of the last number on his program and fairly smothered the virtuoso with their approval of his art. Robin Legge, the distinguished reviewer, in writing of Macmillen, declared that, "he always was a great player," adding "that American pride would not suffer when he stepped on the stage in New York." Continuing, he said: "Rather will it be enhanced, for Macmillen, in his present form, is without a peer among the great virtuosos of the day," Macmillen, at the moment, is at Coxyde, Belgium, preparing his repertoire for the coming season. He has become while there a devotee of the new Belgium sport, sandboating.
Anyday when the breeze is fresh, he may be seen skimming along the beach at racehorse speed. His sandboat is one of the fastest at Coxyde, It is constructed along -the lines of an iceboat, except that small bicycle wheels are substituted for the steel runners of the latter craft. Macmillen will take with him to America his famous $15,000 Stradivarius violin, a gift to him from Lady Gene Palmer, the noted English society woman, who is one of the virtuoso's greatest admirers. Just prior to sailing for New York, he has announced Macmillen will go to Orte, near Rome, Italy, where he will visit for a few days the Duke and Duchess Lante della Rovere. The duke Is first cousin to the present king of Italy and present head of the famous Rovere family which, in the last 250 years, has given three popes and many cardinals to the Catholic church.