Hans Johann Schnellar (1865-1945).
Profession: Timpanist.
Residences: Vienna.
Relation to Mahler:
Correspondence with Mahler: Yes.
Born: 25-09-1865 Klášter Hradišt? nad Jizerou, Czech Republic.
Died: 12-08-1945 Vienna, Austria.  
Buried: 00-00-0000 Unknown.
In 1894, he was employed by conductor Hans Richter (1843-1916), the legendary conductor of the premiere of Richard Wagner's "Ring des Nibelungen" in Bayreuth, at the Royal Vienna Opera and was the timpanist in the opera orchestra as well as at the Vienna Philharmonic until 1932, and taught at the Conservatory of the Society of Friends of Music and at its successor, the Academy of Music and Performing Arts from 1908 until 1932. Schnellar worked with scientific meticulousness on the technical development of his instruments: supported and encouraged by the Royal Opera Director Gustav Mahler as well as State Opera Director Richard Strauss, he worked on technically improving the instruments and in 1920 applied for a patent for the invention of a timpani operated with a hand crank.
When he was appointed as the chief conductor of the New York Philharmonic (1909), Gustav Mahler coordinated the purchase of two pairs of Schnellar timpanis (and additionally tried to convince Schnellar to accept a job offer in his current orchestra). Schnellar's hand-crank timpanis also proved themselves to such a high level in the works of Richard Strauss that the master even allowed him to change the timpani composition at one point in "Sinfonia Domestica" in order to use the instrument thematically.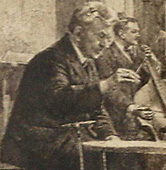 Hans Johann Schnellar (1865-1945).
In the succession of timpanists of the Vienna Philharmonic, beginning in 1842 with Anton Hudler and Alois Blacho, including 21 musicians to this day, Schnellar has a prominent position, simply due to the productive discussion with Mahler and Strauss. That impetus with which he dedicated to developing his instrument lived and continues to live on in the orchestra: Richard Hochrainer (1904-1986) was not only employed as a teacher, he also continued developing the Viennese timpani, as did Wolfgang Schuster (* 1942), who was part of the State Opera Percussion section from 1961 to 2005. The tradition of developing instruments is now in the hands of Anton Mittermayr (* 1970), who has been the timpanist in the State Opera Orchestra since 1996, and since 1999 has belonged to the Philharmonic Association.