Profession: Soprano
Relation to Mahler: Worked with Gustav Mahler (1860-1911) in the Vienna State Opera
Correspondence with Mahler: 
Born: 22-07-1867 Dresden, Germany
Died: 19-03-1932 Leipzig, Germany
Buried: 00-00-0000 
Hedwig Anna Clara Schacko
Pseudoniem in childhood: Hedwig Döring.
Also Schako
Married: Rossbach.
She began as a seven-year-old in children's roles at the Dresdner Hoftheater. Vocational training under Hildach at the Dresden Conservatory (1884-1886). After first engagements in Dresden, Berlin and Gdansk in 1890 at the Frankfurt opera house, where she worked as a permanent member of the ensemble until 1912 and then still occasionally occurred until her departure from Frankfurt at 1916.
The versatile coloratura soprano, whose singing talent was associated with an excellent acting talent, debuted here in the title role of Lortzing's opera 'Undine' (02-10-1890) and soon rose to the celebrated star of the house. "Our Schacko-chen" became a real crowd pleaser.
Her favorite role was Mignon. But she gained special fame as Gretel in Humperdinck's 'Hansel and Gretel', which she also sang in the Frankfurter premiere of the fairy-tale opera (11-03-1894). The composer himself, who had won a Gretel prize-giving in Vienna, dedicated his photograph with the inscription 'The Queen of all Gretel'.
Also in the Frankfurt productions of two later operas by Humperdinck: as a goose girl in "Königskinder" (1897) and in the title role in "Sleeping Beauty" (1902).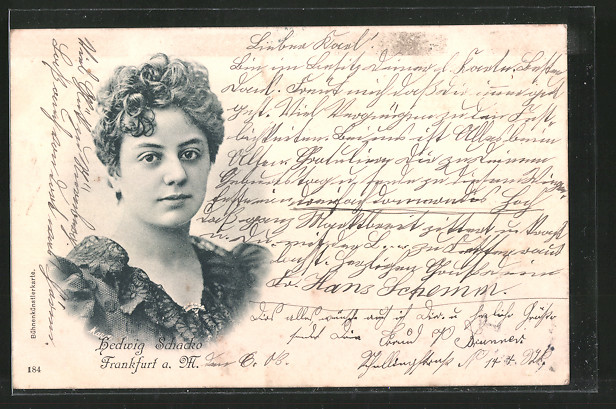 1900. Letter by Hedwig Schacko (1868-1921).
In the premiere of the musical comedy "The Departure" by Eugen d'Albert (1898) she created the Luise. Further Frankfurter premieres such as Pfitzner's 'The poor Heinrich' (as Agnes, 1897), Boieldieus 'Rothkäppchen' (in the title role, 1900), Tchaikovsky's 'Jolanthe' (in the title role, 1901) and d'Albert's 'Lowland' (as Nuri, 1906).
In addition, she was engaged for a series of guest appearances at other houses, like Berlin, Basel and Dresden.
Under Gustav Mahler Schancko played Susanne and Gilda in Vienna (1899); Mahler wanted to get her there as well as for an American guest performance, which she refused. As a concert singer Schancko was also very successful. Bernhard Sekles dedicated her his 'Songs in Folk Style' op. 3 (1898).
After leaving the opera ensemble Schancko, who was a member of Knorr, worked as a singing teacher for dr. Hoch's Conservatory (since 1913). Her most important pupil was the soprano Delia Reinhardt (1892-1974). In 1916 she went with her family to Leipzig.
Her daughter was the alto Fried(e)l Maria Schacko (real name: Rossbach, 1905-1996), who was married from 1933 to 1940 with the conductor Maurice Abravanel (1903-1993).