Profession: Pianist.
Relation to Mahler: Worked with Gustav Mahler.
Correspondence with Mahler:
Born: 20-01-1876 Podgorze, Krakow, Poland,
Died: 16-02-1957 Los Angeles, America.
Buried: 00-00-0000 Glendale, Forest Lawn Memorial Park, Los Angeles, America.
Josef Casimir Hofmann (originally Józef Kazimierz Hofmann) was a Polish-born American virtuoso pianist, composer, music teacher and inventor.
Josef Hofmann was born in Podgórze, near Kraków, the area of Poland then controlled by Austria-Hungary, in 1876. His father was the composer, conductor and pianist Kazimierz Hofmann, and his mother the singer Matylda Pindelska. A child prodigy, he gave a debut recital in Warsaw at the age of 5, and a long series of concerts throughout Europe and Scandinavia, culminating in a series of concerts in America in 1887-88 that elicited comparisons with the young Mozart and the young Mendelssohn.
Anton Rubinstein took Hofmann as his only private student in 1892 and arranged the debut of his pupil in Hamburg, Germany in 1894. Hofmann toured and performed extensively over the next 50 years as one of the most celebrated pianists of the era. In 1913, he was presented with a set of keys to the city of St Petersburg, Russia.
As a composer, Hofmann published over one hundred works, many of those under the pseudonym Michel Dvorsky, including two piano concertos and ballet music. He made the United States his base during World War I and became a US citizen in 1926. In 1924, he became the first head of the piano department at the inception of the Curtis Institute of Music, Philadelphia, and became the Institute's director in 1927 and remained so until 1938.
He was instrumental in recruiting illustrious musicians such as Efrem Zimbalist, Fritz Reiner, Marcella Sembrich, and Leopold Auer as Curtis faculty. Hofmann's pupils included Jean Behrend, Abram Chasins, Abbey Simon, Shura Cherkassky, Ezra Rachlin, Nadia Reisenberg, and Harry Kaufman. While not a pupil, Jorge Bolet benefited from Hofmann's interest. In 1937, the 50th anniversary of his New York debut performance was celebrated with gala performances including a "Golden Jubilee" recital at the Metropolitan Opera, New York.
In 1938 he was forced to leave the Curtis Institute of Music over financial and administrative disputes. In the years from 1939 to 1946, his artistic eminence deteriorated, in part due to family difficulties and alcoholism. In 1946, he gave his last recital at Carnegie Hall, home to his 151 appearances, and retired to private life in 1948. He spent his last decade in Los Angeles in relative obscurity, working on inventions and keeping a steady correspondence with associates.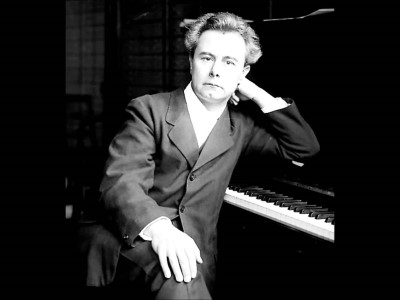 As an inventor, Hofmann had over 70 patents, and his invention of pneumatic shock absorbers for cars and airplanes was commercially successful from 1905 to 1928. Other inventions included a windscreen wiper, a furnace that burned crude oil, a house that revolved with the sun, a device to record dynamics (U.S. patent number 1614984) in reproducing piano rolls that he perfected just as the roll companies went out of business, and piano action improvements adopted by the Steinway Company (U.S. patent number 2263088).
Hofmann died of pneumonia on February 16, 1957 in Los Angeles. He was survived by four children. His second wife, Betty Short, had previously been one of his pupils. He is interred at Forest Lawn Memorial Park in Glendale, California. The Josef Hofmann Piano Competition, co-sponsored by the American Council for Polish Culture and the University of South Carolina Aiken was established in his honor in 1994.
Anton Rubinstein heard the seven-year-old Hofmann play Beethoven's C minor Piano Concerto in Warsaw and declared him to be an unprecedented talent. At Rubinstein's suggestion, German impresario Hermann Wolff offered career management and offered to send the boy on a European tour, but Hofmann's father refused to let the boy travel until he was nine years old. At that age, Hofmann gave concerts in Germany, France, Holland, Norway, Denmark, Sweden, and Great Britain.
At the age of 12, young Josef Hofmann was probably the first pianist of note to record on Edison's phonograph; Hans von Bülow recorded a Chopin Mazurka on Edison's improved phonograph the same year, i.e., 1888. In 1887, an American tour was arranged and after three months of performances that included fifty recitals, seventeen of which were at the Metropolitan Opera House. Yet soon after,the Society for the Prevention of Cruelty to Children stepped in, citing the boy's fragile health. However, as per the contract that had paid Hofmann $10,000, he was legally obliged to complete the tour. The contract was rendered void by Alfred Corning Clark who donated $50,000 and, in turn, legally forbade Hofmann to perform in public until he turned 18 years old. The final segment of the tour was cancelled and the family returned to Potsdam, outside Berlin. This marked the end of Hofmann's child prodigy years.
Education in music
Clark's donation enabled Hofmann to continue individual study in science and mathematics, and he continued to take music lessons from Heinrich Urban (composition) and with the pianist and composer Moritz Moszkowski. In 1892, Rubinstein accepted Hofmann as his only private pupil, the two meeting for 42 sessions in Dresden's Hotel d'Europe. Initial lessons, a week apart, included ten Bach Preludes and Fugues and two Beethoven sonatas, from memory. Hofmann was never allowed to bring the same composition twice, as Rubinstein said as a teacher he would probably forget what he told the student during the previous lesson. Rubinstein never played for Hofmann, but gave ample evidence of his pianistic outlook during many recitals the boy heard.
In a three-day period Hofmann heard in Berlin's new Bechstein Hall recitals by Hans von Bülow, Johannes Brahms and Rubinstein, and commented on their radically different playing. Rubinstein arranged Hofmann's adult debut on March 14, 1894, in Hamburg's Symphonic Assembly Hall, the piece being Rubinstein's Piano Concerto No. 4 in D minor, with the composer conducting. After the concert, Rubinstein told Hofmann there would be no more lessons, and they never saw each other again. Rubinstein returned to Russia and died later that year. In later years Hofmann referred to his relationship with the titanic Russian master as the "most important event in my life."
Hofmann at the end of his career
By the early 1930s, Hofmann had become an alcoholic but he retained exceptional pianistic command throughout this decade; Rudolf Serkin and a young Glenn Gould have recounted magical impressions created on them by Hofmann's concerts in mid-and-late 1930s. After his departure from the Curtis Institute in 1938, a combination of his drinking, marital problems and a loss of interest in performing caused a rapid deterioration in his artistic abilities. Commenting on Hofmann's sharp decline, Sergei Rachmaninoff said, "Hofmann is still sky high … the greatest pianist alive if he is sober and in form. Otherwise, it is impossible to recognize the Hofmann of old". Oscar Levant wrote, "one of the terrible tragedies of music was the disintegration of Josef Hofmann as an artist. In his latter days, he became an alcoholic. …His last public concert … was an ordeal for all of us".