Marcella Sembrich (1858-1935).
Profession: Soprano.
Residences: Vienna, Lemberg, New York.
Relation to Mahler: Worked with Gustav Mahler.
Correspondence with Mahler:
Born: 15-02-1858 Wisniewczyk, Ukraine.
Address: She lived in New York in The Kenilworth (151 Central Park West) on the 10th floor. Four blocks from the 1907-1908 Hotel Majestic where the Mahlers lived. In 1908 her Christmas tree caught fire there at a Christmas party with the Mahlers.
Died: 11-01-1935 New York, America.
Buried: Johannis cemetery, Dresden, Germany.
Sembrich was born at Wisniewczyk, in Austrian Galicia, now part of the Ukraine. She first studied violin and piano with her father. Later, she entered the Lemberg Conservatory and studied piano with her future husband Wilhelm Stengel and violin with Sigismond Bruckmann. She entered the Vienna Conservatory in Autumn 1875. It was only then that her remarkable voice was discovered. She studied violin with Joseph Hellmesberger, Sr., piano with Julius Epstein (1832-1926) and voice with Viktor Rokitansky. After a year it was decided to give up study of the violin and piano and fully devote the young student to voice lessons. She arrived in Milan in September 1876 to study with one of the best vocal teachers on the continent, namely, Giovanni Battista Lamperti, son of the eminent teacher Francesco Lamperti, with whom she would later study in 1885.
After less than a year of study with the younger of the two Lampertis, Sembrich made her debut in opera at Athens as Elvira in Bellini's I Puritani on June 3, 1877. She not only sang Puritani, but also Dinorah, Lucia di Lammermoor, Robert le Diable and La Sonnambula! It is a testament to her proper early training and intelligence that a 19-year-old soprano could learn so many roles in a foreign language so quickly. While her success was solid, she still had much to learn. After Athens she was to appear with the Vienna Opera, but due to pregnancy she broke the contract. During her pregnancy and after the birth of her first son, Wilhelm Marcel, she continued her vocal studies, this time with Marie Seebach and Richard Lewey in Vienna.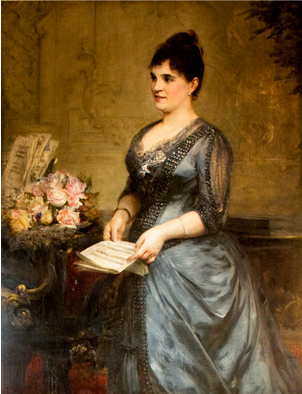 Marcella Sembrich (1858-1935).
After a long and frustrating search for an opera engagement she was hired as a guest at the Dresden Royal Opera House in September 1878, debuting as Lucia. Her success was immediate and she was dubbed the "Polish Patti." She was immediately made a member of the company and remained in Dresden battling opera house politics, until 1880. She broke her contract at Dresden and sang a number of concerts to raise money to go to London. She had an auspicious audition with the impresario Ernest Gye at Covent Garden and signed a contract there for five seasons. In June 1880 she created a sensation in her debut at Covent Garden as Lucia in Donizetti's Lucia di Lammermoor. She became a great favorite in the characters of Zerlina, Don Giovanni; Susanna, The Marriage of Figaro; Konstanze, The Abduction from the Seraglio; Lady Harriet/Martha, Martha; and, of course, Lucia.
In 1883, Marcella Sembrich went to the United States to sing in the newly founded Metropolitan Opera company. She made her Met debut as Lucia in the company premiere of Lucia di Lammermoor on October 24, 1883, she was also the Met's first Elvira in I Puritani, Violetta in La Traviata, Amina in La Sonnambula, Gilda in Rigoletto, Marguerite in Les Huguenots and Rosina in Il Barbiere di Siviglia. Due to the terrific financial loss of the company that year, Italian opera was abandoned and German opera reigned supreme at the Met for the next dozen years or so. While away from New York, Sembrich was a tremendous favorite at the Italian Opera in St Petersburg, Russia, from 1890 to 1897.
Sembrich returned to the Met in 1898. In total, she sang more than 450 Met performances in her 11 seasons there, and remained associated with the company until 1909, when the silver jubilee of her Met debut was celebrated with a farewell gala. Organizing committee: Victor Herbert, Frank Damrosch (1859-1937), Franz Kneisel, Rudolf E. Schirmer, Edward Henry Krehbiel (1854-1923).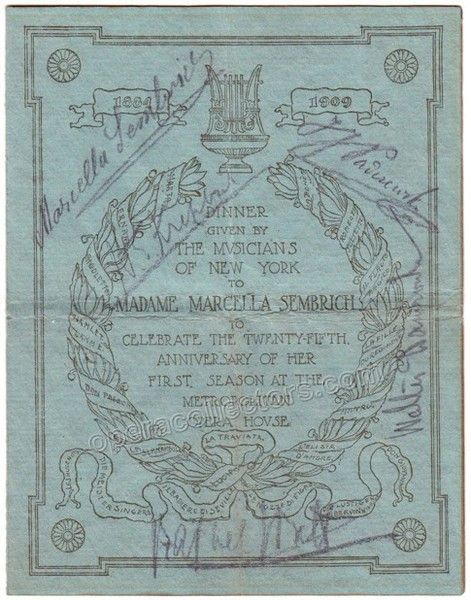 Year 1909. 06-02-1909. Dinner given by the musicians of New York to Madame Marcella Sembrich (1858-1935) to celebrate the twenty-fifth anniversary of her first season at the New York Metropolitan Opera (MET). Menu. Signature Marcella Sembrich (1858-1935). Hotel Astor.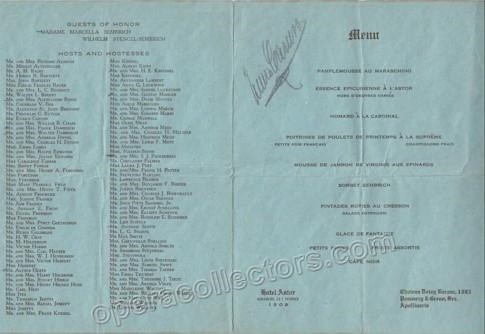 Year 1909. 06-02-1909.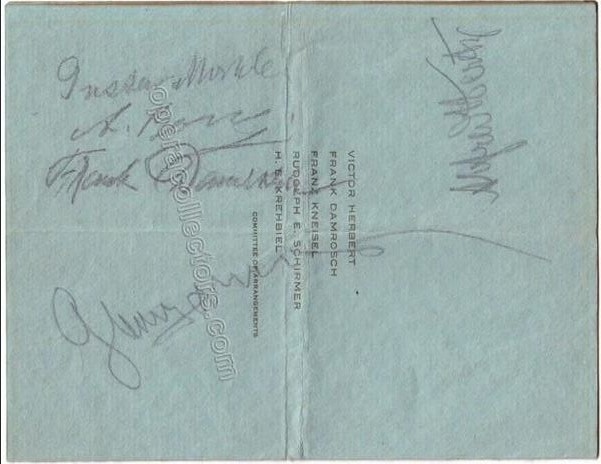 Year 1909. 06-02-1909. Signatures Gustav Mahler (1860-1911), Alma Mahler?, Frank Damrosch.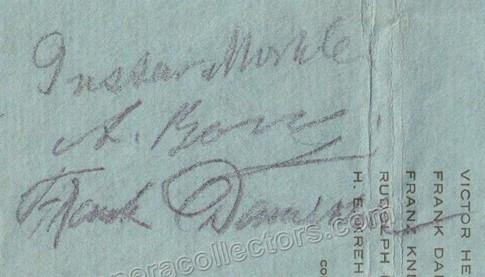 Year 1909. 06-02-1909. Signatures Gustav Mahler (1860-1911), Alma Mahler?, Frank Damrosch.
She gave recitals until 1917. After this date, she taught students from the Curtis Institute in Philadelphia and at the Juilliard School of Music. Her students included Alma Gluck, Hulda Lashanska, Queena Mario, Dusolina Giannini, Josephine Antoine, Natalie Bodanya, Polyna Stoska, Jane Pickens. Additionally, some of her students in turn became important vocal teachers around the country. Among them were Anna Hamlin (teacher of Judith Raskin) at Smith College, Edith Piper and Florence Page Kimball (teacher of Leontyne Price) at Juilliard, Eufemia Gregory (teacher of Anna Moffo, Judith Blegen and Frank Guarrera) at the Curtis Institute.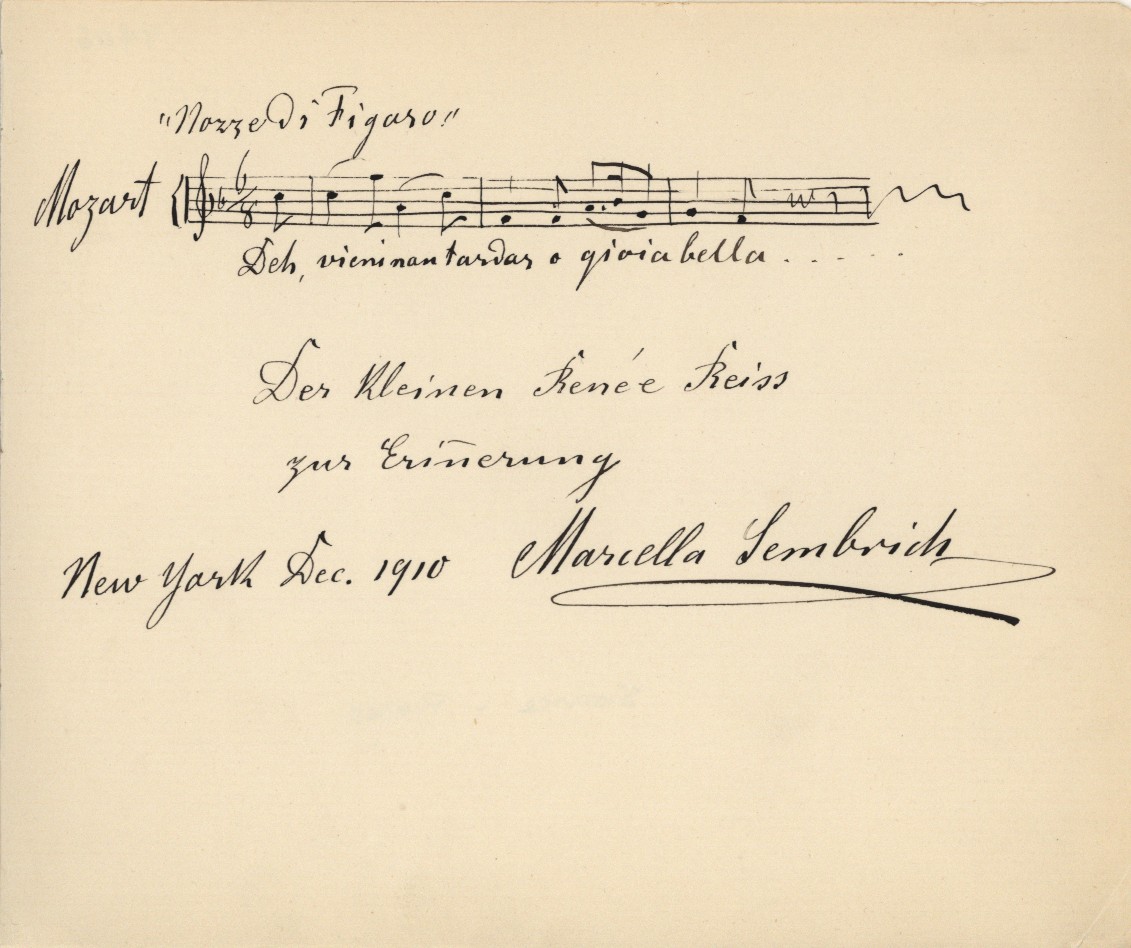 Year 1910. 12-1910. Marcella Sembrich (1858-1935) signature.
The outbreak of World War I had made it impossible for the diva to return to her beloved Alps during the summers. Sembrich turned instead to the Adirondack Mountains area and spent summers at Lake Placid from 1915 to 1921, and then at a home on Lake George from 1922 to 1934. The Marcella Sembrich Opera Museum can be found at Bolton Landing, New York. The museum contains many mementoes from the diva's career.
She was a great Polish patriot throughout her life. During World War One she was President of the American-Polish Relief Committee of New York. She was wholly devoted to raising money, food stuffs and clothes for her suffering countrymen. The Kosciuszko Foundation, Inc., an American center for Polish culture in New York City, annually holds the "Marcella Sembrich Voice Competition".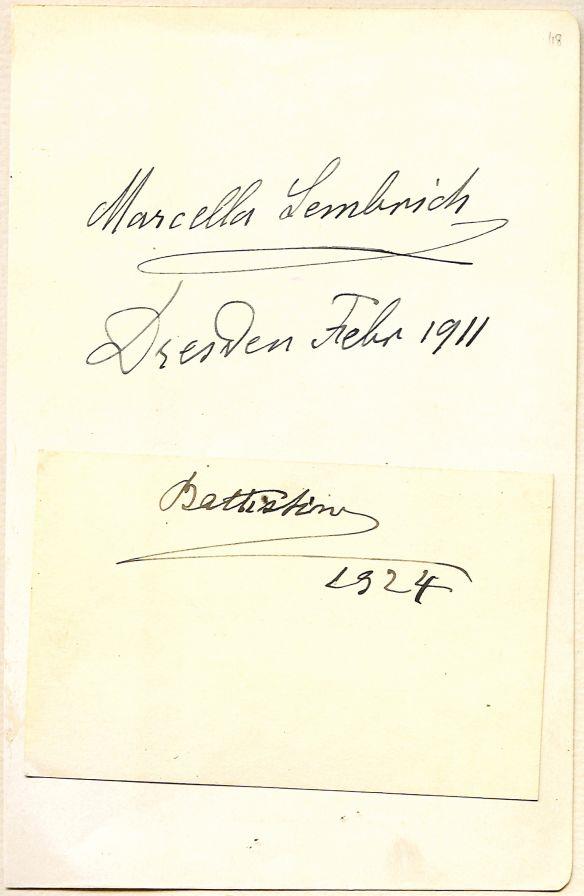 1911. Signature Marcella Sembrich (1858-1935), Dresden 02-1911. Supplement: Signature Matthia (Mattia) Battistini (1856-1928) on unknown business card, 1924. Copyright: Bert van der Waal van Dijk.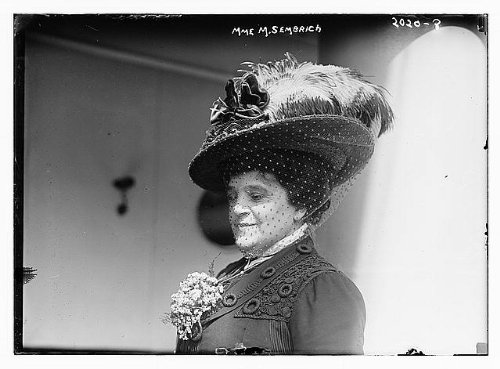 Marcella Sembrich (1858-1935).