Maria Teresa Carreno (1853-1917).
Profession: Pianist.
Relation to Mahler: Worked with Gustav Mahler.
Correspondence with Mahler:
Born: 22-12-1853 Caracas, Venezuela.
Died: 12-06-1917 Della Robbia, New York, America. Aged 64.
Buried: Unknown.
Also: María Teresa Carreño García de Sena.
María Teresa Carreño García de Sena alias Teresa Carreno was a renowned pianist, singer, composer, and conductor of Venezuelan origin. She was one of the most accomplished pianists of nineteenth and twentieth century, giving performances and concerts while travelling all over the world. A majority of her works was published and they remained in great demand among music lovers. She was an unusually talented prodigy, composing short piano pieces from the age of six and giving her first performance at the age of eight. Piano was her favorite instrument and she could play it like an angel. She was always energetic at her stage shows and gave power packed performances that never failed to exhilarate her fans.
It is owing to her unbounded energy and passion in her music shows that Teresa was nicknamed the "Valkyrie of the Piano". Her performances thrilled not only the common man, but also other musicians all over the world. Pianist Claudio Arrau, a South American-born child prodigy, recalled the joy of once hearing her performance by exclaiming, "Oh! She was a goddess!" Read on to discover more about this music legend.
Teresa Carreño was born into a family with rich musical heritage on 22 December 1853, to Manuel Antonio, who was a politician and an amateur pianist. Her family was settled in Caracas, Venezuela. Her grandfather also was a famous Venezuelan composer. Teresa exhibited unusual musical talents at very young age. Her father, being a pianist, recognized this and taught her. Later, she was trained by Mathias, Louis Moreau Gottschalk and Anton Rubinstein. Being a blessed child, her teachers did not have to put great effort to teach her as she was a quick learner. Her first bursts of amazing talents were apparent in the short piano pieces that she composed, as early as the age of six. Her family was very keen to see her become a famous figure, so, they decided to settle in New York City, hoping that this big city will give her ample opportunities, exposure and broader attention. Therefore, they moved to New York City in 1862.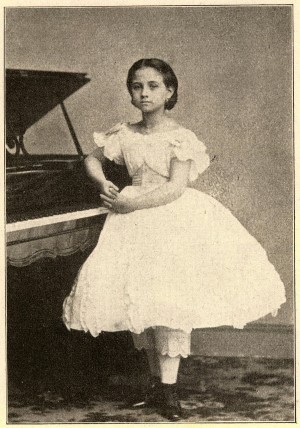 Maria Teresa Carreno (1853-1917). Aged 8.
When her family migrated to New York during the summer of 1862, Teresa was just eight years old and on 25th November, the same year she gave her debut performance at the Irving Hall in New York. It was during this time that she met Louis Moreau Gottschalk, an Orleans-born pianist-composer, who was very much impressed by her playing style and volunteered to give her several lessons. The next year, in 1863, in the month of January, she performed in Boston. She published her first composition titled "Gottschalk Waltz" towards the end of the year and dedicated it to the composer Louis Moreau Gottschalk. She then travelled to Cuba with her family and achieved great success there. In the same year, during the fall, she got an opportunity to perform for Abraham Lincoln in the White House.
 Teresa and her family left for Europe in March, 1866. They reached England first and remained there for a brief time and then proceeded to Paris and settled there. There she got an excellent opportunity to launch herself, performing for famous musical personals like Gioachino Rossini and Franz Liszt. During her time in Paris, she also met famous pianists and composers like Charles Gounod and Camille Saint-Saëns. She again went on a brief trip to England and this time managed to grab the attention of music lovers there.
 In the fall of 1866, Teresa lost her mother who became a victim of cholera. This was a big blow to Teresa but she recovered from this mournful period of her life. She then travelled to Spain with her father and held concerts at Madrid and Zaragoza. She was much renowned as a pianist and composer during this time and a large body of her work was published in Paris during the 1860s and 1870s, even before she had reached her twenties. The early 1870s was a very important period in Teresa's music career as she gave numerous performances, taking her from success to success.
Throughout the 1870s, she continued to compose and tour with great passion. In 1873, at the age of 20, she married Emile Sauret, who was a violinist and compose and with him moved to London. In March, a year after her marriage, she gave birth to her first child, Emilita. Later, she gave her child for adoption, a decision that she regretted later. That year her father also died in Paris and Teresa, along with her husband, Sauret, shifted to USA and remained there till 1889. The next few years were very hectic for her with tightly scheduled tours and performances spread throughout the states. This eventually led to the collapse of her marriage with Sauret and they got divorced.
 Though Teresa's marriage had a tragic end, she did not let these problems affect her career or her life. She went on indefatigably with her concerts during the 70s and 80s. After playing with the keyboard for so long, she wished for a change and so, she started to pursue a career as an opera singer, debuting at New York, in 1876, as Zerlina, in Mozart's Don Giovanni. Her switch over to opera was brief yet successful. During this time she married her second husband, Giovanni Tagliapietra, an Italian-born baritone who was performing in the United States. She mothered two children from this relationship—Teresita and Giovanni. One of her daughters also followed in her mother's footsteps and became a famous pianist later. During these years she became acquainted with Edward MacDowell, a young, highly gifted pianist who composed many youthful compositions, which Teresa began to champion.
 In 1885, Teresa returned to her birthplace, Venezuela, for the first time. However, she didn't sit idle here; she performed in concerts and also composed a patriotic song in honor of Simón Bolívar's birth. She also managed an opera company and started planning for the establishment of a conservatory of music. All this she managed to accomplish within a year of coming back.
 Teresa returned to Europe and started to perform and play piano again in 1889, giving a new boost to her music career. She spent a summer in Paris and then moved to Berlin and settled there. Teresa gave her first ever performance with the Berlin Philharmonic, in a piece of Grieg's Piano Concerto. By this time she was free from her second marriage as well. She went along with her music and during this journey she met the distinguished pianist-composer Eugen d'Albert and decided to marry him. They married in 1892 and Teresa gave birth to two daughters—Eugenia and Hertha. This relationship also couldn't endure the turbulence as in her previous relationships and the couple separated three years later. After getting divorced, Teresa turned to composition for solace and during her summer holidays, wrote a string quartet and a serenade, the former, which was published the following year and the later remaining unpublished.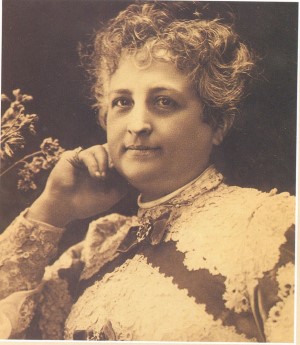 Maria Teresa Carreno (1853-1917).
Her career at Berlin touched new heights of success and she received considerable acclaim and exposure. She started teaching music and was much sought after. She also continued to perform with many major European orchestras. Her repertoire included many of the standard late Romantic concertos and also lesser known works. During this time, she was most commonly associated with Edward MacDowell (1860-1908)'s Second Piano Concerto, which the composer of the piece had dedicated to her. In 1902, she took the decision to marry Arturo Tagliapietra, her second husband's brother.
At the start of the twentieth century, Teresa undertook two major world tours, the first in 1907-08 and the second in 1909-11. She visited Australia and New Zealand during the first tour and South Africa during the second. November 1912 was a very important date for her as it marked the fifteenth anniversary as a concert artist. To mark the occasion, she had an elaborate celebration in Berlin. Soon after the World War began and this affected her career as it was not safe to travel a lot during this time. So, for the first two years of the war she remained in Europe but, with no sign of the war ending, she moved to the United States of America in 1916 for the last time and continued touring there during the winter. She also travelled to Cuba the next year to perform but fell ill and returned back to New York.
Teresa Carreño composed about 40 works for piano, 2 for voice and piano, 2 for choir and orchestra, and 2 as chamber music. She left many of her works incomplete. Though she concentrated on pieces for the piano, she also penned a string quartet, a serenade and a book titled "Possibilities of Tone Color by Artistic Use of Pedals", which was published two years after her death, in 1919.
She took her last breath on 12June 1917, in her apartment in the Della Robbia in New York City, when she was on her 64th year of birth. She had fallen ill in Cuba a few months back. The Teresa Carreno Cultural Complex in Caracas is dedicated to commemorate her life and works. There is also a crater in Venus named after her.  
Teresa's debut performance at the Irving Hall in New York on November 25, 1862.
Performance at the White House for President Abraham Lincoln, in 1863.
Teresa's debut performance as an opera singer, where she played the role of Zerlina, in Mozart's Don Giovanni, at New York in January 1876.
Teresa's performance with the Berlin Philharmonic on 18 November, 1889.