Profession: Architect.
Residences: Vienna, Berlin.
Relation to Mahler: Neighbour.
Correspondence with Mahler:
Born: 13-07-1841 Penzing, Vienna, Austria.
Address: Rennweg No. 3 (Palais Hoyos). See also: House Wydenbruck – Rennweg No. 1A.
Died: 11-04-1918 Vienna, Austria. Aged 76.
Buried: 14-04-1918 Hietzing cemetery, Vienna, Austria. Grave 13-131.
Otto Koloman Wagner was an Austrian architect and urban planner, known for his lasting impact on the appearance of his home town Vienna, to which he contributed many landmarks.
Wagner was born in Penzing, a district in Vienna. He was the son of Suzanne (née von Helffenstorffer-Hueber) and Rudolf Simeon Wagner, a notary to the Royal Hungarian Court. He studied in Berlin and Vienna. In 1864, he started designing his first buildings in the historicist style. In the mid- and late-1880s, like many of his contemporaries in Germany (such as Constantin Lipsius, Richard Streiter and Georg Heuser), Switzerland (Hans Auer and Alfred Friedrich Bluntschli) and France (Paul Sédille), Wagner became a proponent of Architectural Realism. It was a theoretical position that enabled him to mitigate the reliance on historical forms. In 1894, when he became Professor of Architecture at the Academy of Fine Arts Vienna, he was well advanced on his path toward a more radical opposition to the prevailing currents of historicist architecture.
By the mid-1890s, he had already designed several Jugendstil buildings. Wagner was very interested in urban planning — in 1890 he designed a new city plan for Vienna, but only his urban rail network, the Stadtbahn, was built. In 1896 he published a textbook entitled Modern Architecture in which he expressed his ideas about the role of the architect; it was based on the text of his 1894 inaugural lecture to the Academy. His style incorporated the use of new materials and new forms to reflect the fact that society itself was changing. In his textbook, he stated that "new human tasks and views called for a change or reconstitution of existing forms". In pursuit of this ideal, he designed and built structures that reflected their intended function, such as the austere Neustiftgasse apartment block in Vienna.
In 1897, he joined Gustav Klimt, Joseph Maria Olbrich, Josef Hoffmann and Koloman Moser shortly after they founded the "Vienna Secession" artistic group. From the ideas of this group he developed a style that included quasi-symbolic references to the new forms of modernity.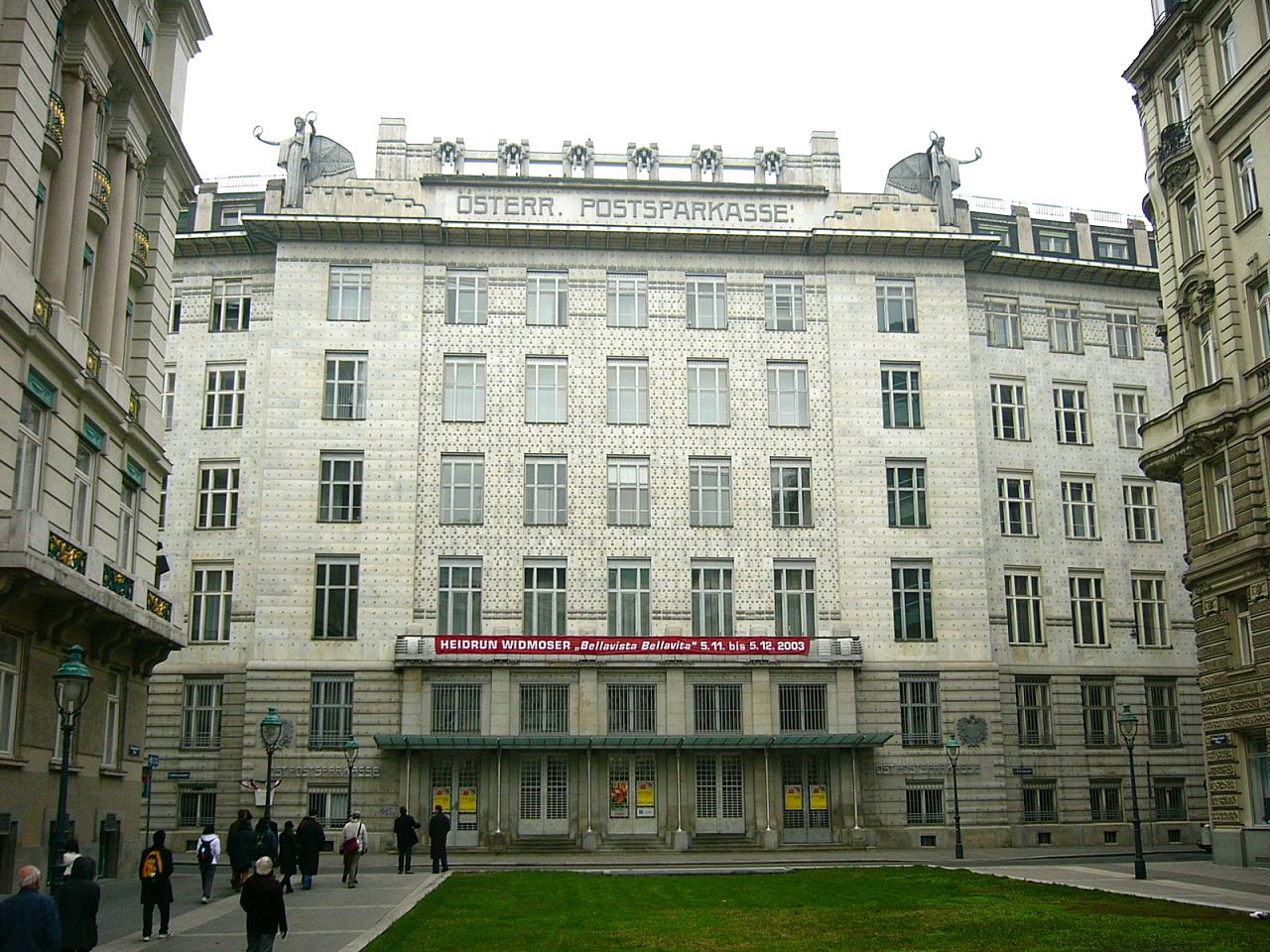 Otto Wagner (1841-1918). Postal Office Savings Bank Building, Vienna (1894–1902).
Major works
Austria
Nussdorf weir and lock, Vienna (1894).
Viennese Wiener Stadtbahn, metropolitan railway system, e.g. Karlsplatz Stadtbahn Station.
Majolica House (Majolikahaus), Vienna (1898-1899).
Postal Office Savings Bank Building, Vienna (1894-1902).
Kirche am Steinhof, Vienna (1903-1907).
Hungary
Rumbach Street synagogue, Budapest (1872).