Profession: Lawyer, entrepreneur, financier. 
Residences: New York.
Relation to Mahler: Financier. Mahler contracts.
Correspondence with Mahler:
Born: 06-03-1858 Lynchburg, Virginia, America.
Died: 16-03-1940 Palm Springs, California, America.
Buried: Woodlawn cemetery, Bronx, New York, America.
Married to: Minnie Untermyer-Carl (1857-1924).
Samuel Untermyer, also known as Samuel Untermeyer was an American lawyer and civic leader as well as a millionaire. He was born in Lynchburg, Virginia but after the death of his father the rest of the family moved to New York, where he studied law. After admission to the bar, he soon gained fame as a lawyer, focusing on corporate law, and became a staunch advocate of stock market regulations, government ownership of railroads, and various legal reforms. He was also as a civic leader, frequently attending the Democratic National Convention as a delegate. An active Zionist Untermyer was an able advocated for the Zionist liberation movement and was President of the Keren Hayesod, the agency through which the movement was conducted in America.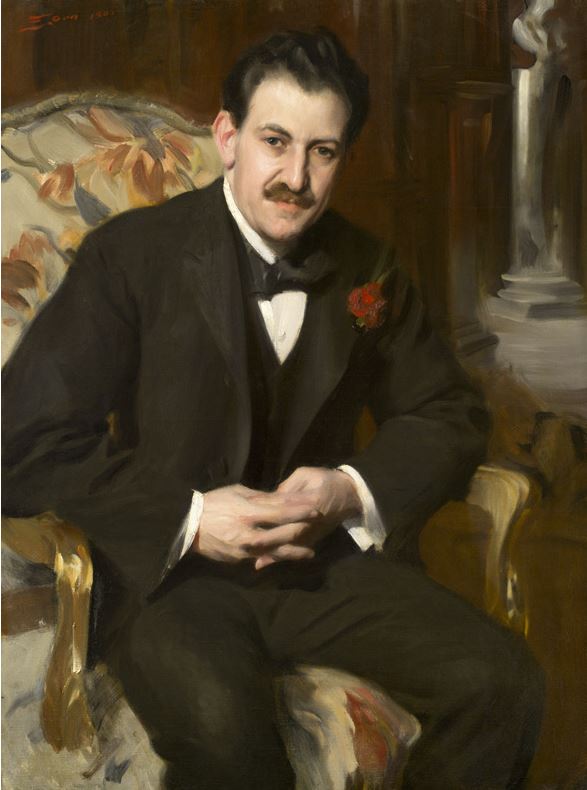 Untermyer was born in Lynchburg, Virginia to Isadore Untermyer and Therese Laudauer, both of whom were German Jews who emigrated to the United States from their native Bavaria. His father, who had been a lieutenant in the Confederate Army, died in 1866, soon after the close of the Civil War. The family then moved to New York.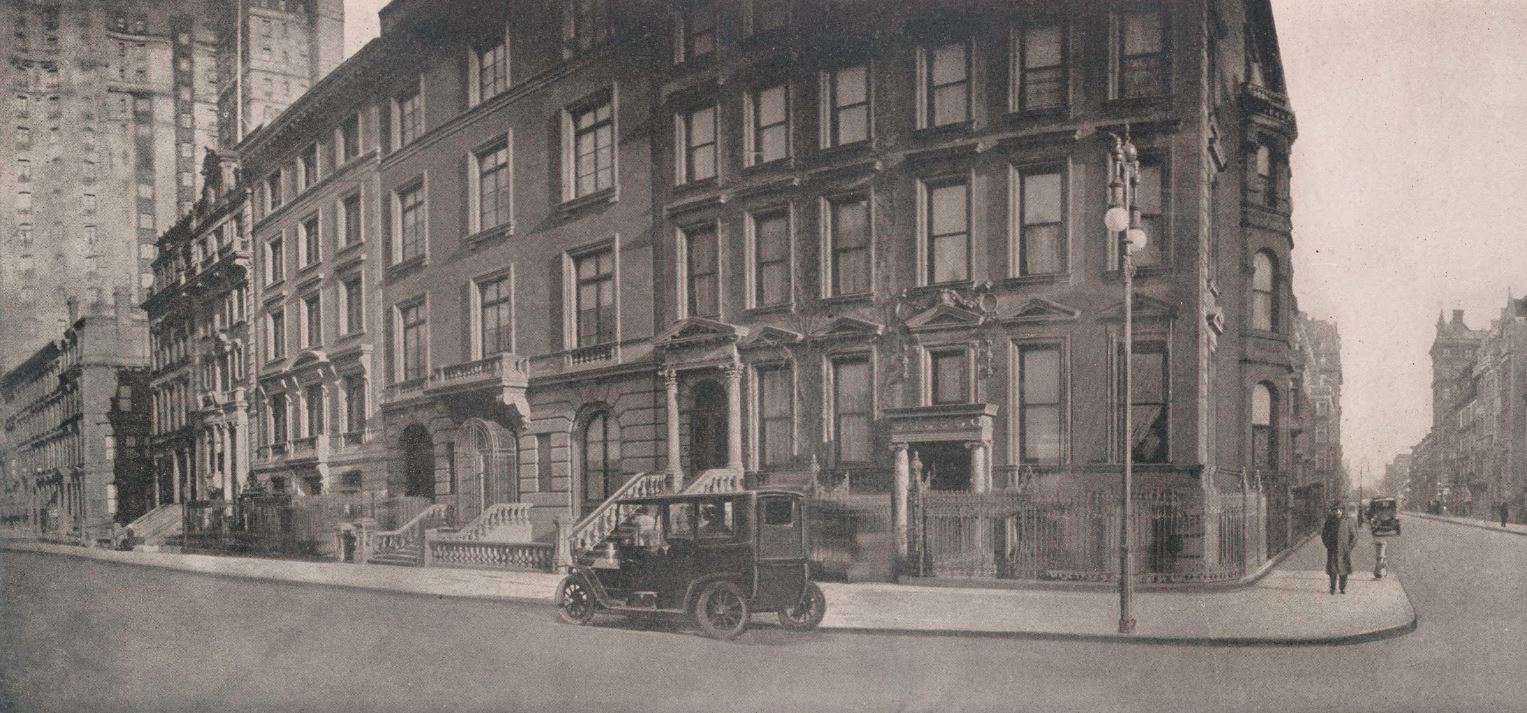 Untermyer residence at 675 V Avenue, New York. (House behind the car.)
On August 9, 1880 he married Minnie Carl, daughter of Mairelius Carl of New York City. They had three children, Alvin, who served in the 305th Field Artillery in France during the Great War; Irwin, a justice of the Appellate Division of the New York State Supreme Court, and Irene, a philanthropist who married Louis Putnam Myers and, after his death, became the wife of Stanley Richter. Upon the outbreak of World War I, Untermyer, his wife, and two servants were vacationing in Carlsbad, Germany, and returned to the United States aboard the Baltic via London in late August. His obituary was published in the New York Times (March 17, 1940, pg 1).
Introduction Randolph Guggenheimer, Samuel Untermyer and Isaac Untermyer
German-American entrepreneurship can be found across the whole spectrum of American business in the period since 1720. The legal profession is no exception. Guggenheimer & Untermyer was one of the most successful and prominent German-American law firms during its life span, approximately 1855 to 1986. The firm was founded in the mid-1850s by Adolph (Abraham) Levinger (1831-1876), a Bavarian-Jewish immigrant. His cousins Randolph Guggenheimer (born July 20, 1848 in Lynchburg, Virginia; died September 12, 1907 in Long Branch, New Jersey), Isaac Untermyer (born June 22, 1853 in Lynchburg, Virginia; died August 31, 1926 in New York City, New York), and Samuel Untermyer (born June 6, 1858 in Lynchburg, Virginia; died March 16, 1940 in Palm Springs, California) later transformed it into an entrepreneurial Wall Street firm that represented a host of prominent clients, both German-America and native-born, Jewish and Gentile, during the late nineteenth century and throughout much of the twentieth.
The firm achieved success both via litigation and most especially through financial activities and corporate legal representation. Guggenheimer and the Untermyer brothers created a firm that challenged the white, Anglo-Saxon, Protestant elite's dominance of corporate legal services in the City of New York. They also promoted corporate social responsibility by serving as advocates for Jewish causes both in the United States and abroad.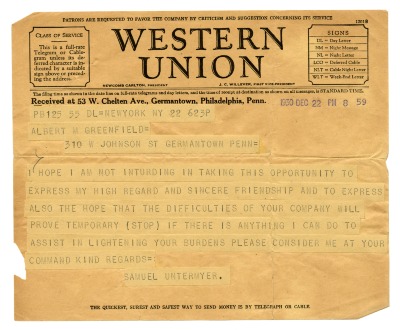 Telegram from Samuel Untermyer (1858-1940) to Albert Greenfield (22-12-1930).
Randolph Guggenheimer, Samuel Untermyer, and Isaac Untermyer are examples of successful upward social mobility during the Gilded Age. Of the three siblings, Isaac Untermyer was the only one to value his privacy. For example, he made sure his 1914 purchase of Carnwath, a 200-acre country estate in upstate New York with a long frontage on the Hudson River at New Hamburgh, received no press coverage. In contrast, Randolph Guggenheimer celebrated his success with conspicuous consumption. He was famous for the banquets he hosted in New York City on which no expense was spared, However, Samuel Untermyer's conspicuous consumption far exceeded that of Guggenheimer. He adopted the persona of a Southern gentleman and reinvented his merchant father as a tobacco planter and a Confederate officer.
In 1899 he purchased Greystone, a country estate in Yonkers, New York, with a frontage on the Hudson River. A few years later, after he learned that his social rival, J.P. Morgan, competed in dog shows, Untermyer constructed kennels at Greystone, in order to house and bred dogs to compete with the financier. The New York Tribune reported that the kennels were managed on "an almost military basis." However, Untermyer's real passion was flowers.
After Morgan's death the kennels were dismantled and henceforth the main activity on the grounds of Greystone was the cultivation of flowers. When Untermyer wanted to be outside the public eye, he retreated with his family to his estate at Brant Lake in upstate New York, or during the summer took the waters in the spa resorts of Central Europe. Unlike his siblings, Untermyer married outside of the Jewish faith. During the 1930s, Untermyer also hosted many celebrities at his winter estate in Palm Springs including Albert Einstein, Mayor Jimmy Walker of New York City, and the Hollywood film producer, Ernst Lubitsch.
Untermyer Park
Untermyer developed elaborate gardens at his 150-acre riverside estate Greystone, in Yonkers, New York, on land adjacent to the Hudson River. Greystone had previously been owned by defeated Presidential candidate Samuel Tilden, and was purchase by Untermyer when Tilden died in 1899. When Untermyer himself died in 1940, his plan had been to donate the whole estate to the Nation, or the State of New York, or at least to the City of Yonkers. Eventually the city of Yonkers agreed to accept part of the estate gardens; this parcel of land was renamed Untermyer Park in his honor. It was added to the National Register of Historic Places in 1974.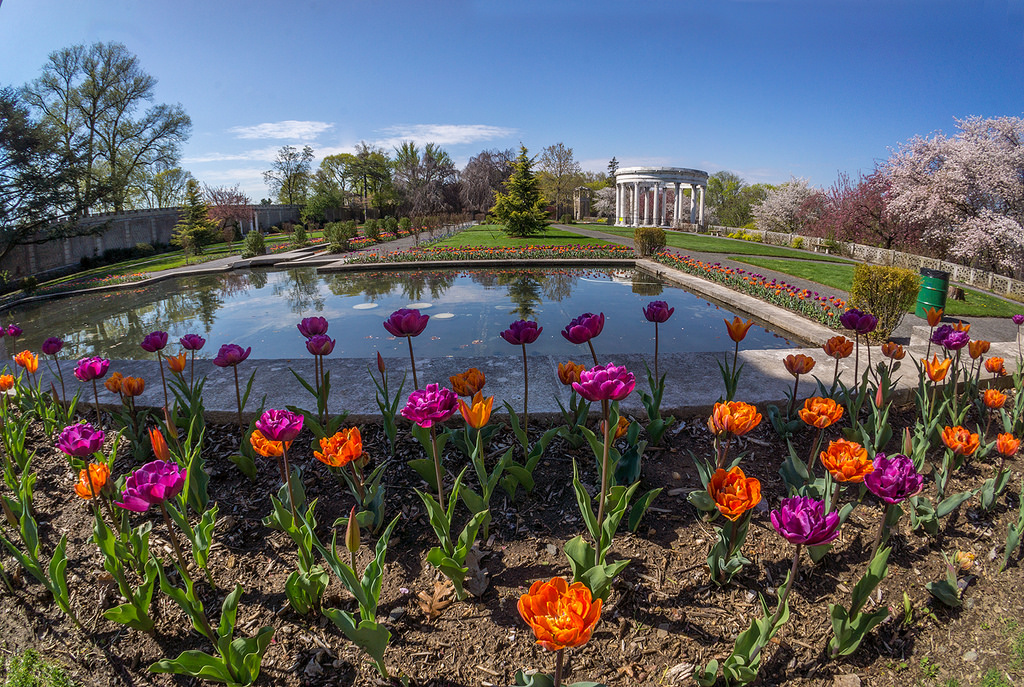 Legal practice
He was educated at the College of the City of New York and received his LL.B. from Columbia Law School in 1878. He was admitted to the bar, and started practice with his half-brother Randolph Guggenheimer in New York city. A younger brother Maurice Untermyer was later admitted, and then in 1895 Louis Marshall joined and the name was changed to Guggenheimer, Untermyer & Marshall, a name it held for 45 years. Between the start of his practice and the end of 1921 he was counsel in many celebrated cases covering almost every phase of corporate, civil, criminal and international law. As special counsel until 1933 in the famous New York City transit suits, he helped maintain the five-cent subway fare. Untermyer was a staunch advocate of stock market regulations, government ownership of railroads, and various legal reforms.
Political involvement
He was a delegate to Democratic National Convention from New York in 1904, 1908, 1912, 1916, 1932, and 1936. He was also a delegate to the New York state constitutional convention in 1938.
Pro-Zionist
Untermyer advocated the Zionist liberation movement and was President of the Keren Hayesod, the agency through which the movement was then and still is conducted in America.