Theodore Spiering (1871-1925).
Profession: Violinist, concertmaster New York Philharmonic Orchestra (NYPO/NPO), conductor.
Residences: Berlin, New York.
Relation to Mahler:
Correspondence with Mahler: Yes.
Born: 05-09-1871 Old North, St Louis, Missouri, America.
Died: 11-08-1925 Munich, Germany.
Buried: Bellefontaine cemetery, St Louis, Missouri, America.
1909-1911 New York Philharmonic Orchestra (NYPO/NPO).
Theodore Spiering was Mahler's Concertmaster at the New York Philharmonic from 1909 to 1911, even filling in as conductor for a gravely ill Mahler after February 21, 1911. Born in St. Louis, Spiering studied in Berlin with Joseph Joachim (1831-1907), performed for Brahms, and was a member of Theodore Thomas's Chicago Symphony from 1892 to 1896.
He was teaching at the Stern Conservatory in Berlin when he became aware of Mahler's search for a new concertmaster and, upon auditioning for the conductor in Vienna,was hired almost immediately. Following Mahler's death, Spiering left the Philharmonic and in later years conducted the Neue freie Volksbühne in Berlin, returning to America to lead the Women's Orchestra Club of Brooklyn and teach at the New York College of Music. 
More
Theodore Bernays Spiering was an American violinist, conductor and teacher. Spiering was born in Old North St. Louis, Missouri, where at age five he took his first lessons in violin from his father, concertmaster of the St. Louis Symphony Orchestra. He made his first public appearance at age seven. He studied at the College of Music of Cincinnati, now the University of Cincinnati College-Conservatory of Music, with violin teacher Henry Schradieck. He studied with Joseph Joachim in Berlin from 1888 to 1892 and later became concertmaster of the orchestra of Joachim Hochschule.
With a letter of recommendation from Joseph Joachim (1831-1907), Spiering joined the Chicago Symphony Orchestra in 1892 and remained with that organization until 1896. He often appeared as a soloist with conductor Theodore Thomas. Spiering also organized the Spiering Quartet, which performed 400 concerts between 1893 and 1905.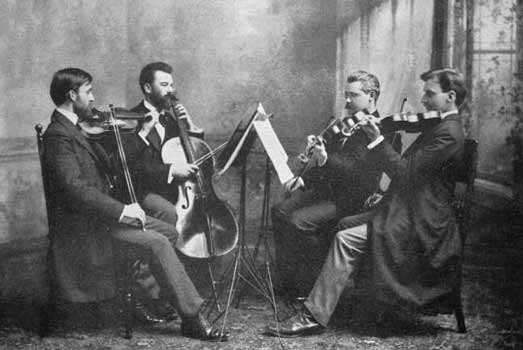 Spiering Quartet: (left to right) Theodore Spiering (1871-1925), Hermann Diestel cello, Adolf Weidig viola, Otto Roehrborn, 1900.
He founded the Spiering Violin School and was also director and instructor of violin for the Chicago Musical College from 1902 to 1905 followed by four years of concert tours in Europe. Gustav Mahler chose him as concertmaster for the New York Philharmonic for two years from 1909, and was called to conduct the orchestra for the final seventeen concerts of 1911 during Mahler's illness.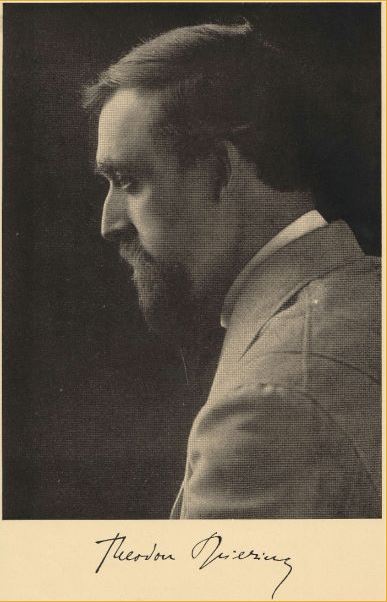 Theodore Spiering (1871-1925).
Although it was expected Spiering would be chosen as Mahler's successor, the tradition of seeking European conductors lead to the selection of Joseph Stransky (1872-1936). Disappointed, Spiering returned to Europe where he guest conducted the Berlin Philharmonic and Blüthner orchestras. Although he sought the position of music director of the Saint Louis Symphony Orchestra, but the position was given to Rudolf Ganz instead.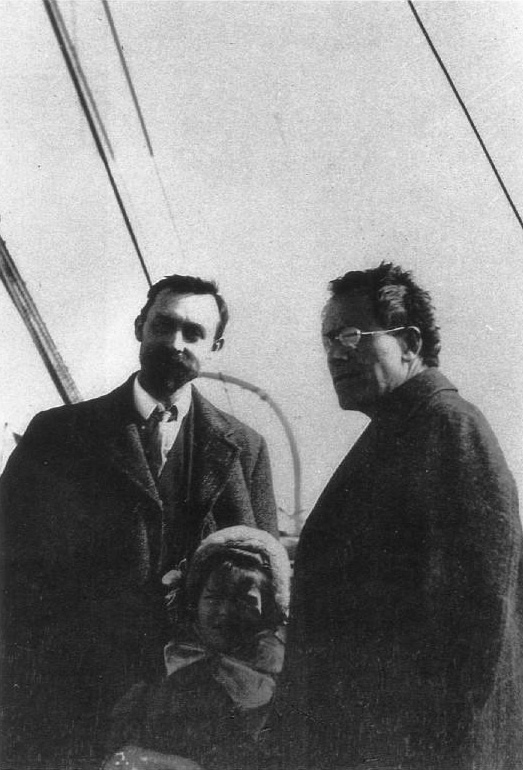 Year 1909. Theodore Spiering (1871-1925), Anna Justine Mahler (Gucki) (1904-1988) and Gustav Mahler at sea, from Europa to New York.
Gustav Mahler letters to Theodore Spiering
Five letters written by Gustav Mahler to his handpicked concertmaster, Theodore Spiering. Mahler served in the Philharmonic as its principal conductor from 1909 until his death in 1911. These letters are hand-written, and deal with some of the formalities of work as the second-in-command of the orchestra. But they also show a more personal and sweet side of Mahler, as well as shed light on some of the frustrations he experienced as a working musician. The letters are part of the Gilman Ordway Manuscript Collection curated by The Schubert Club.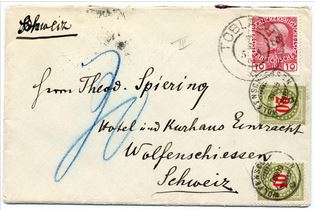 A letter from Mahler.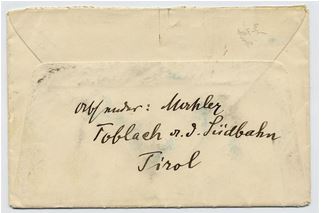 A letter from Mahler in the Tyrol.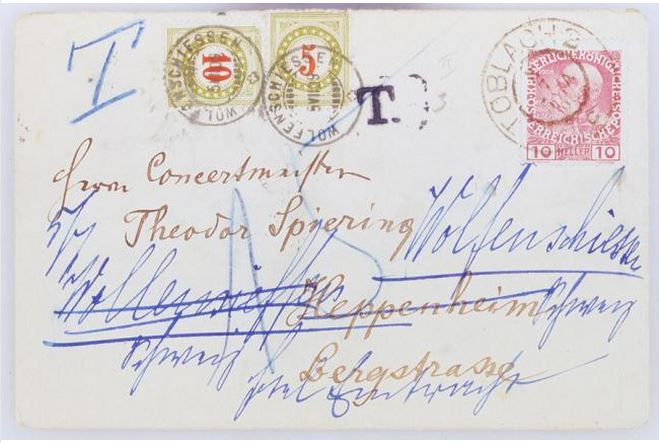 Gustav Mahler's letter offering Theodore Spiering the position of Concertmaster of the New York Philharmonic.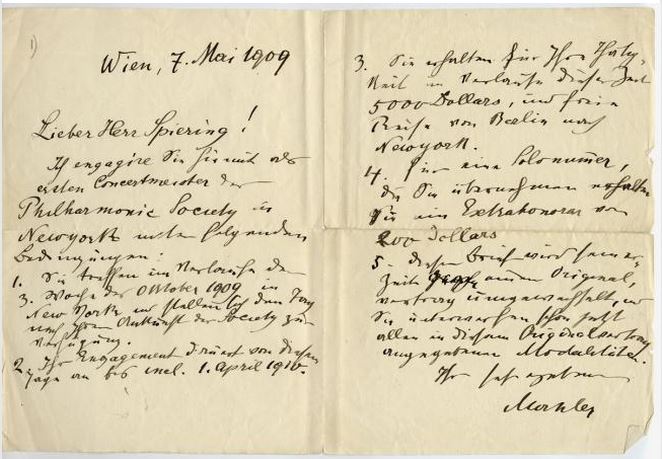 Vienna, 7 May 1909 Dear Mr. Spiering, I am herewith engaging you as first concertmaster of the Philharmonic Society of New York under certain stipulations. 1. You will be in New York the third week of October 1909, and the day after your arrival you will present yourself to the Society and you will be at their disposal. 2. Your contract will be from this date to April 1, 1910 inclusive. 3. You will receive as a salary $5000.00 and a free trip from Berlin to New York. 4. For a solo number that you play you will receive $200.00 extra. Yours very sincerely, Gustav Mahler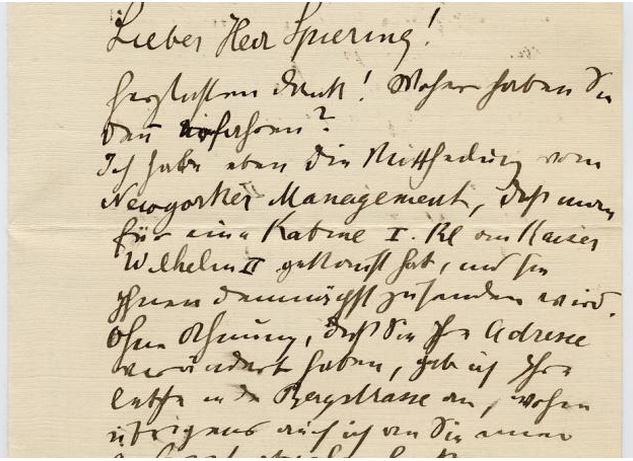 Dear Mr. Spiering, I just received the information from the New York management that they ordered a cabin First Class on the Kaiser Wilhelm II and will send you the ticket soon. Without knowing that you changed your address, I gave them your last address at the Bergstrasse, the same place where I also addressed a letter to you on the 2nd. I hope all your mail will be forwarded to you. Heartily yours, Mahler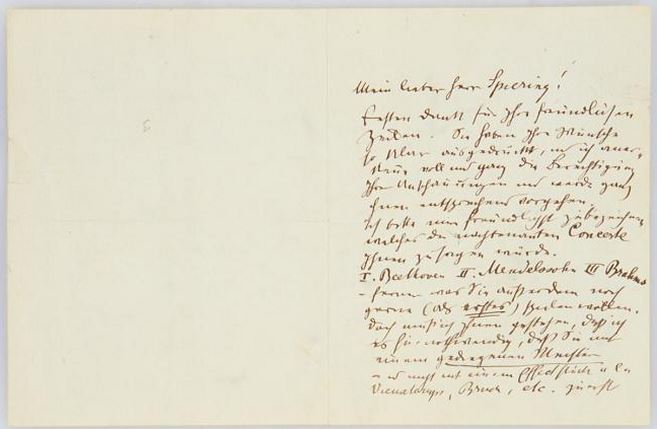 My Dear Mr. Spiering: Many thanks for your friendly lines. You have expressed your wishes so clearly, and I recognize fully the justification of your viewpoint and will go ahead as you suggest. I only ask you kindly to designate which of the listed concertos will appeal to you. I – Beethoven – II – Mendelssohn – III – Brahms – furthermore what you would like to play first (aside from the above). But I must acknowledge that I consider it necessary to begin with a work of sterling merit and not with a bravura piece a la Vieuxtemps, Bruch, etc.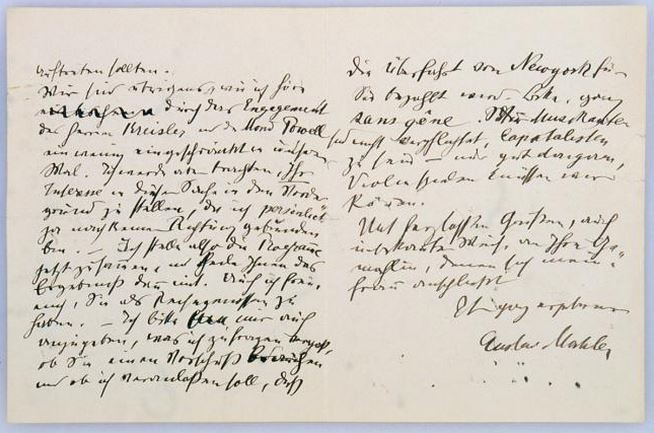 We are somewhat handicapped in our choice due to the engagement of Mr. Kreisler and Maud Powell, but I shall try however to give you the first consideration in this regard, since I am not bound in any way. I am now planning my programs, and shall send you the result. I too am looking forward to having you as my traveling companion. I forgot to mention and I ask you to let me know whether you would like to have some pay in advance and whether you would like to have me arrange that your passage is paid from New York. Please be perfectly frank. We musicians are not expected to be capitalists – we only have to be able to conduct well or play the violin well. My wife joins me in sending hearty greetings to you and to your wife. Mahler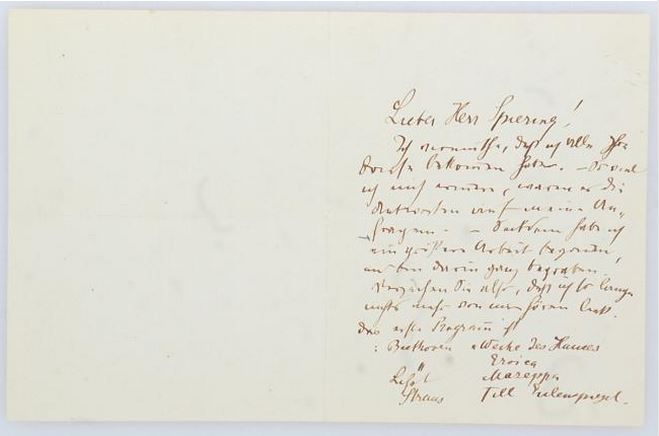 Dear Mr. Spiering: I take for granted that you have received all of your letters as far as I can remember they were the answers to my inquiries. Since then I have started a lengthy composition, in which I am completely buried. Will you please excuse therefore that you have not heard from me for so long. The first program will be: Beethoven – Consecration of the House Beethoven – Eroica Liszt – Mazeppa Strauss – Till Eulenspiegel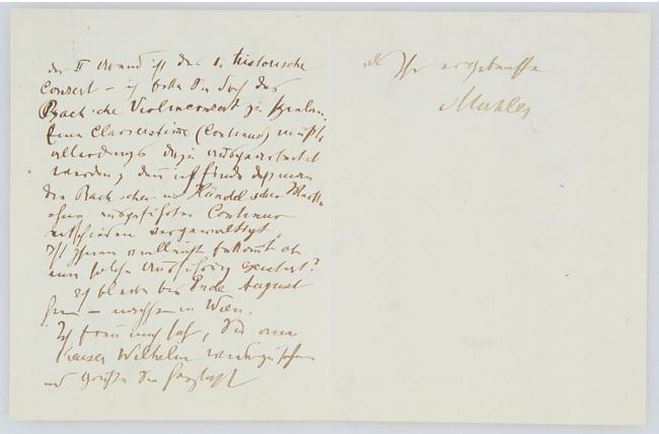 The second concert evening is our first historical concert. May I ask you to play the Bach violin concerto. A piano part (continuo) would have to be added, for I find that Bach's and Handel's works without a continuo sound distorted. Do you perhaps know whether such an arrangement exists? I shall remain here until the end of August – after that date I will be in Vienna. I shall be happy to see you again on Board the Kaiser Wilhelm. I greet you heartily. Mahler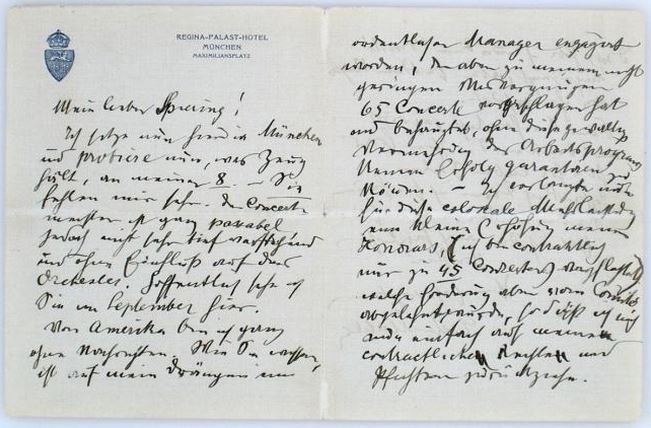 My Dear Spiering: I am sitting here in Munich and am rehearsing to the utmost of my strength on my Eighth Symphony. I miss you very much. The concertmaster is fair, but without any deeper understanding and has no influence on the orchestra. I hope that I shall see you here in September. I have received no news from America. As you know, due to my insisting, a good manager has been engaged, but to my displeasure he has suggested and arranged 65 concerts for the season. He maintains that without this increase in concerts he will not be able to insure a financial success. I asked for a small increase of my salary, on account of the added amount of work. My contract only calls for 45 concerts. My request however, was not granted by the committee, so I shall just have to abide by my contract. I have submitted my decision to the committee, but have heard nothing since then. I greet you heartily and thank your wife for her dear lines. I hope that I shall meet her this year. My wife also sends hearty greetings. Mahler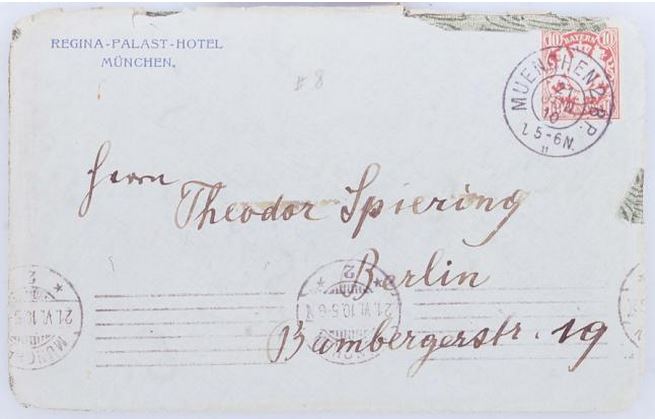 Mahler writes his new concertmaster Theodore Spiering in Berlin.
With the start of World War I Spiering returned to New York City and engaged in teaching and conducting the philharmonic. In September 1923, he returned again to Berlin and Vienna where he continued to guest conduct. In 1925, he was appointed conductor of the Oregon Symphony, then the Portland Symphony Orchestra, which he previously conducted as part of a rotating triumvirate.
For rest and also to choose new scores for the orchestra, he traveled to Europe after the appointment. In the summer of 1925, Spiering became ill while traveling and died in Munich before the beginning of the fall symphony season. His body was later repatriated and buried in Bellefontaine Cemetery in St. Louis.