West 72 St at Central Park, Central Park West between 71st Street and 72nd Street, Manhattan (115 Central Park West, South of The Dakota.)
Year 1907 21-12-1907 check-in.
Year 1908 23-04-1908 check-out.
11th floor: View over Central Park, Giant salon, two bed rooms, two bath rooms and two grand piano's.
It was from this apartment that Mahler in 02-1908 heard the muffeled drum strokes of a funeral cortege that he later used in Symphony No 10.
Demolished.
21-12-1907 Gustav Mahler and his wife Alma arrive in New York and settle in a suite at the Majestic Hotel. Mahler's arrival in New York is preceeded by a flurry of publicity that surpasses even the New Yorker's sensation-seeking best.
600 room building built in 1894 by Albert Zucker, notable for its roof garden and bowling alleys.
The three reproductions of drawings of the Hotel Majestic by architect Alfred Zucker picture the grand hostelry built in 1894 by German-born developer Jacob Rothschild, originally a millinery dealer. According to the New York Times, Rothschild intended the hotel to be a rival in appearance and appointments to the neighboring Dakota, the apartment house that had pioneered residential architecture on Central Park West and 72nd Street a decade earlier. Together the two buildings appeared to form a monumental gateway to the park. 
04-01-1908. Letter to Grafin Maria Misa von Wydenbruck-Esterhazy (1859-1926).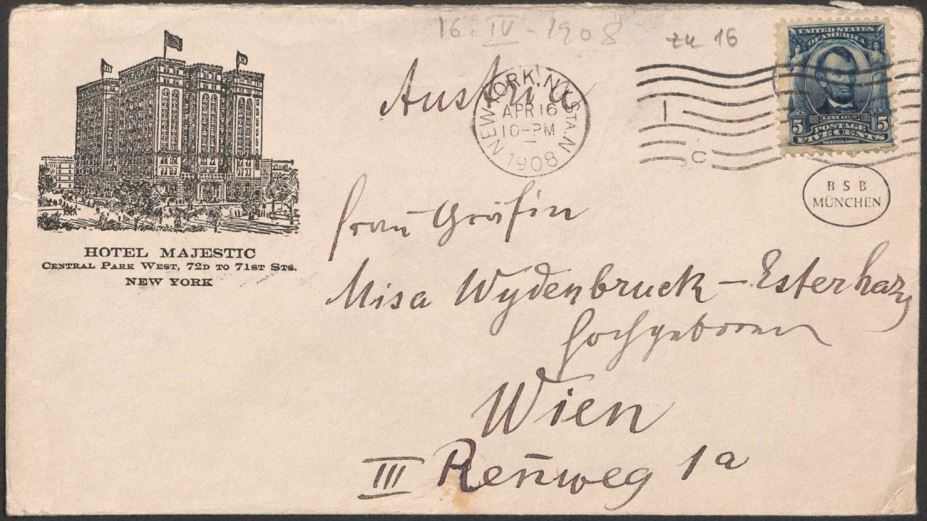 16-04-1908. Letter to Grafin Maria Misa von Wydenbruck-Esterhazy (1859-1926).
The Majestic occupied a full block site, with a 202-foot facade on Central Park West and 150 feet on the side streets. Its scale of was enormous: three twelve-story sections were divided by large courtyards, shown here in the structural section, which allowed abundant light and air into the interior rooms. As Architecture and Building described in 1891, the hotel was designed: 
"To meet a long felt want of a first-class family hotel for the upper west side. The rooms in most cases will be rented in suites of drawing-room, bed-room and bath-room each, or of five rooms, as the case may be. There will be 560 living rooms and 268 bath-rooms. On the main floor, reached by the general entrance on 72d Street, there will be the large hotel lobby, or reception hall, covering four city lots, with the drawing rooms, music rooms, libraries and the large dining room, more than 10,000 square feet of surface." 
The Majestic housed transient guests, but many of its residents were long-term. Many were artists or celebrities, such as actress Sarah Bernhardt, novelist Edna Ferber, and tenor Enrico Caruso. The Majestic was also often referred to as the "Jewish place." While many residential buildings discriminated against Jewish occupants, the Majestic became the center of organizations such as the Judeans and the Jewish Guild. Grand in its heyday, the hotel was demolished in 1929 to be replaced by the twin-towered, Art Deco Majestic Apartments.