Salzburgerstrasse, now Vorsteherweg (No. 51).
Gustav Mahler visited Johannes Brahms (1833-1897) here a few times.
Johannes Brahms (1833-1897) visited Ischl for the first time in 1882 and spent every summer from 1889 onwards.
From the year 1889 onward Brahms chose for his summer dwelling-place the charming town of Ischl, the central point of the beautiful region of the Salzkammergut, and a favourite watering-place of the Viennese. He rented rooms, as on one or two former visits, in a cottage prettily situated on the outskirts of the town near the rushing river Traun, away from the visitors' quarter and convenient for his favourite walks about the picturesque mountains which surround the valley.
House Johannes Brahms in approx. 1890.
A strong note of affectionate regret, very characteristic of the composer, is observable in the letter in which he announced to Widmann his arrangements for the open-air season of 1889. His extreme attachment, however, to his Vienna friends, to whom he may be said to have belonged almost entirely during the closing years of his life, probably determined his choice of Ischl, which was well within the reach of any of them who wished to visit him, whilst several had villas for summer residence in the immediate neighbourhood.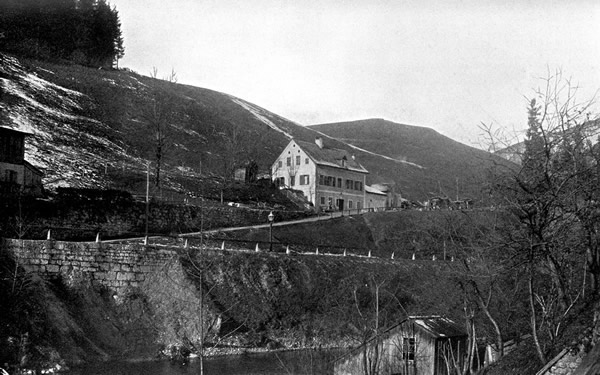 Johan Jr. Strauss (1825-1899) always lived at Ischl during the summer, Theodor Billroth (1829-1894)'s delightfully situated home at St. Gilgen could be reached by train or the lake boat service in an hour, whilst the house and grounds of Herr and Frau Victor von Miller zu Aichholz at Gmünden, and Karl Goldmark (1830-1915)'s rooms, also at Gmünden, were not much further off, and so on with other friends.