Year 1891. Hollenthal, Rax Schneeberg.
Year 1905. 21-08-1905 until 25-08-1905.
Edlach (an der Rax) a village on the outskirts of Reichenau an der Rax.
Southwest of Vienna.
Reichenau an der Rax is a market town in the Austrian state of Lower Austria, situated at the foot of the Rax mountain range on the Schwarza river, a headstream of the Leitha. Reichenau castle was first mentioned in a 1256 deed. Duke Otto IV the Merry, who in 1327 had established the abbey of Neuberg, acquired Reichenau in 1333 and granted it to the monastery.
City of Edlach, Reichenau, 1900.
Original an ore mining and forestry area, Reichenau due to its picturesque setting became a summer resort of the Viennese nobility in the 19th century. From 1854 on the development of the area was decisively promoted by the opening of the Semmering railway line with a train station in neighbouring Payerbach, part of the Austrian Southern Railway (Südbahn) from the Vienna Südbahnhof to Trieste. Reichenau was directly connected to Payerbach by the Höllentalbahn narrow gauge railway in 1926 at the same time with the opening of the Raxseilbahn, the oldest aerial tramway in Austria.
In 1873 a drinking water pipeline to Vienna was built to supply the Austro-Hungarian capital with mountain water rising from the Rax range.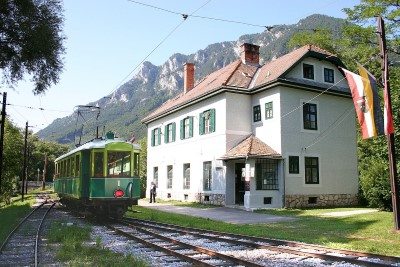 City of Edlach, Reichenau, railway.
In 1872 Archduke Charles Louis of Austria had the Villa Wartholz residence erected near his favourite hunting grounds, according to plans by Heinrich von Ferstel. In 1889 Nathaniel Anselm von Rothschild followed with the building of Hinterleiten Palace. He however did not spend much time in Reichenau and shortly afterwards donated the palais to a veterans foundation, while the Villa Wartholz remained a seat of the Habsburg family, especially of Charles and his wife Zita; their first son, Otto, was born and baptized there, and when Charles become Emperor of Austria, Villa Wartholz was his summer residence in the years 1917 and 1918.