Grinzing was an independent municipality until 1892 and is today a part of Döbling, the 19th district of Vienna.
Location
Grinzing lies in the northwest of Vienna and, with an area of 613.52 hectares, is the largest suburb in the district of Döbling. To the northeast, it borders on Josefsdorf; the border continues along the Wildgrube and the Schreiberbach stream towards the east, where it branches along the Springsiedelgasse and the Neugebauerweg to the south. The border then runs along the Hungerbergstraße to mark the boundary to Unterdöbling, before following the course of the Kaasgraben, which divides Grinzing from Sievering in the east. Finally, the border turns northwestward and continues via the Himmelstraße and the Spießweg to the edge of the city of Vienna, which separates Grinzing from Weidling.
Topography
Grinzing is characterised by numerous forested ridges of the Wienerwald (Vienna Woods). Hermannskogel, the tallest hill in Vienna, lies on the border to Lower Austria. There are also other well-known hills, including the Reisenberg, Latisberg, Vogelsangberg, Hungerberg, and Pfaffenberg. Grinzing's woods are home to several streams, including the Schreiberbach, which runs untouched through the Wildgrube almost as far as Nußdorf. The Reisenbergbach begins to the west of the Reisenberg and makes its way through Grinzing, where it flows into a canal. The headwaters of the Arbesbach also lie in the west of Grinzing. A further notable characteristic of the area are its grapevines, especially on the Reisenberg and Hungerberg hills.
The origin of the name Grinzing
The name "Grinzing" means "of the people who belong to a man named Grinzo". Many German words ending in "ing" are indicators of membership to a Sippe. A version of the name "Grinzing" first appears in 1114, when it was called Grinzigan.
Economy
The traditional importance of viticulture and logging in the local economy during becomes evident when one examines the distribution of available land in Grinzing in 1826. At that time, 45 percent of the land was covered by the woodlands belonging to the Klosterneuburg Monastery. Another 23 percent was used for vineyards. Agriculture played a secondary role, covering barely 10 percent of the land. Beer production was also important at times; a brewery founded in the Trummelhof in 1814 operated intermittently until 1831.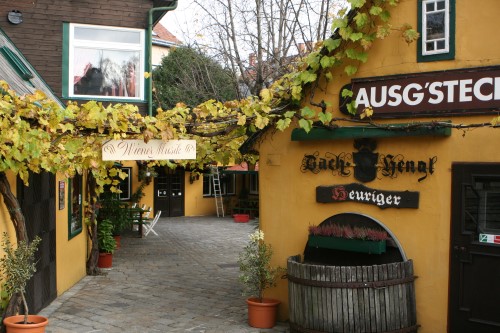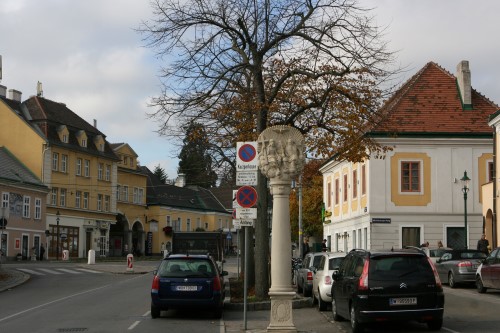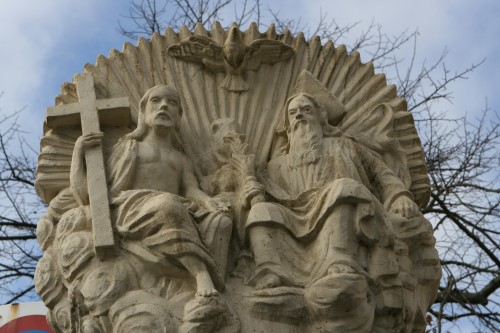 Relations